Heavy Man Slapstick Documentation (edited clips)
Heavy Man Lifted and Heavy Man Falling Documentation
Heavy Man Built to Spill (With Soundtrack)
Heavy Man Domestic Bliss - Custody Day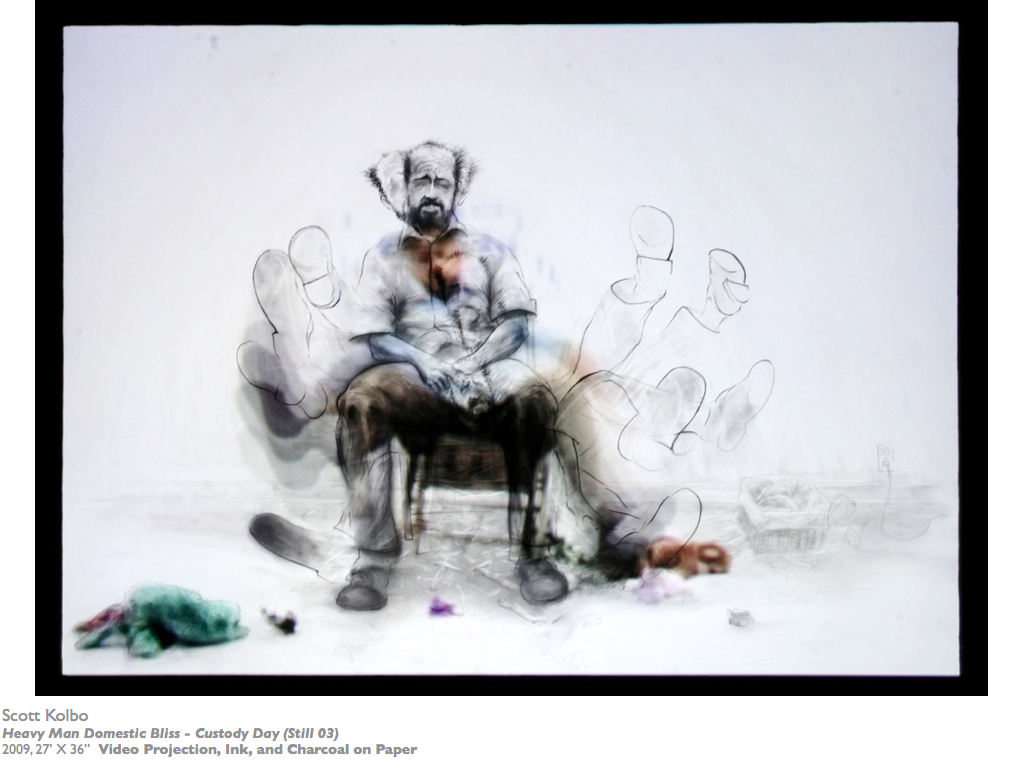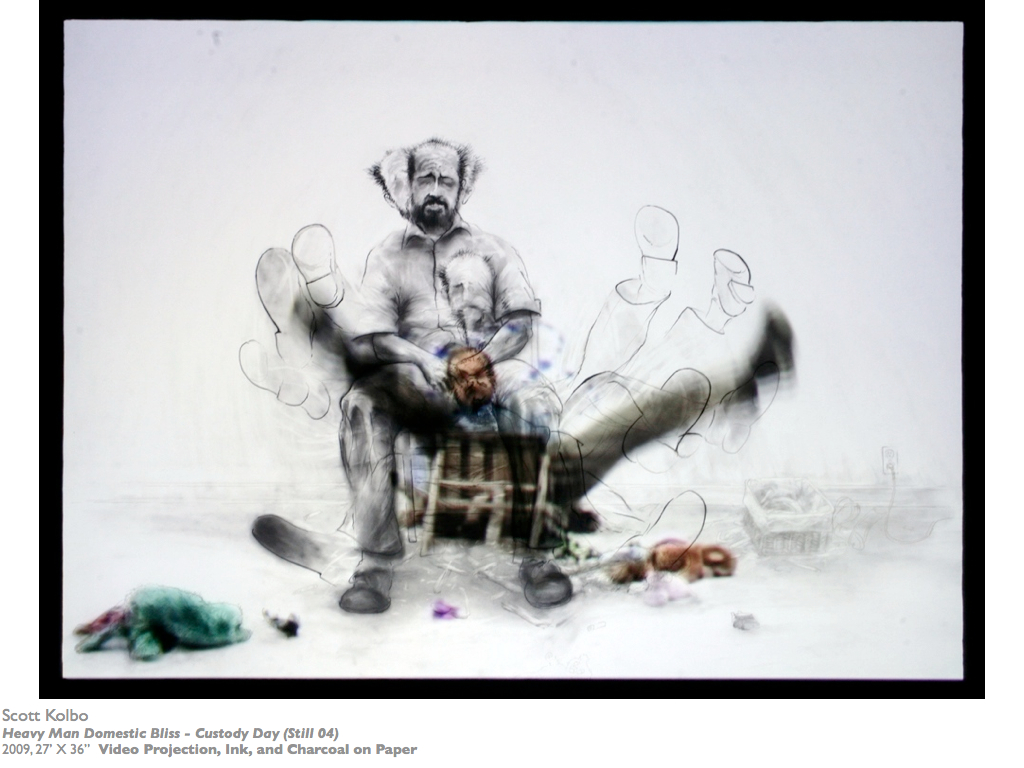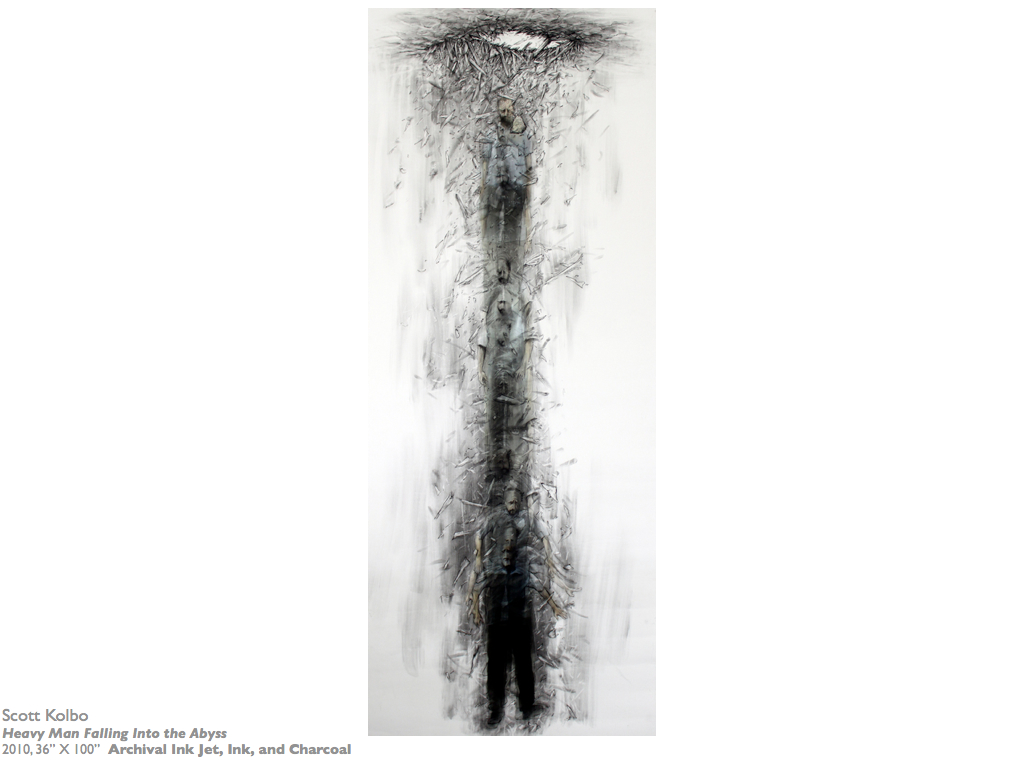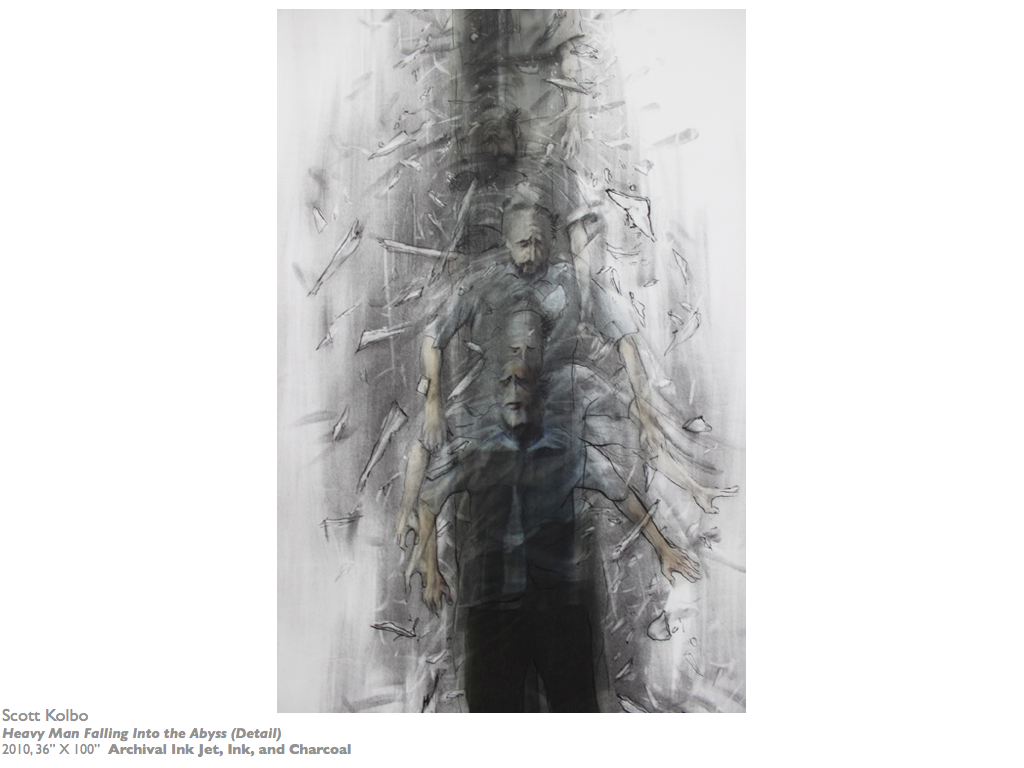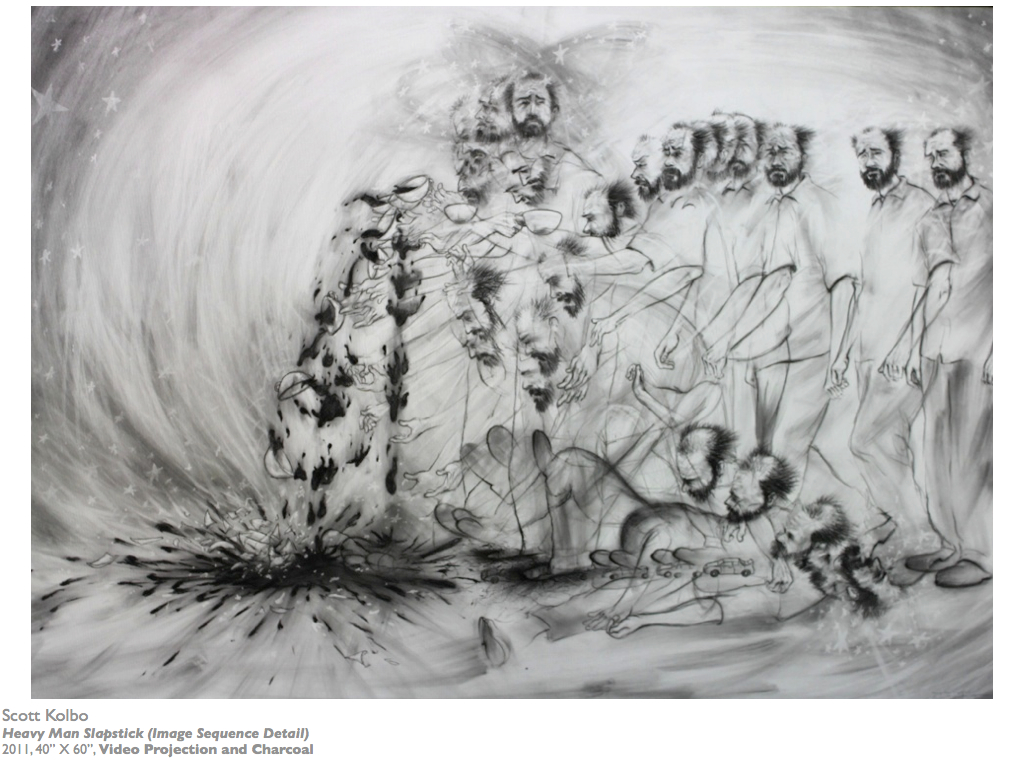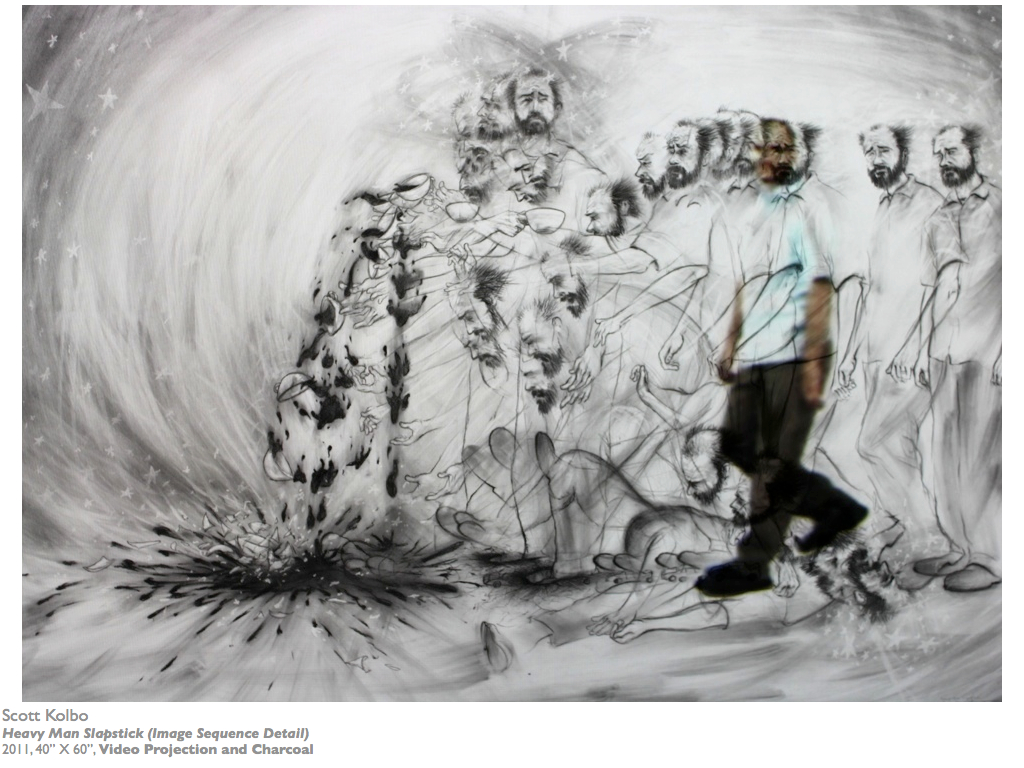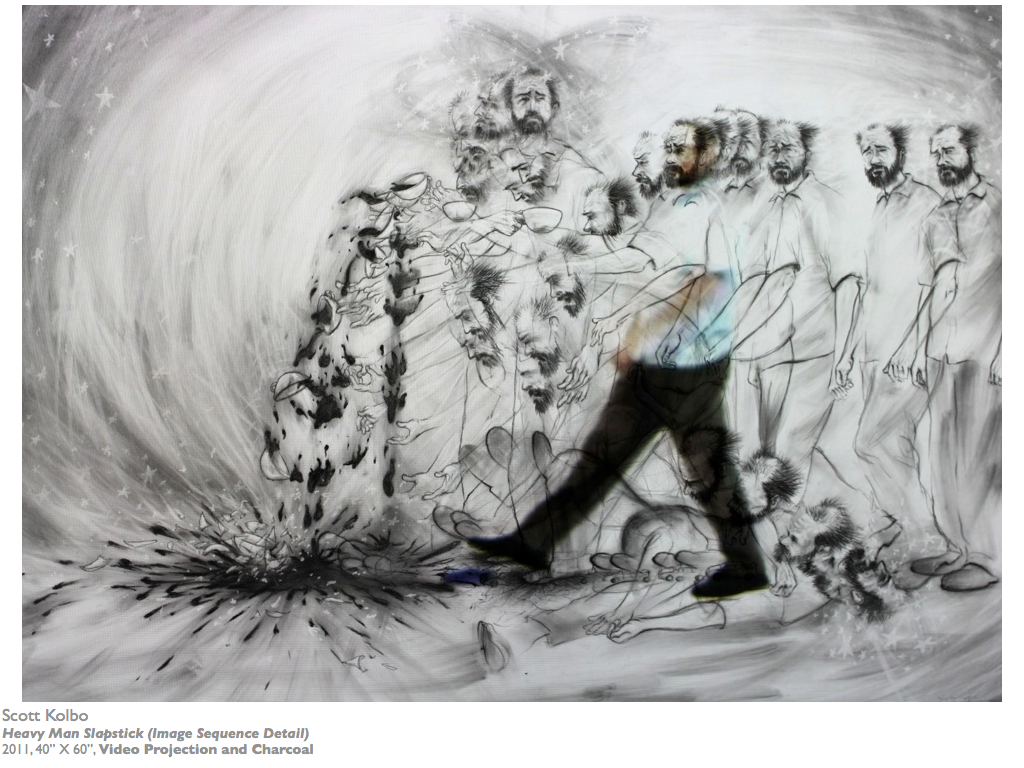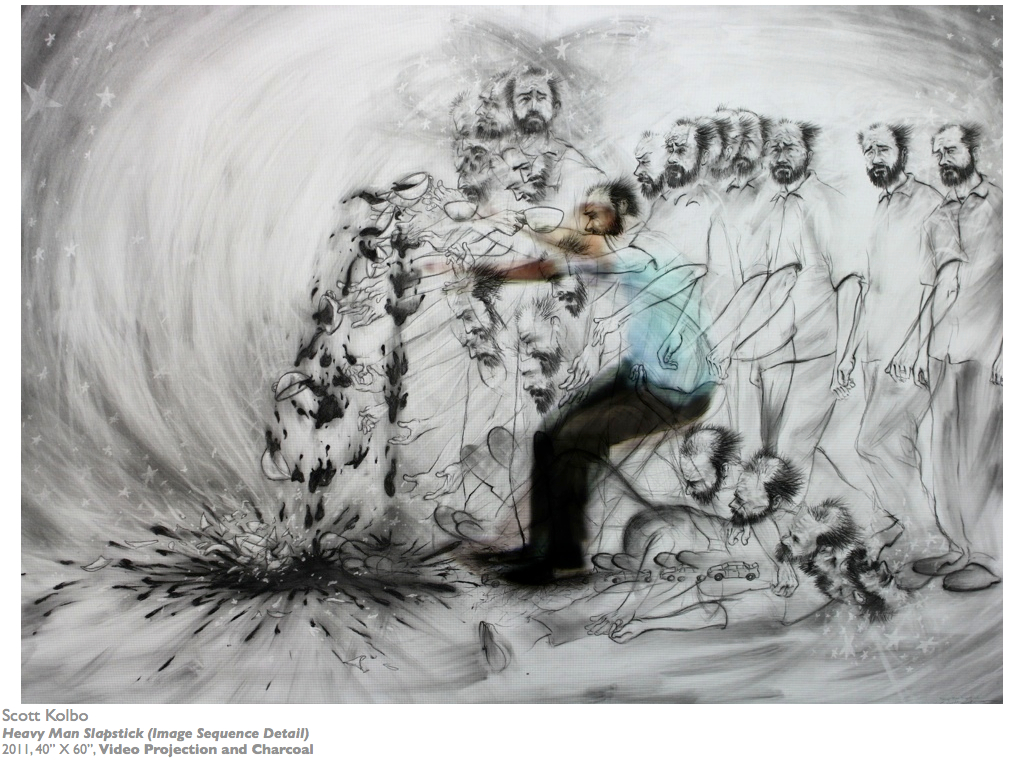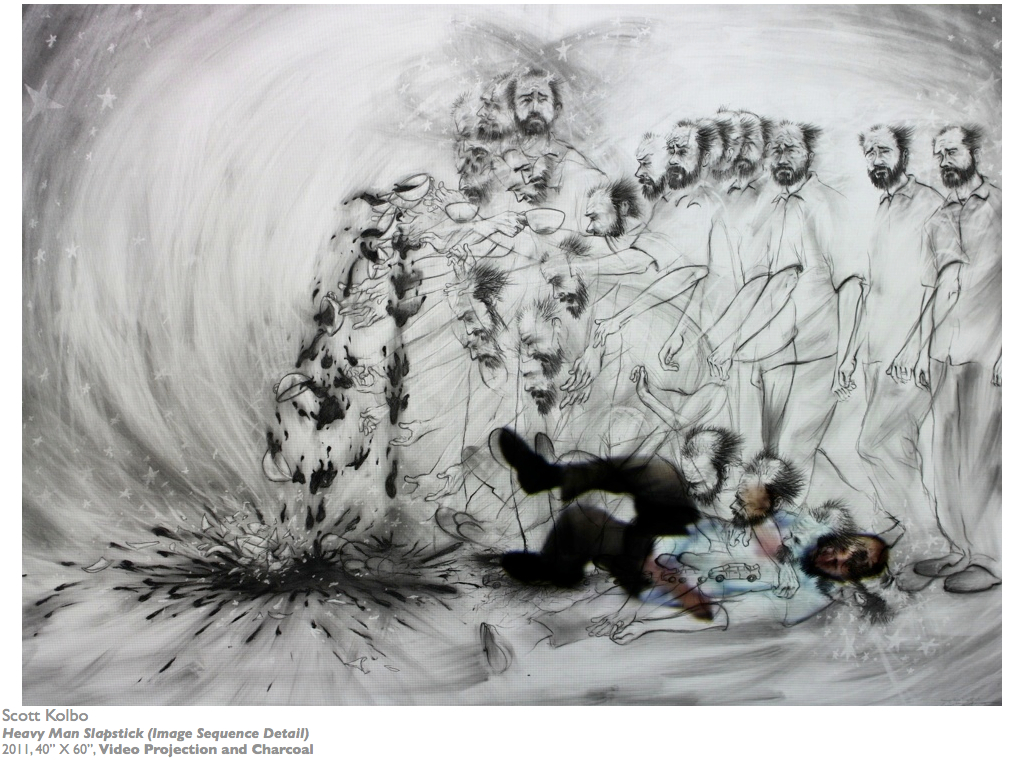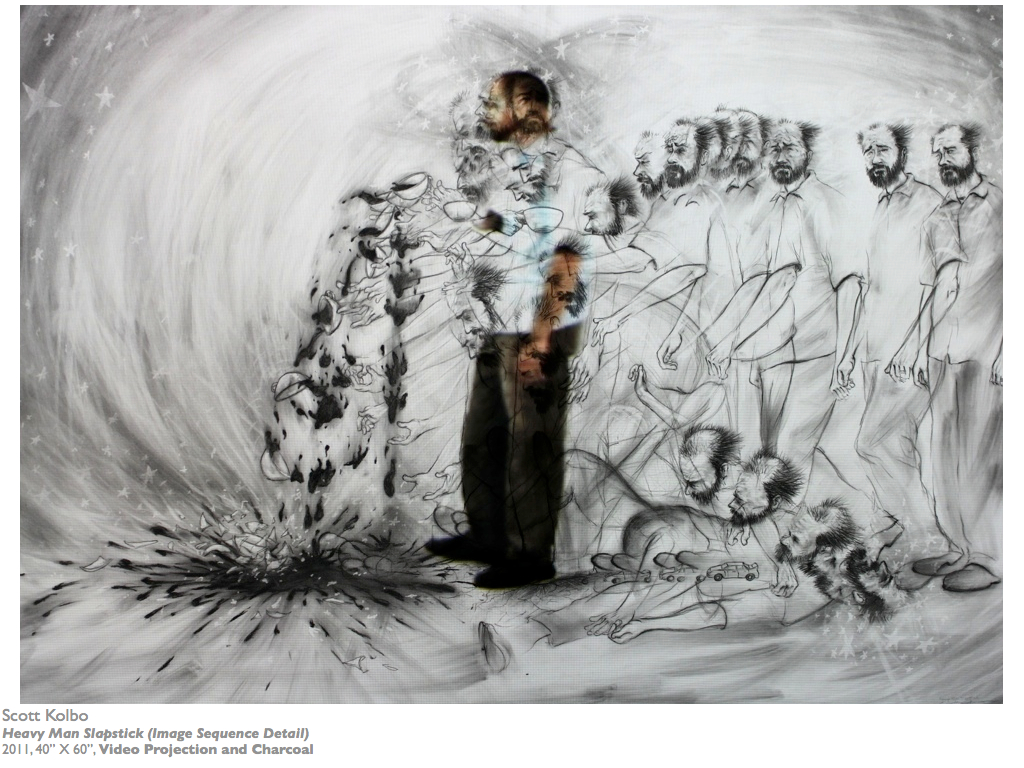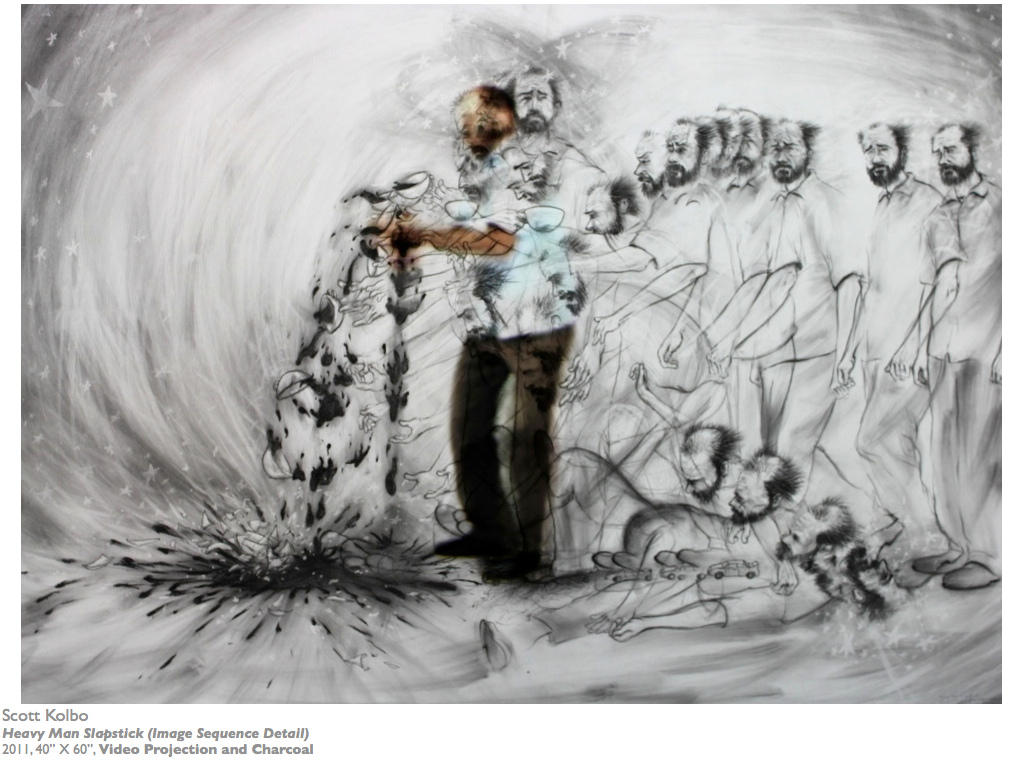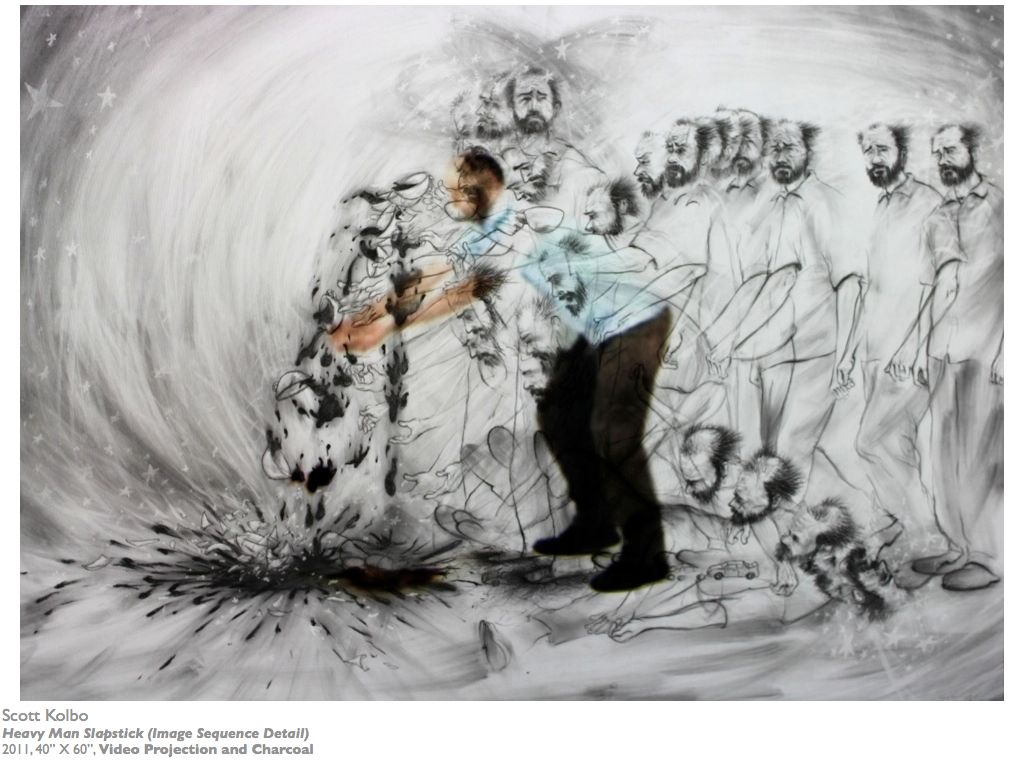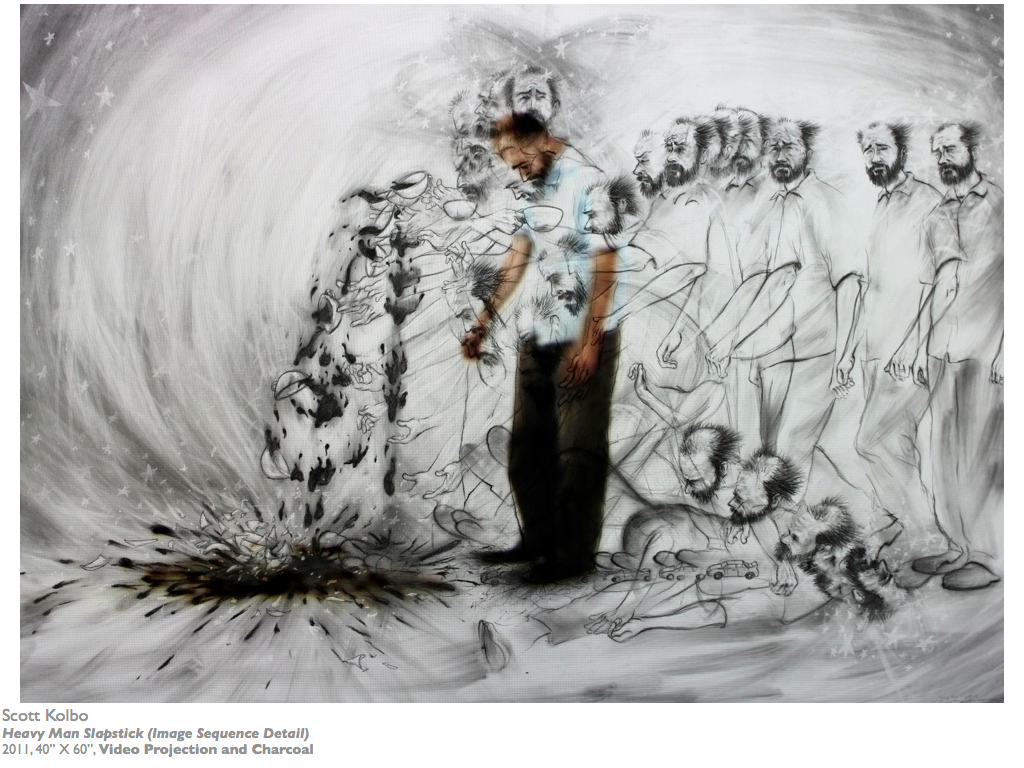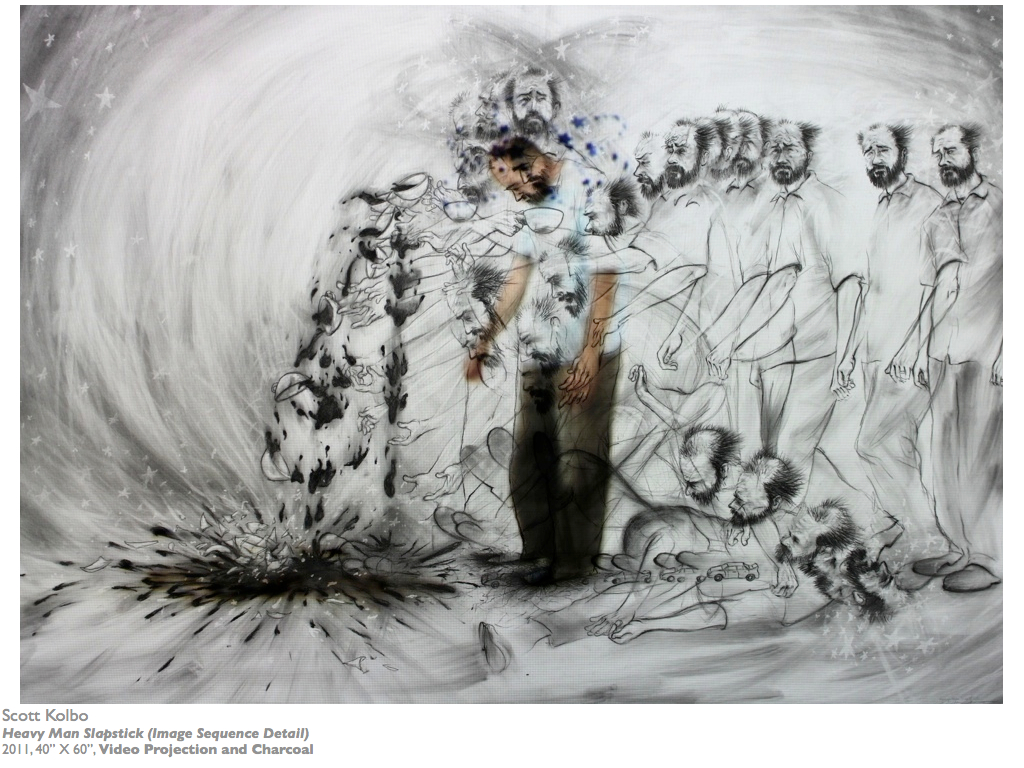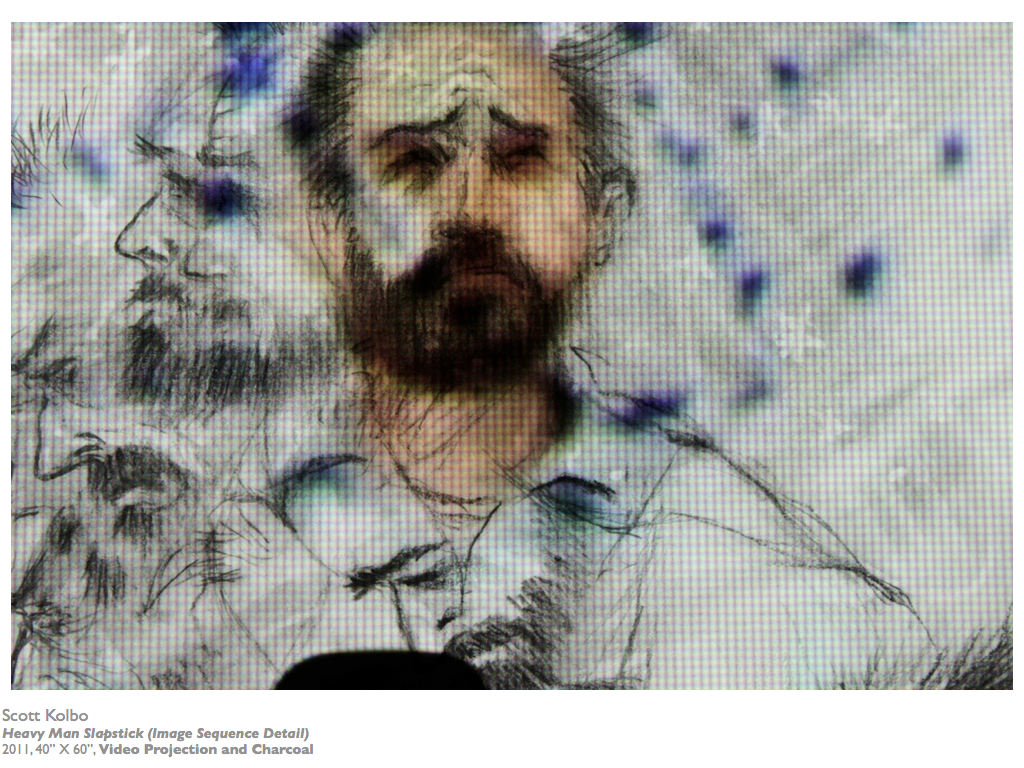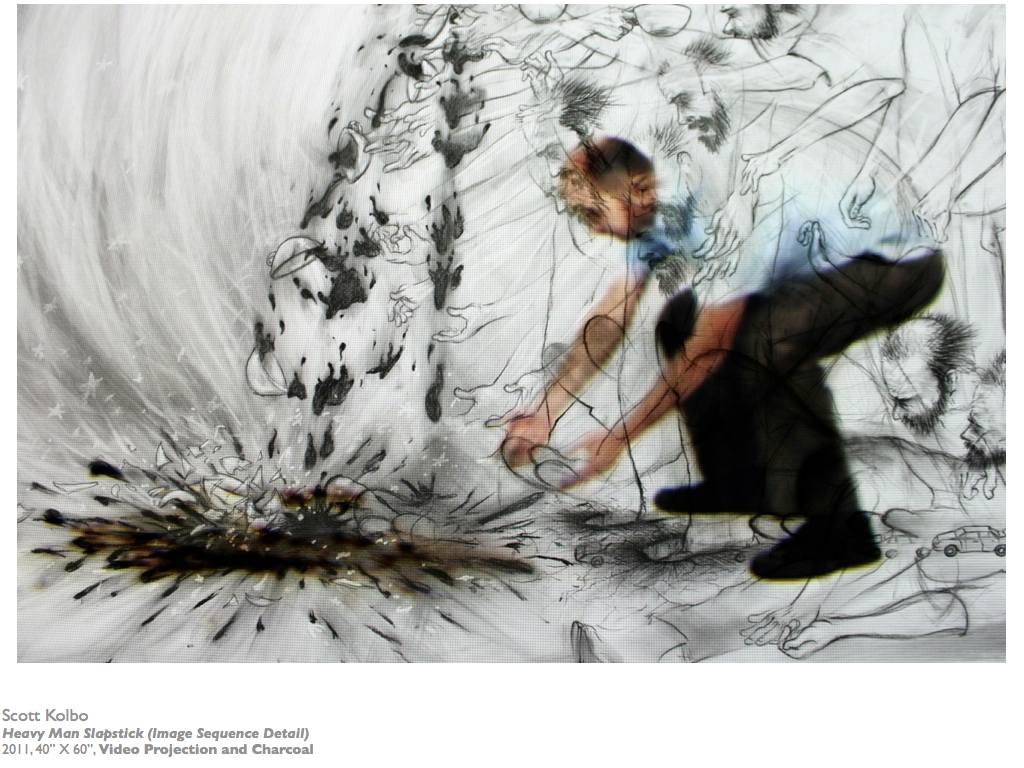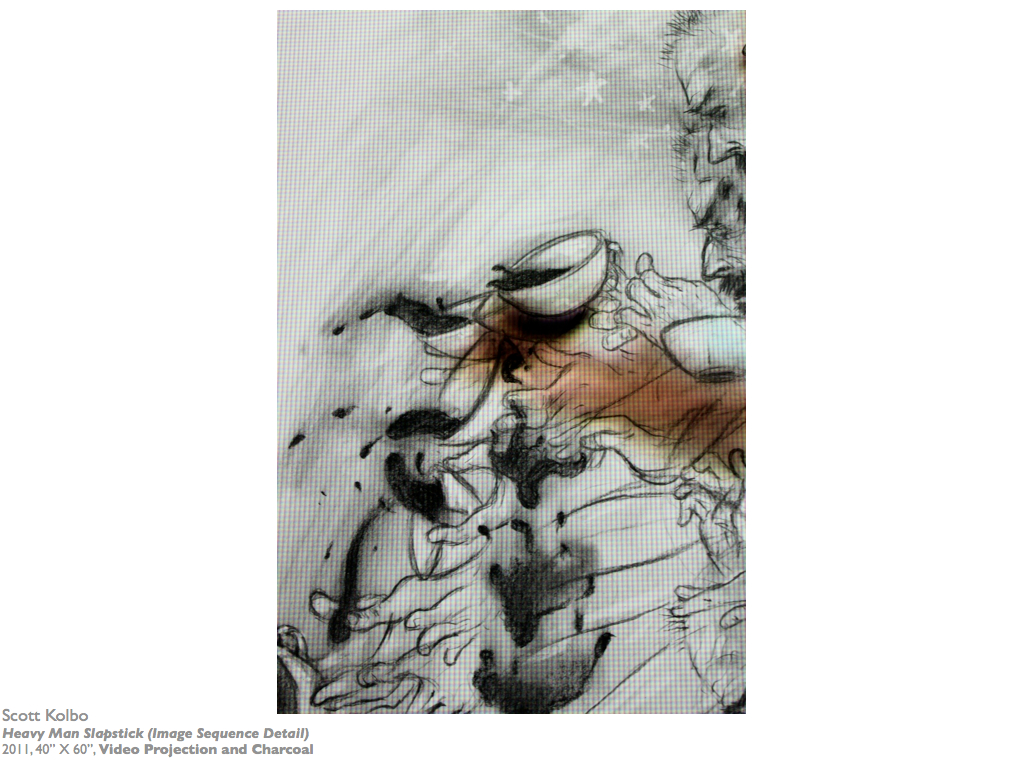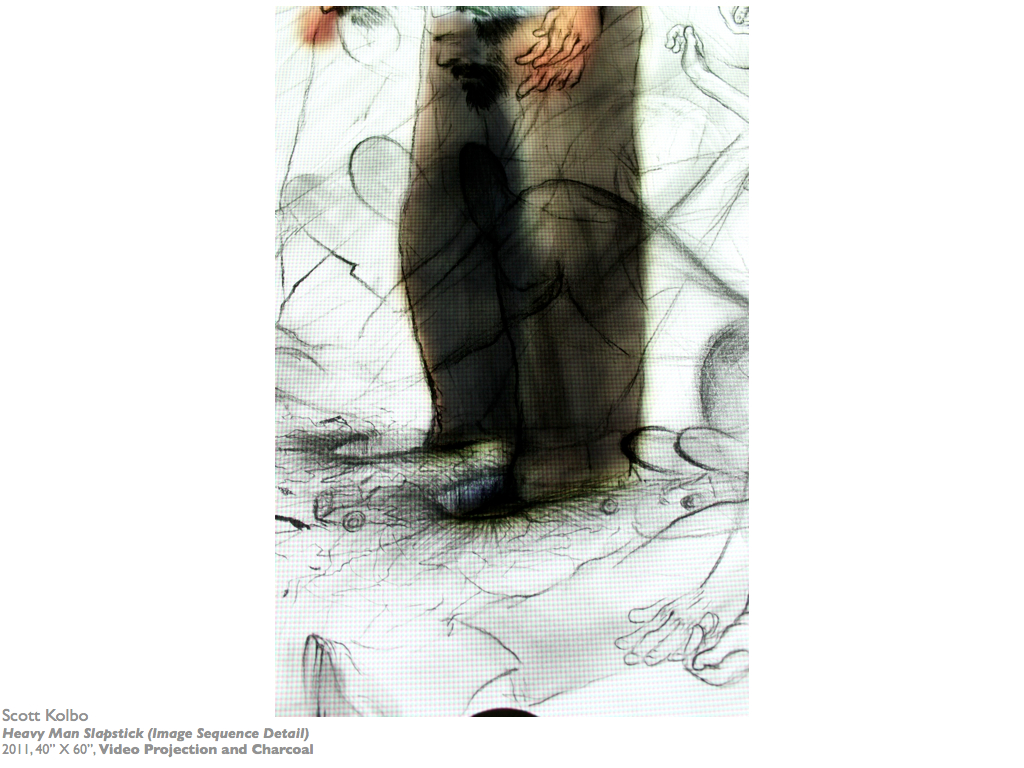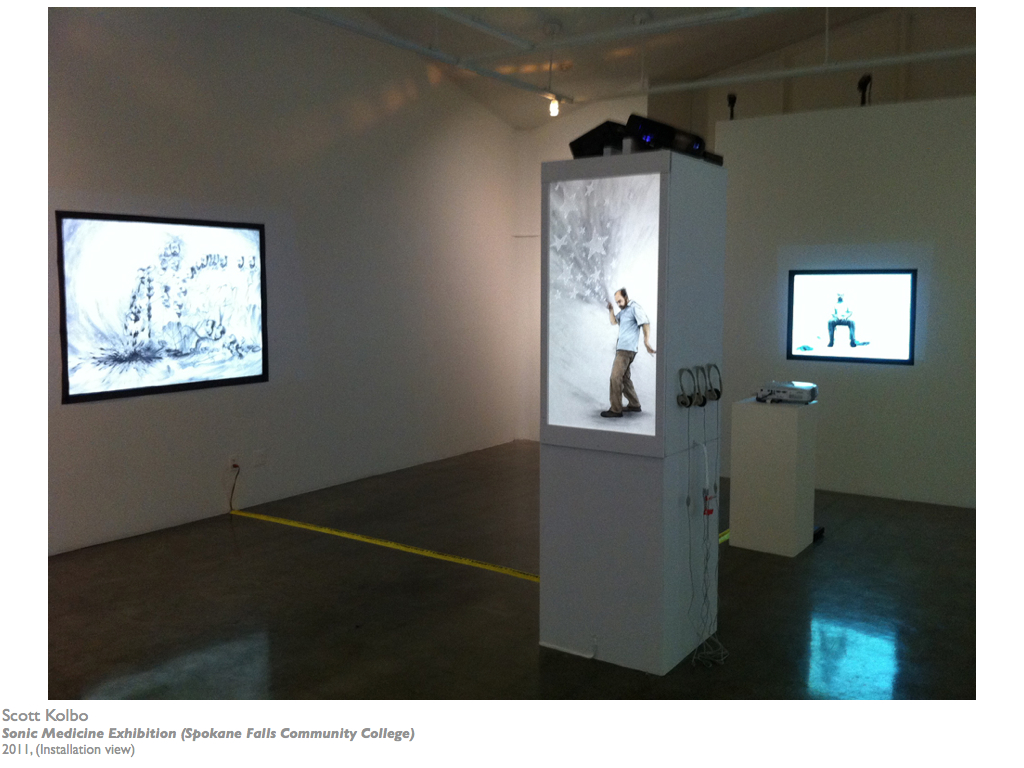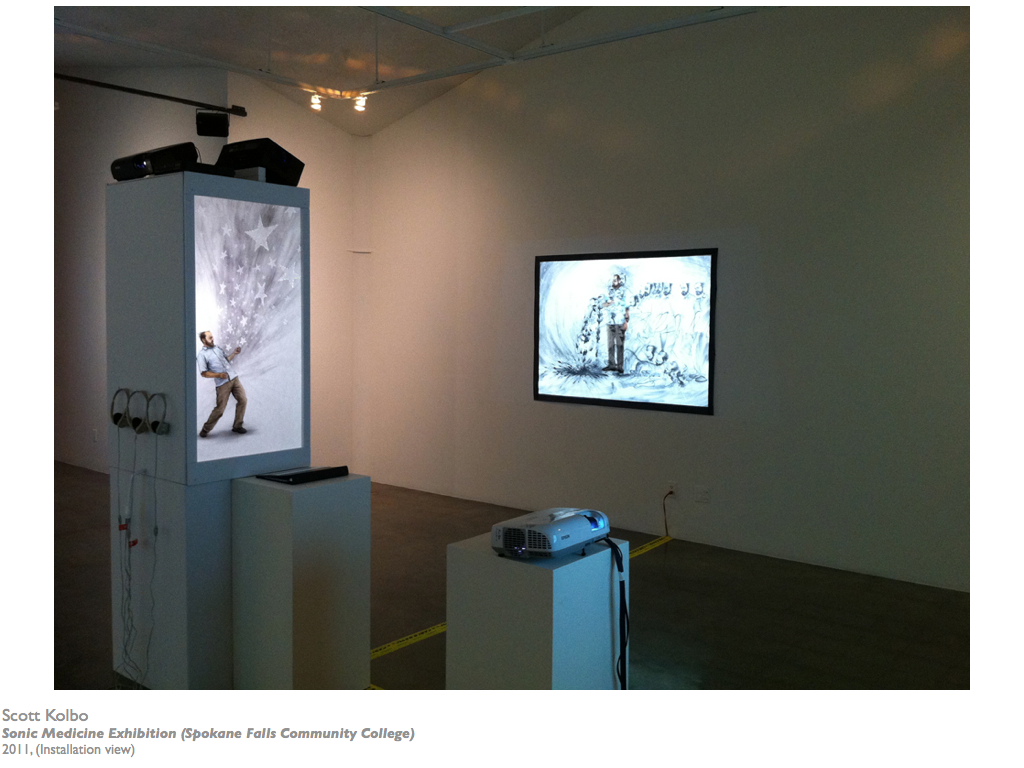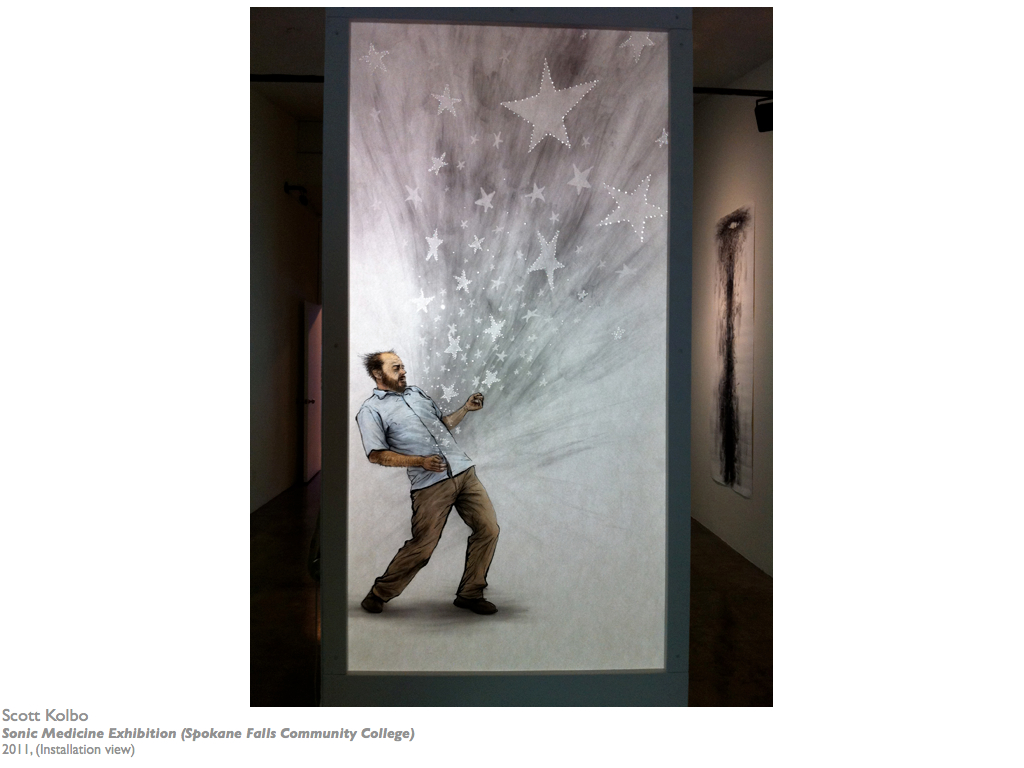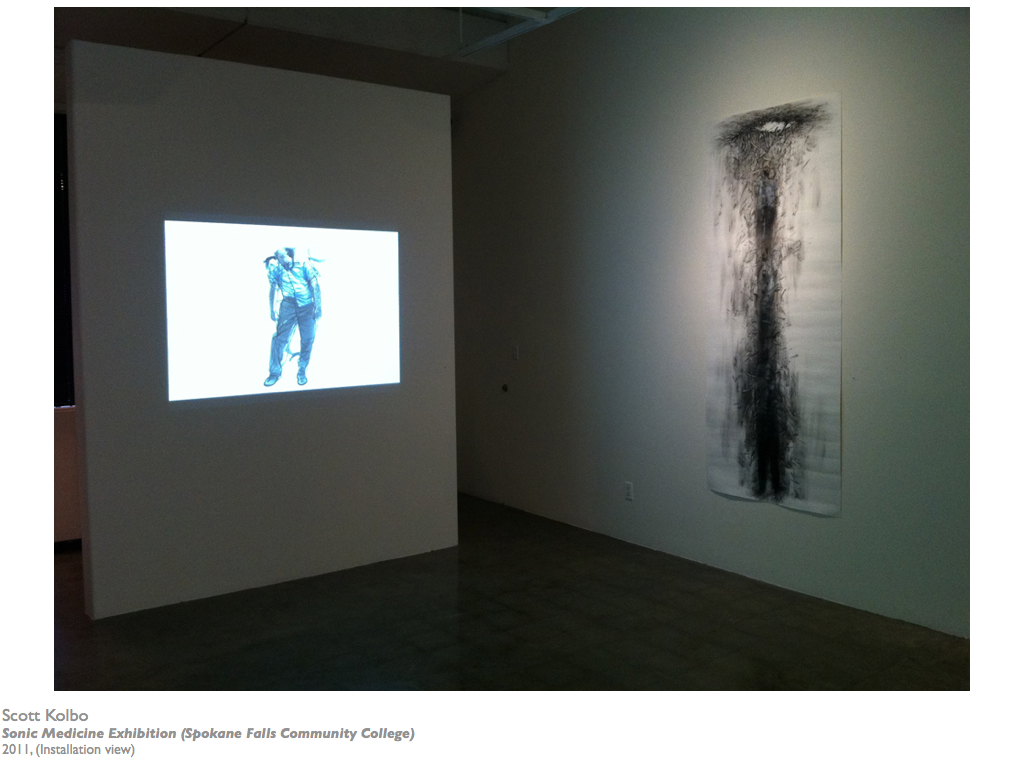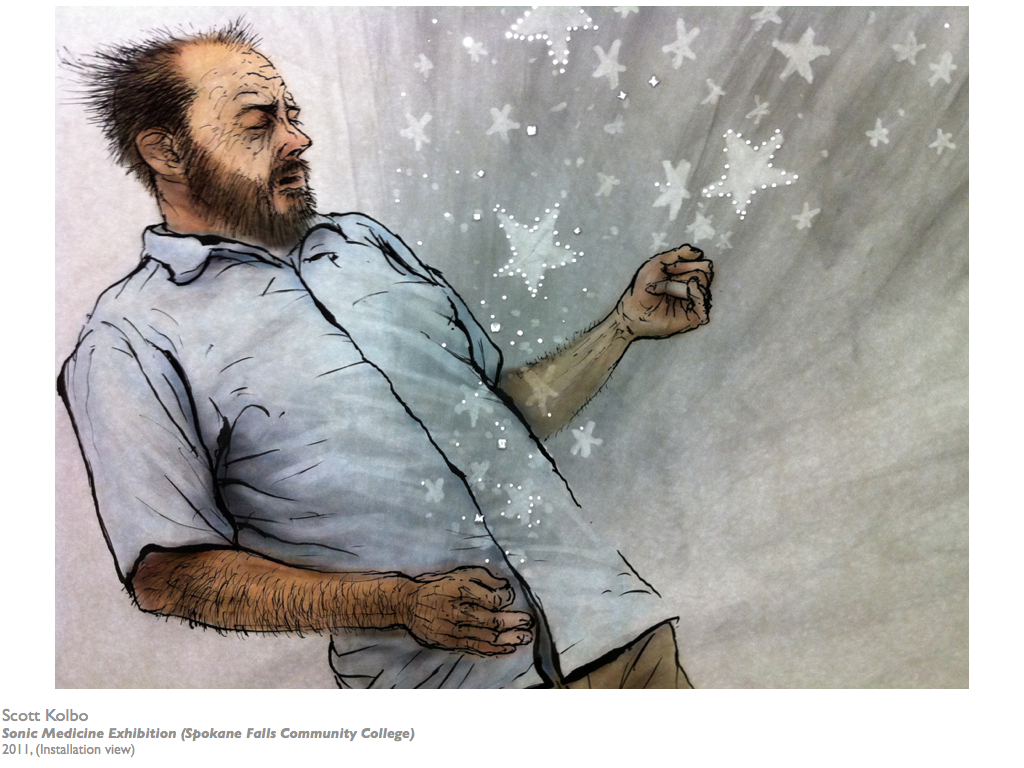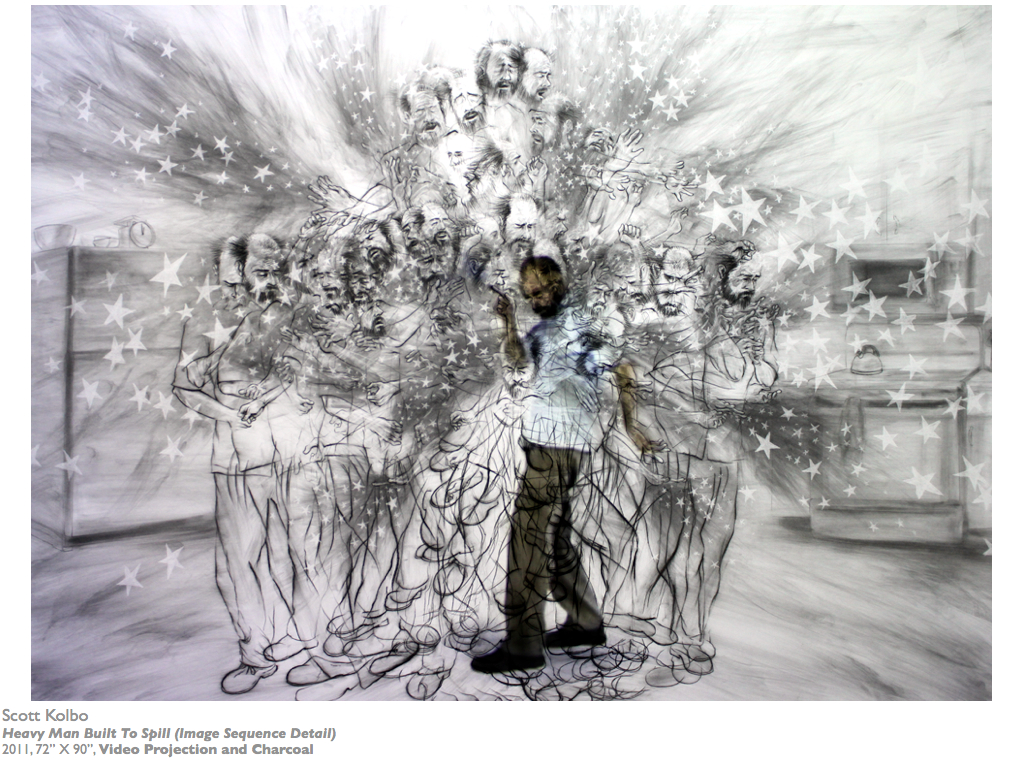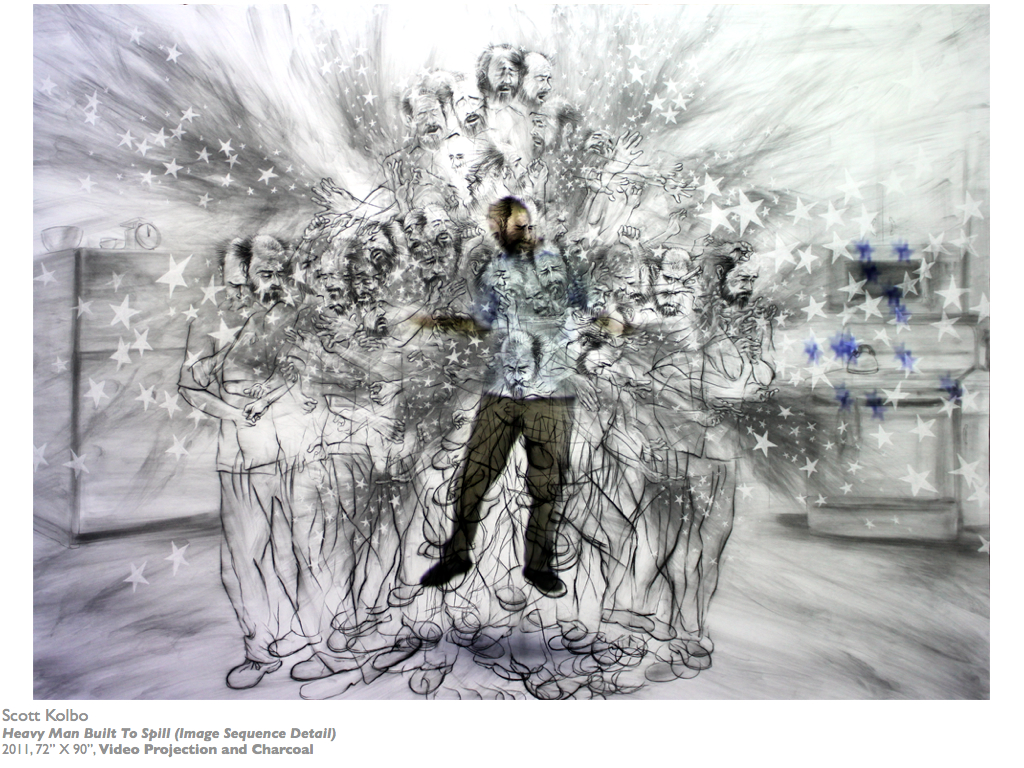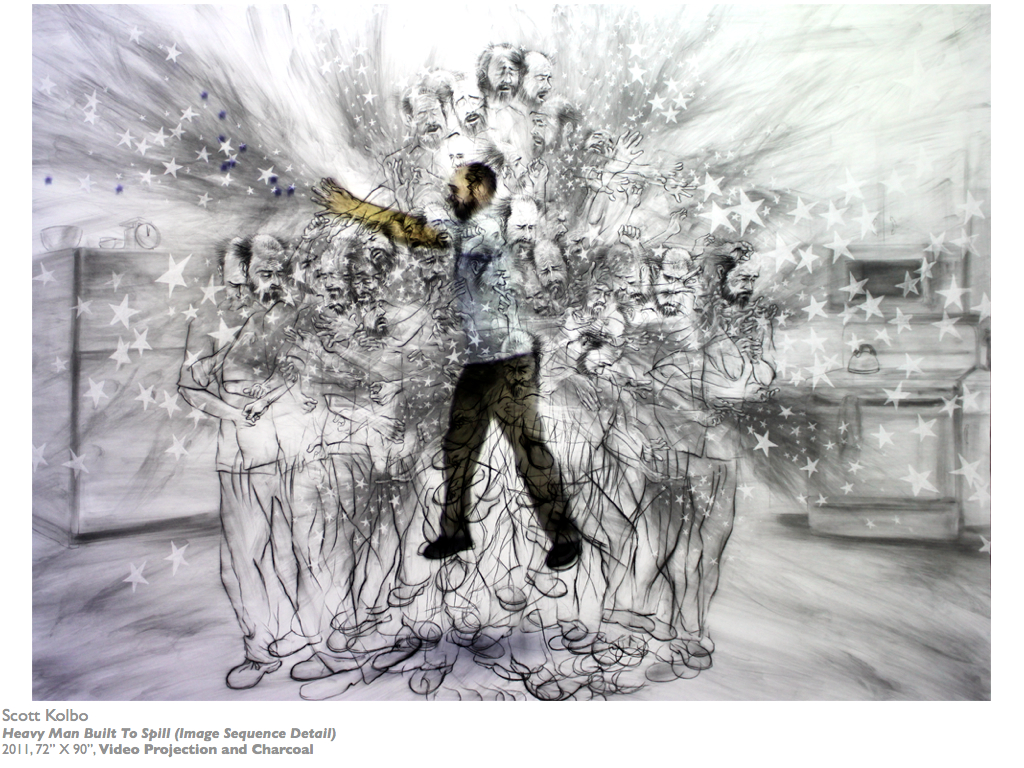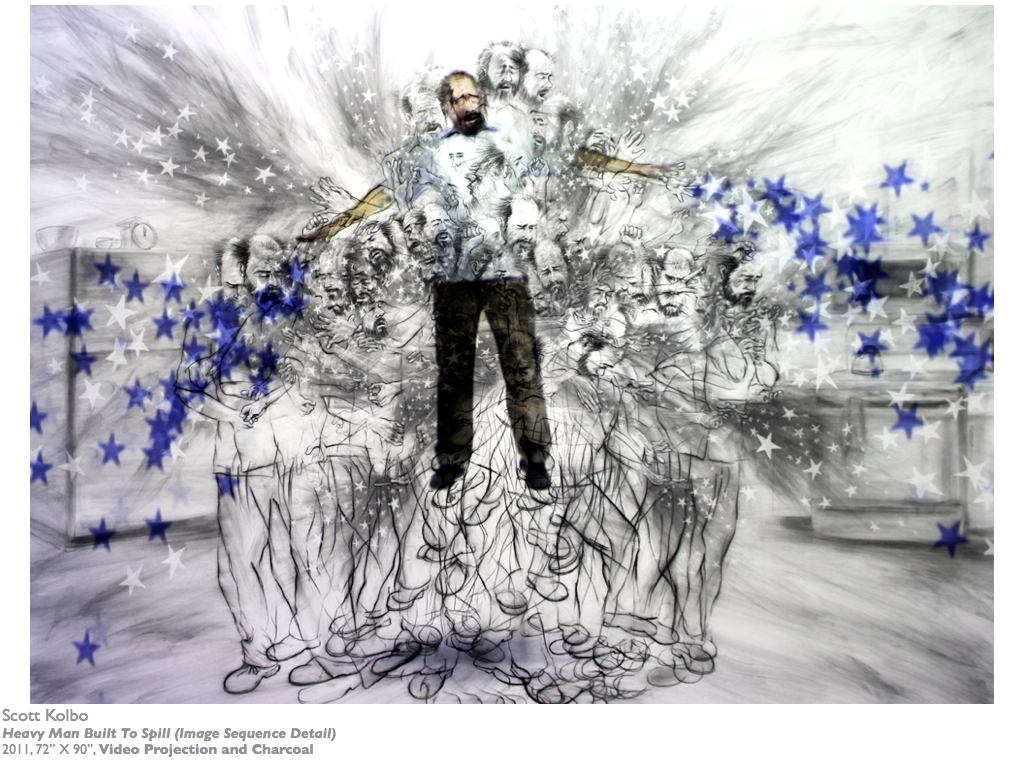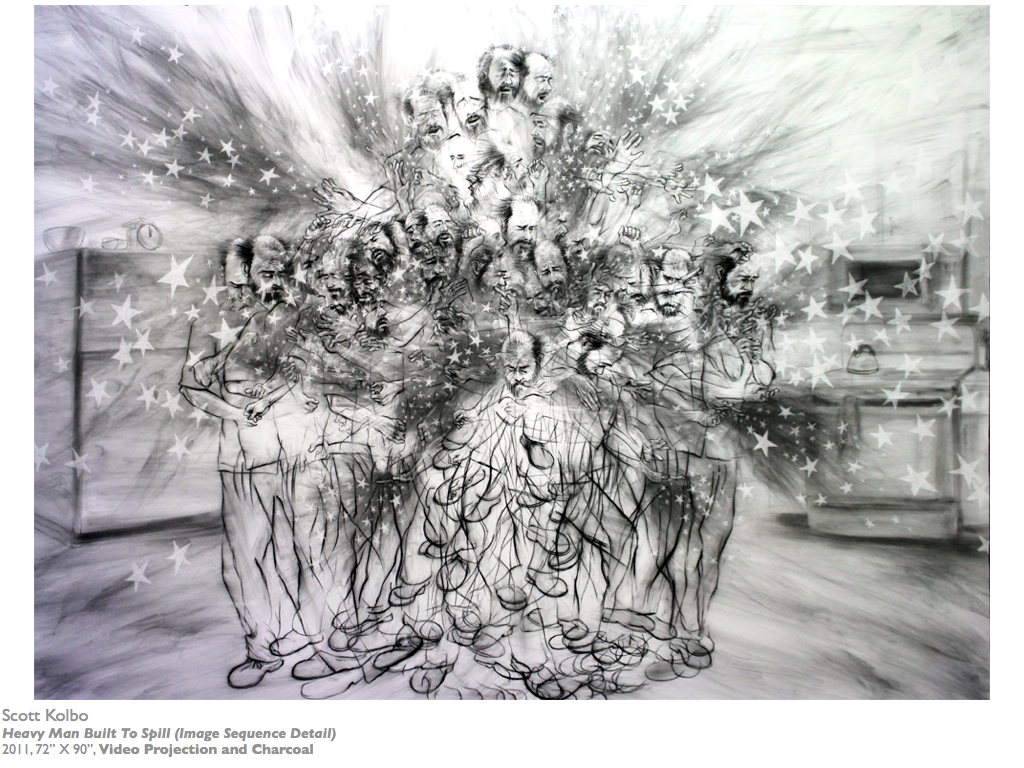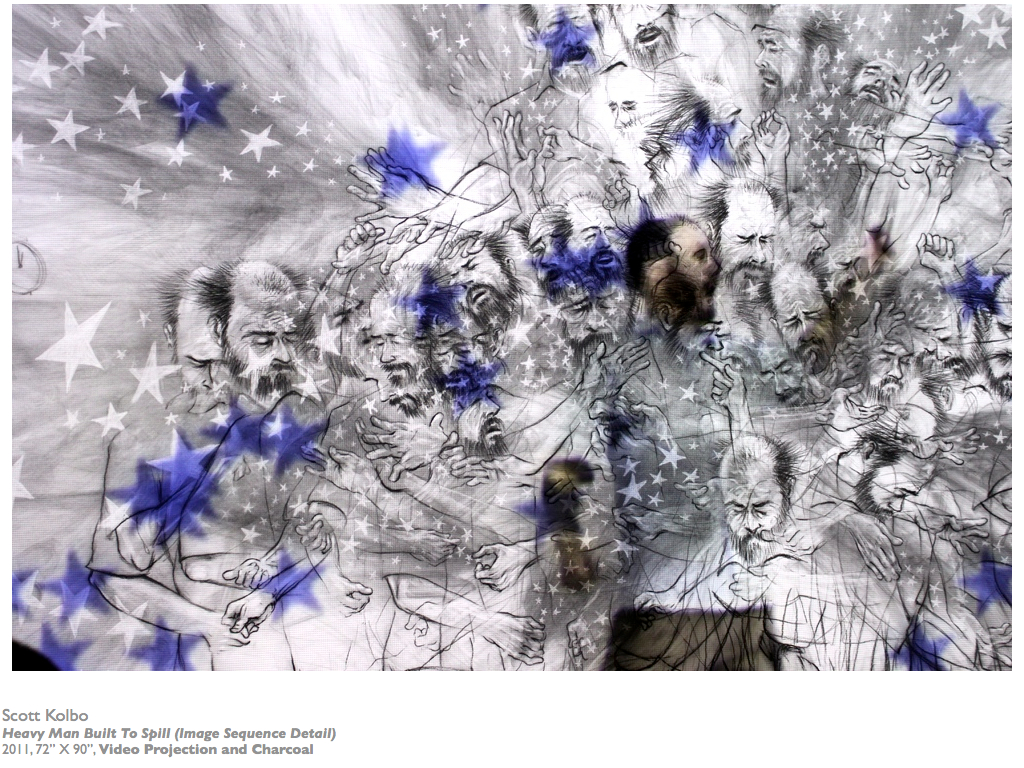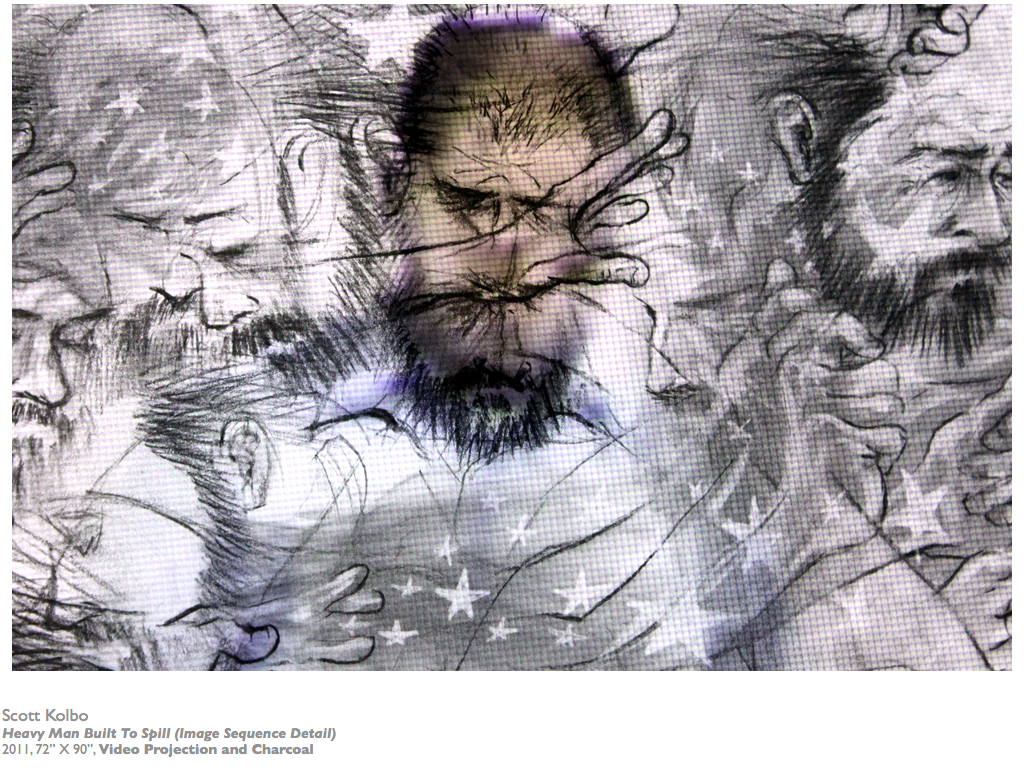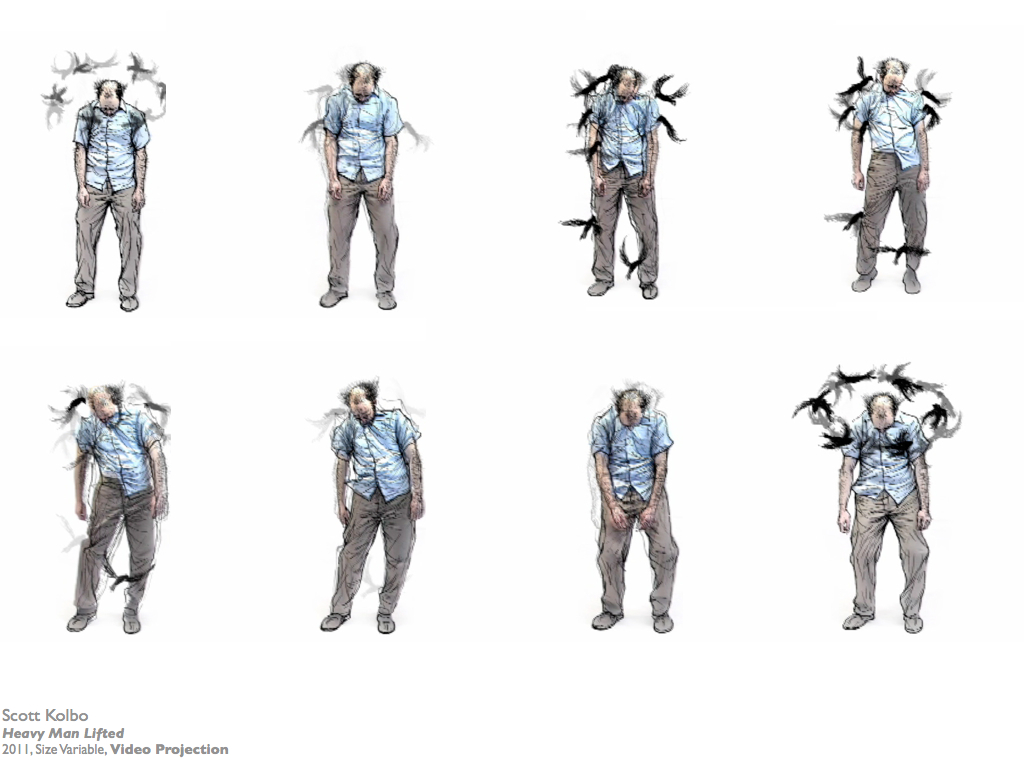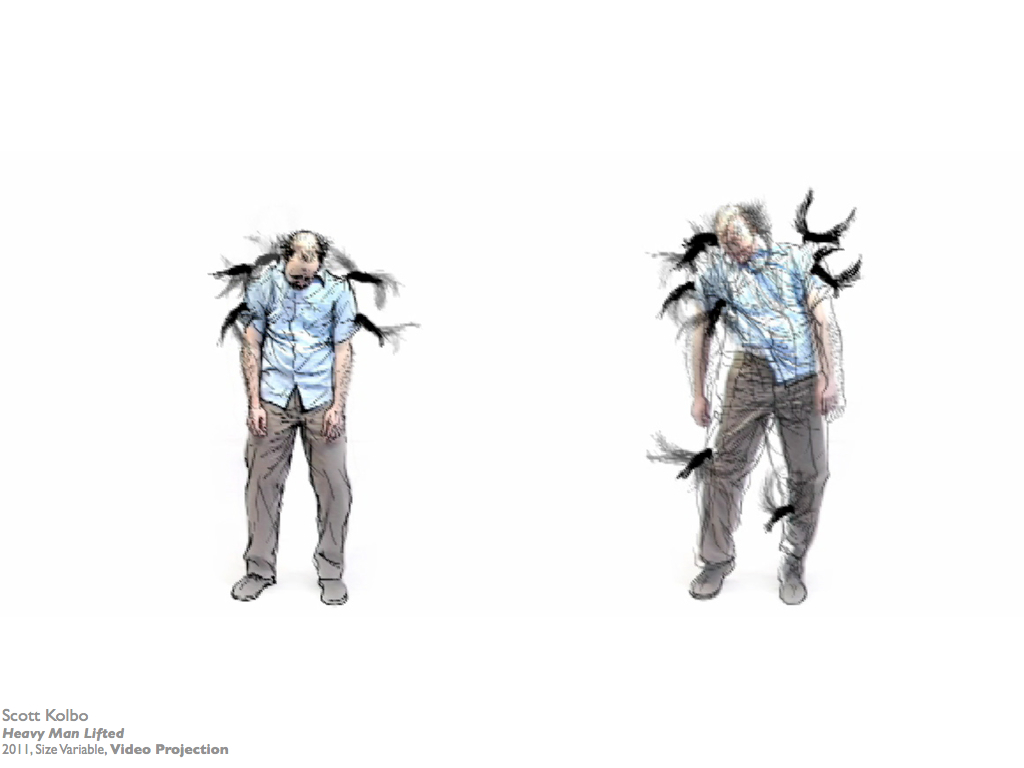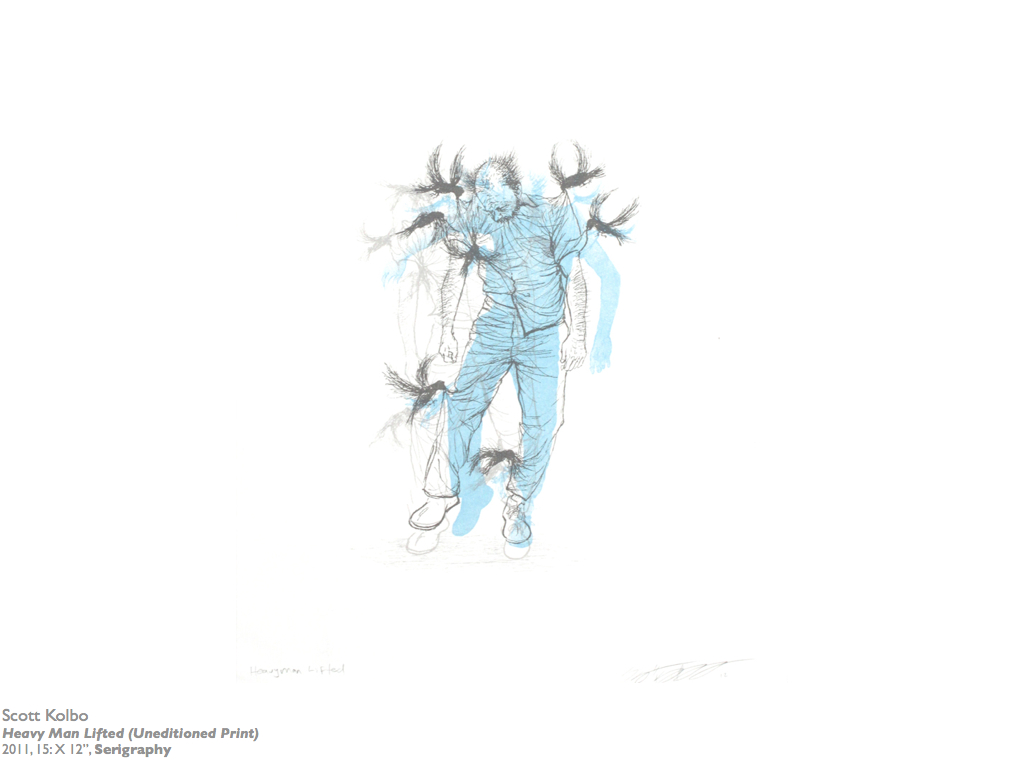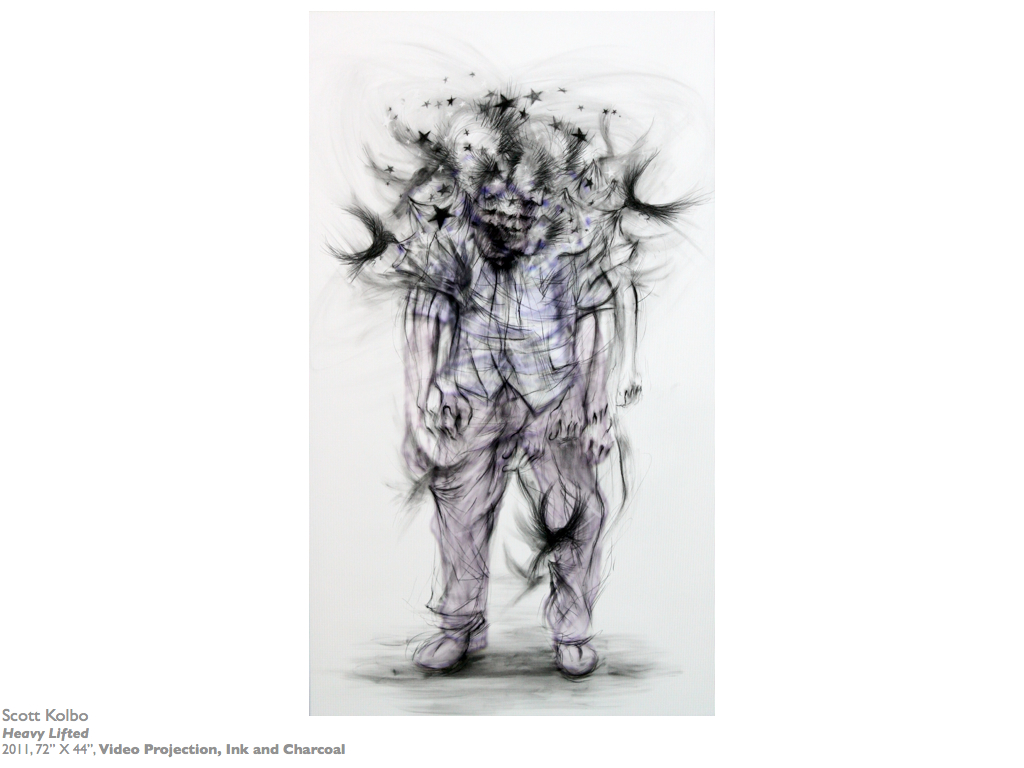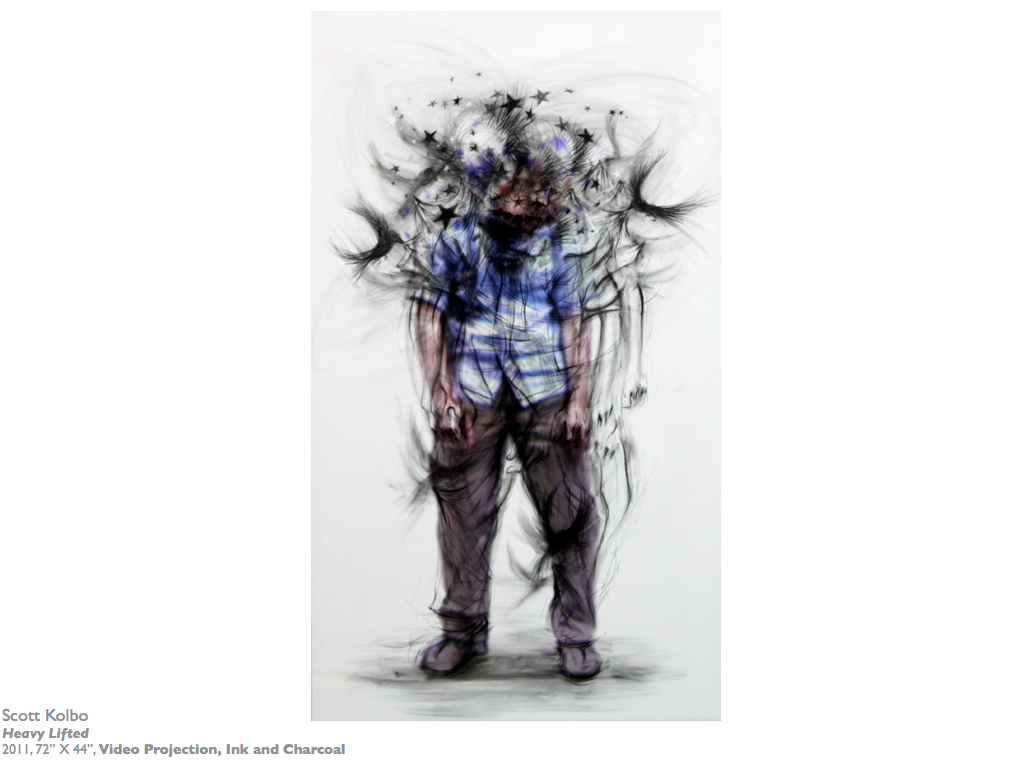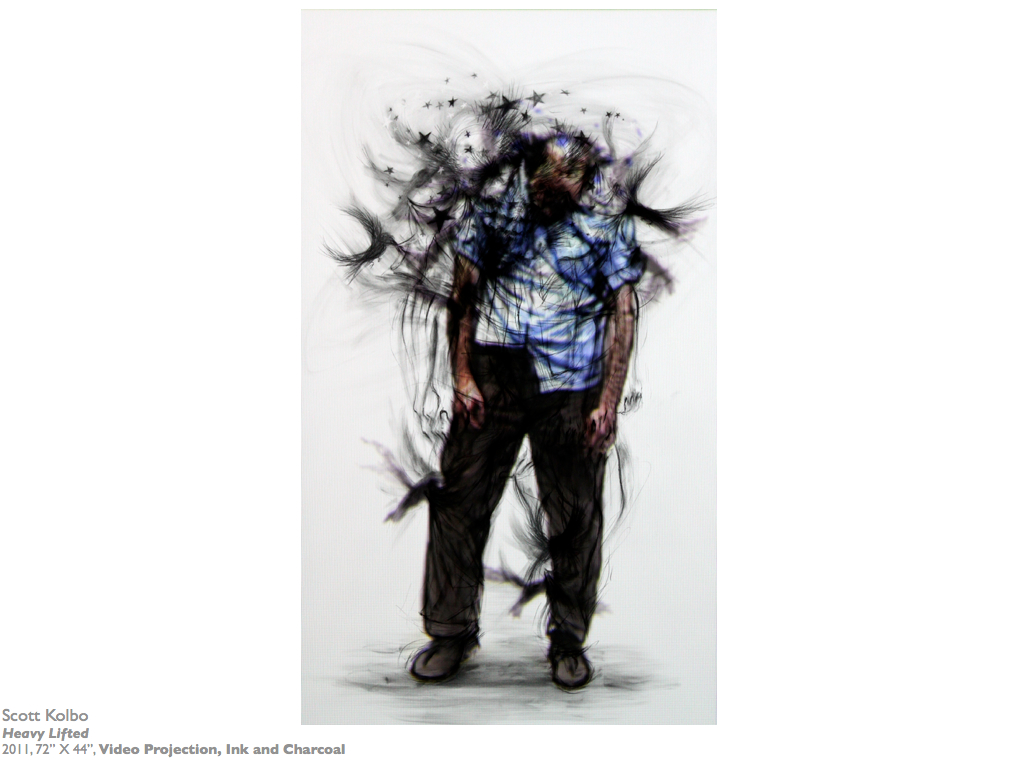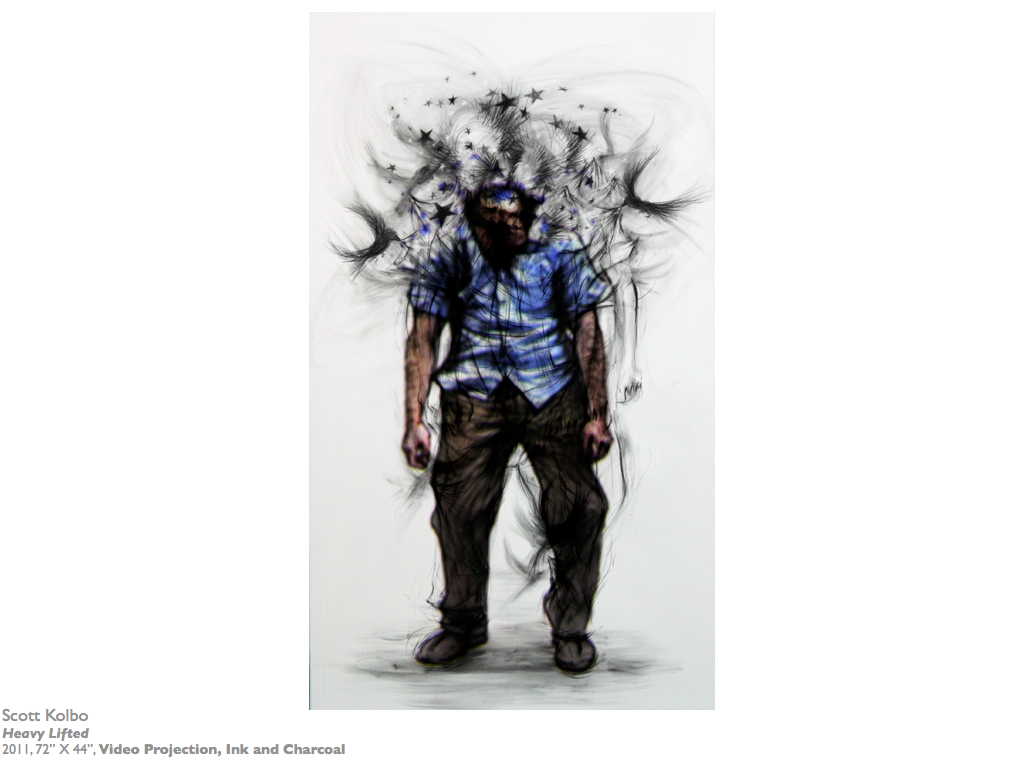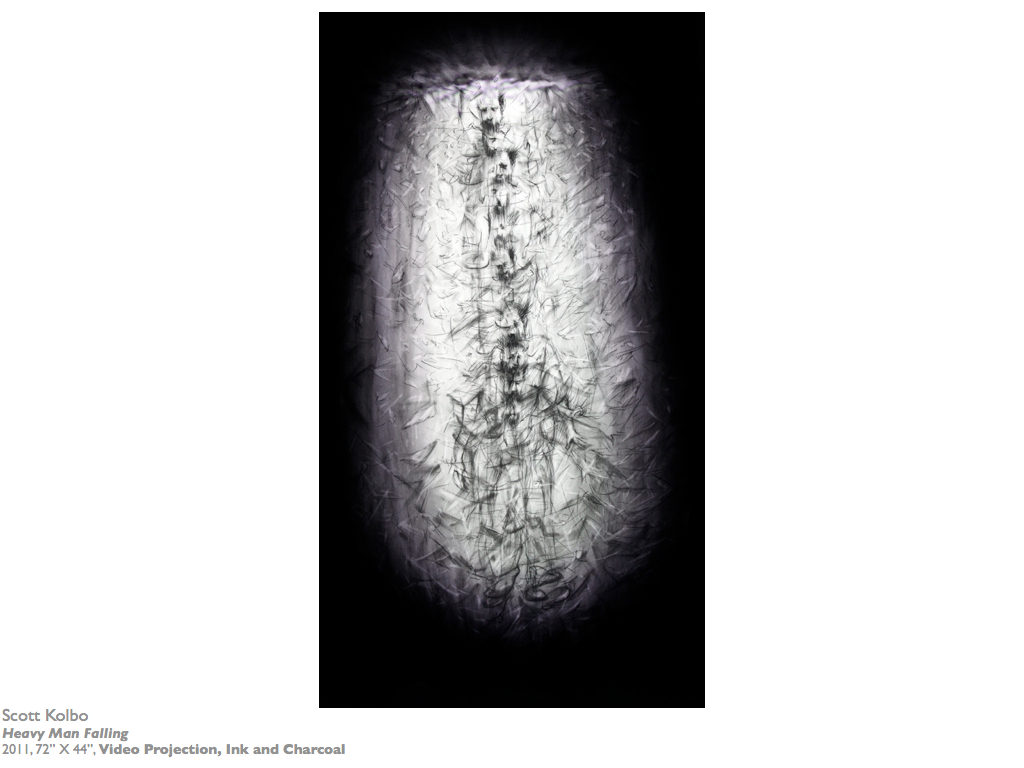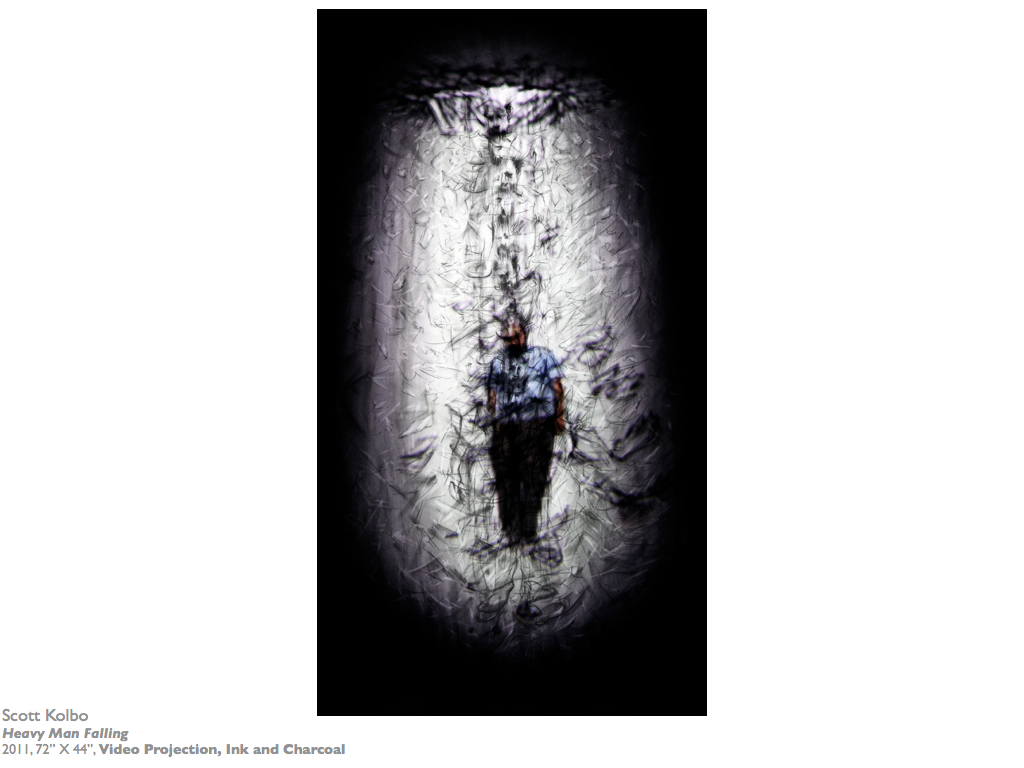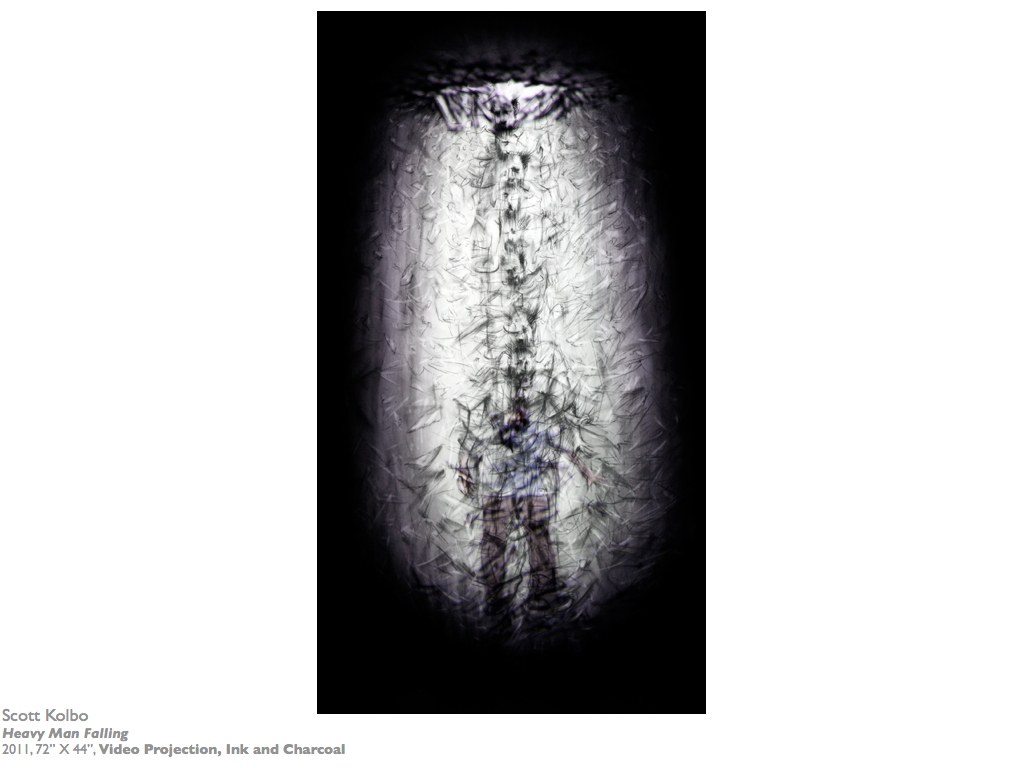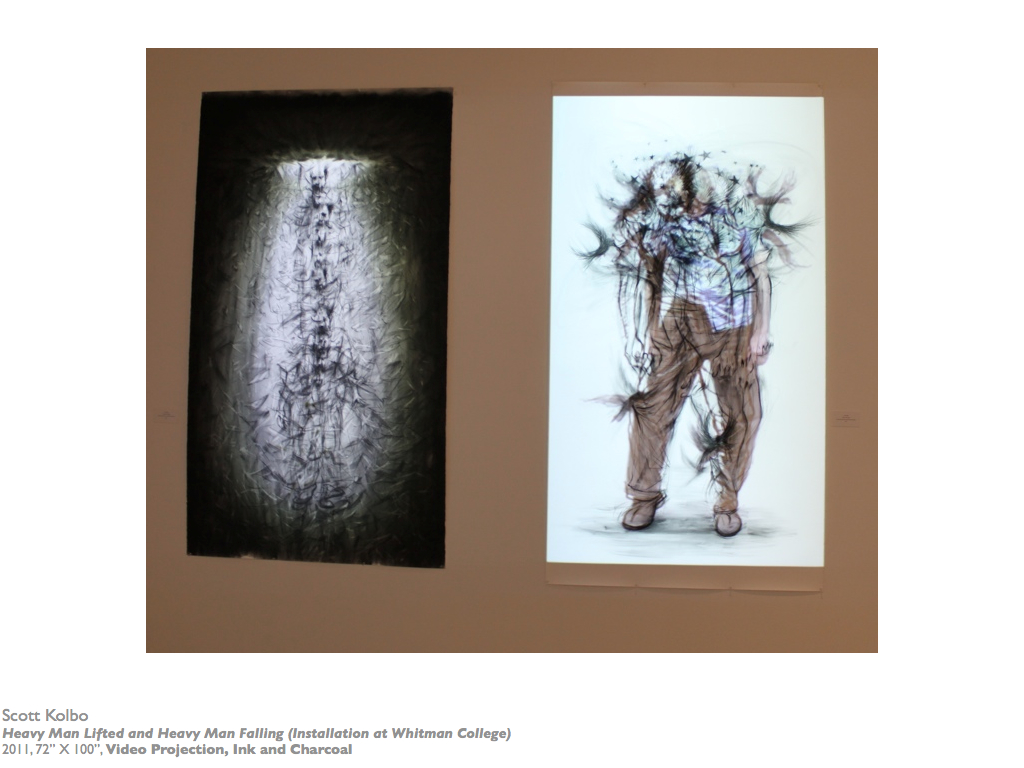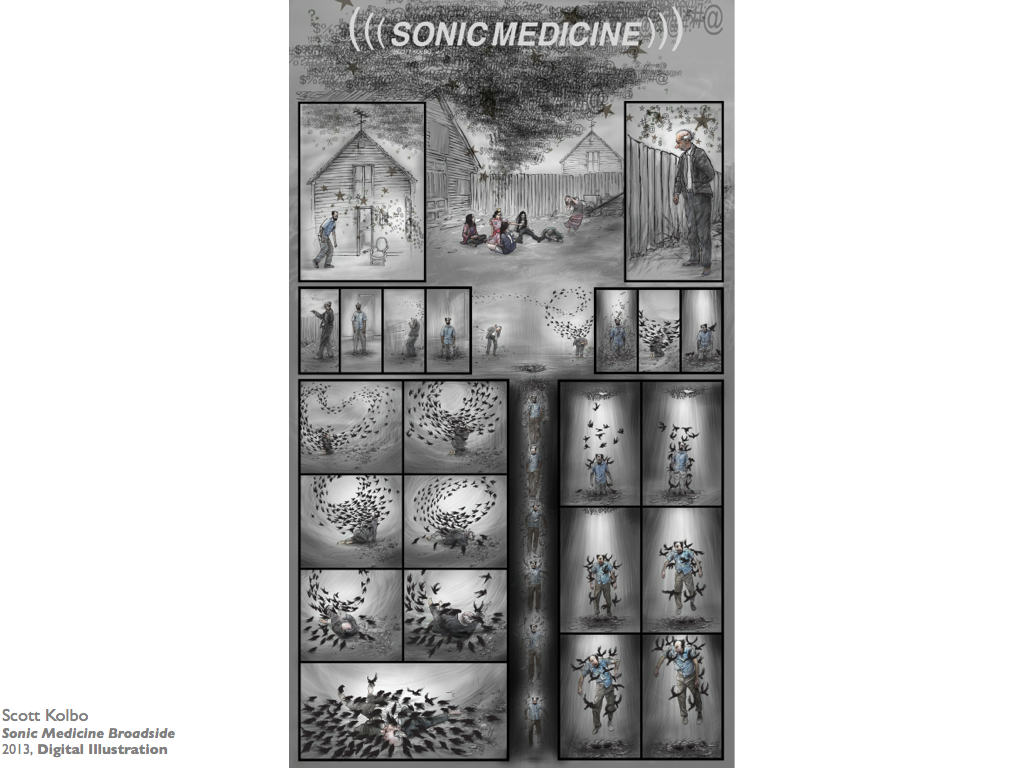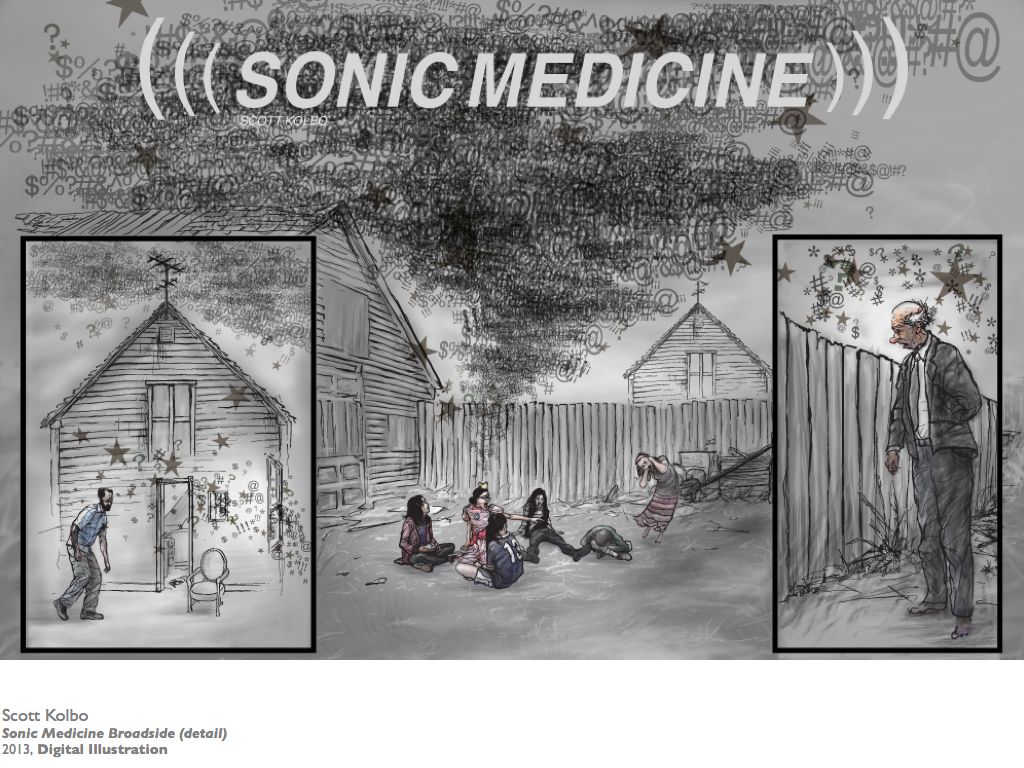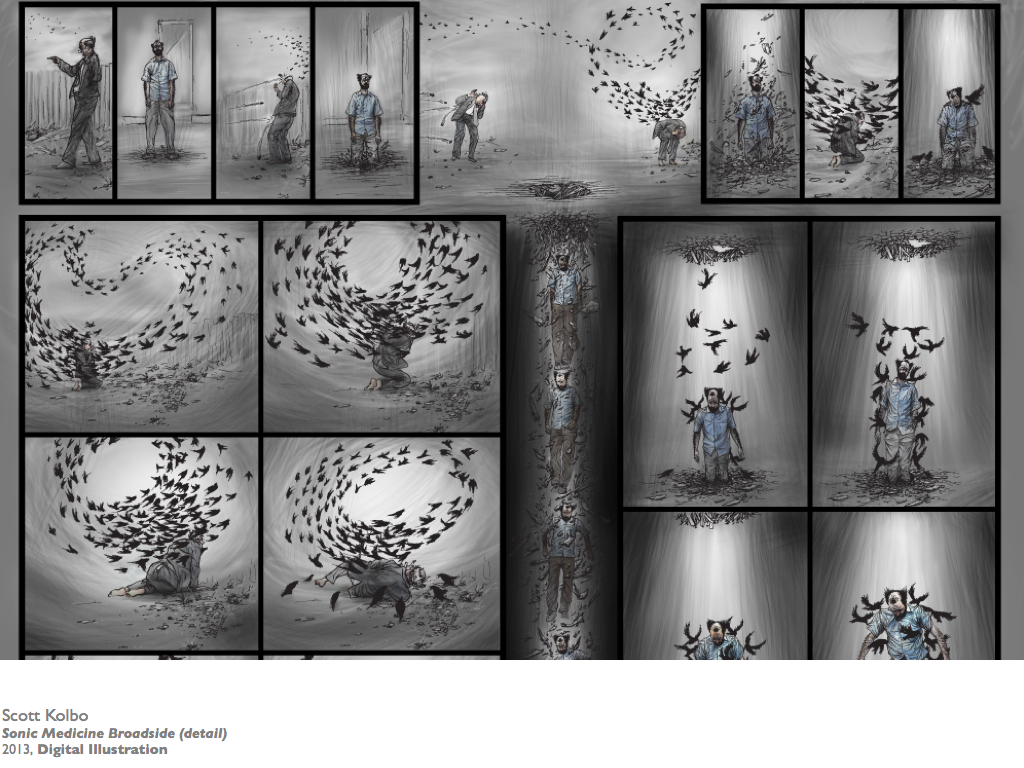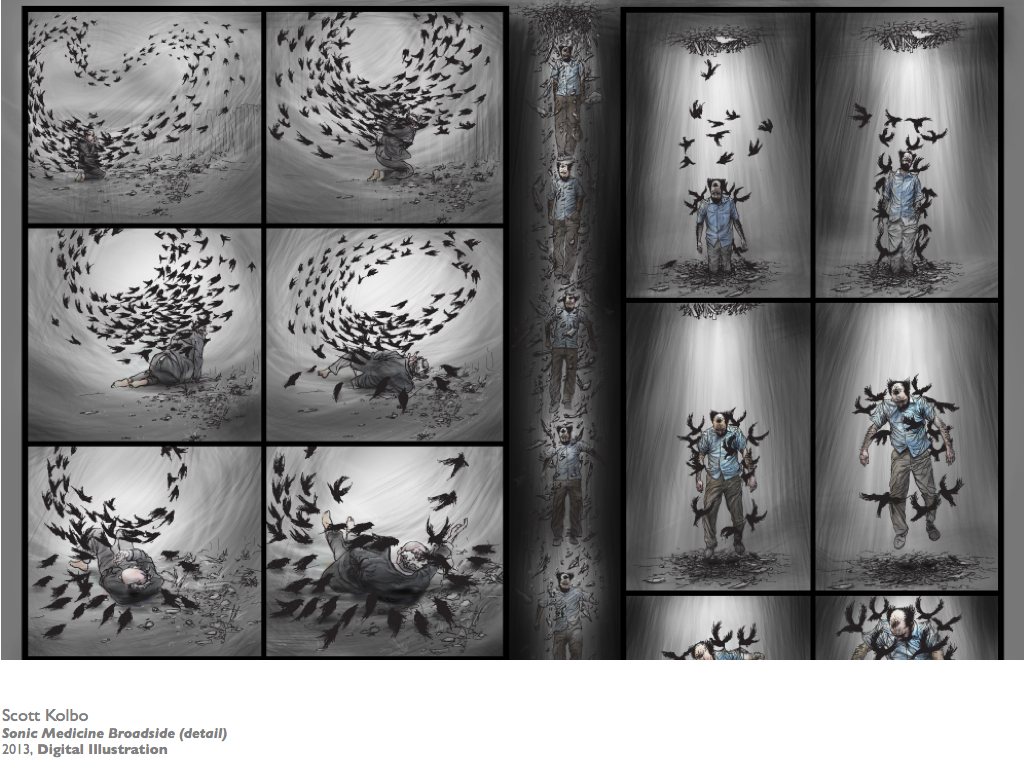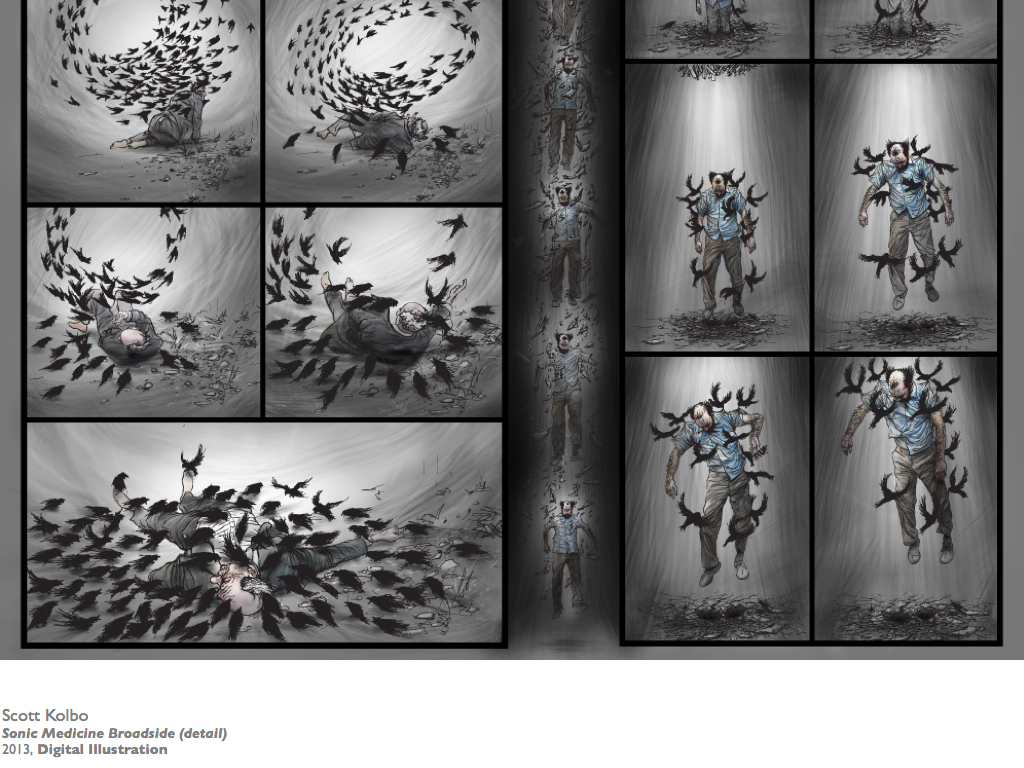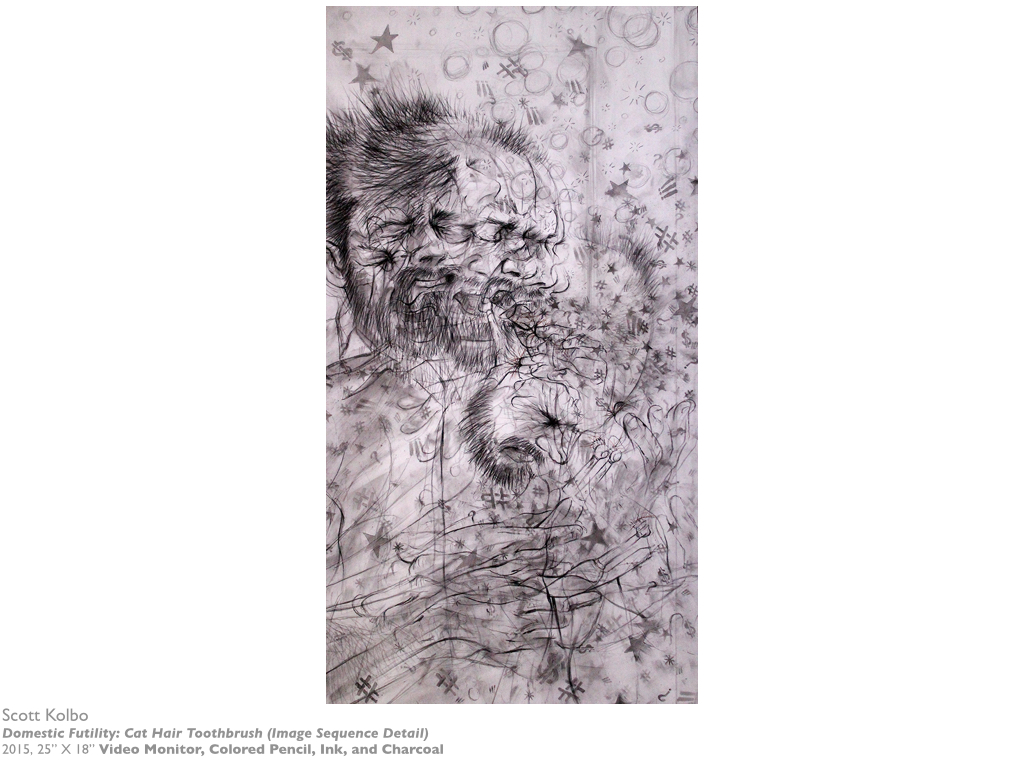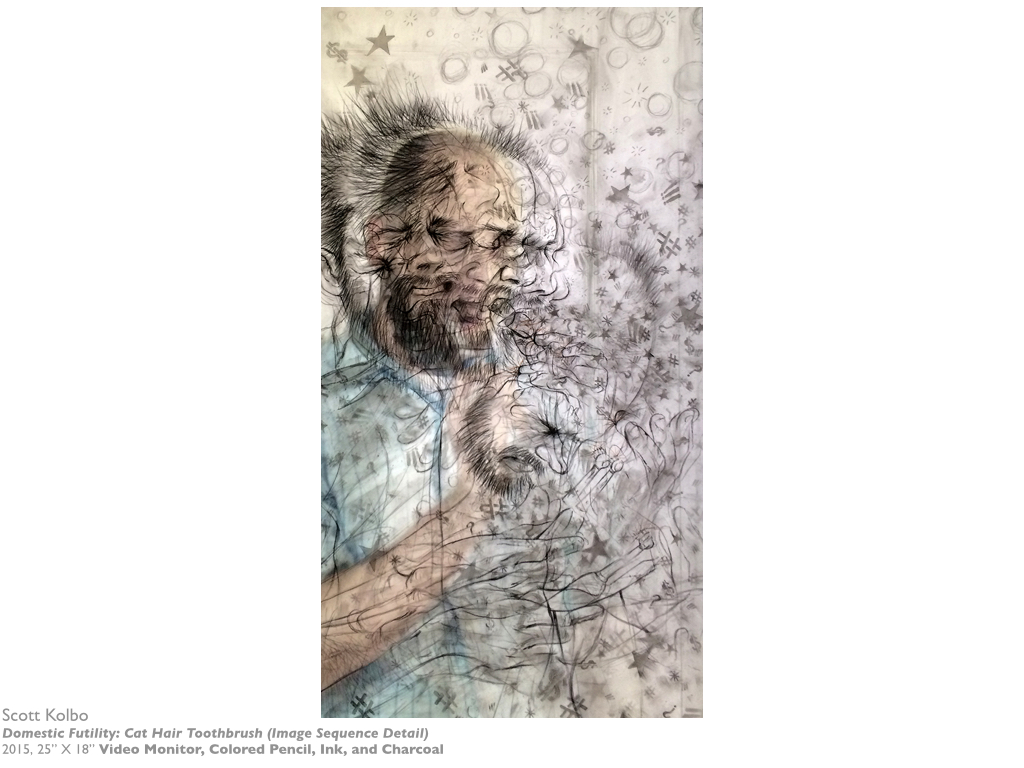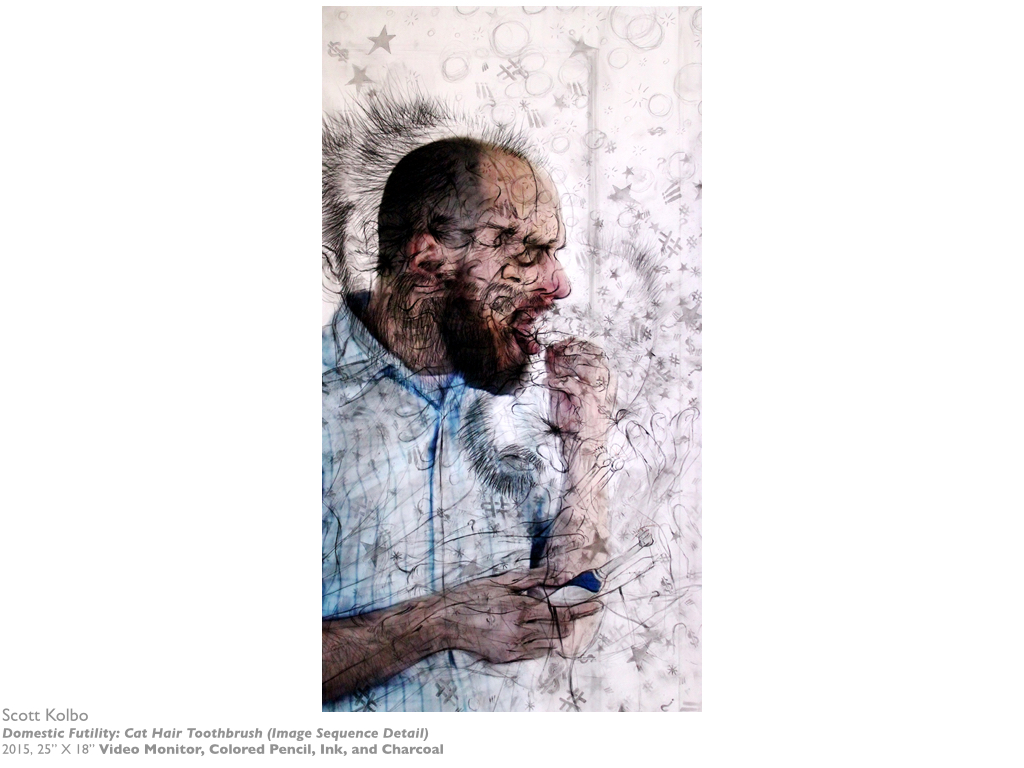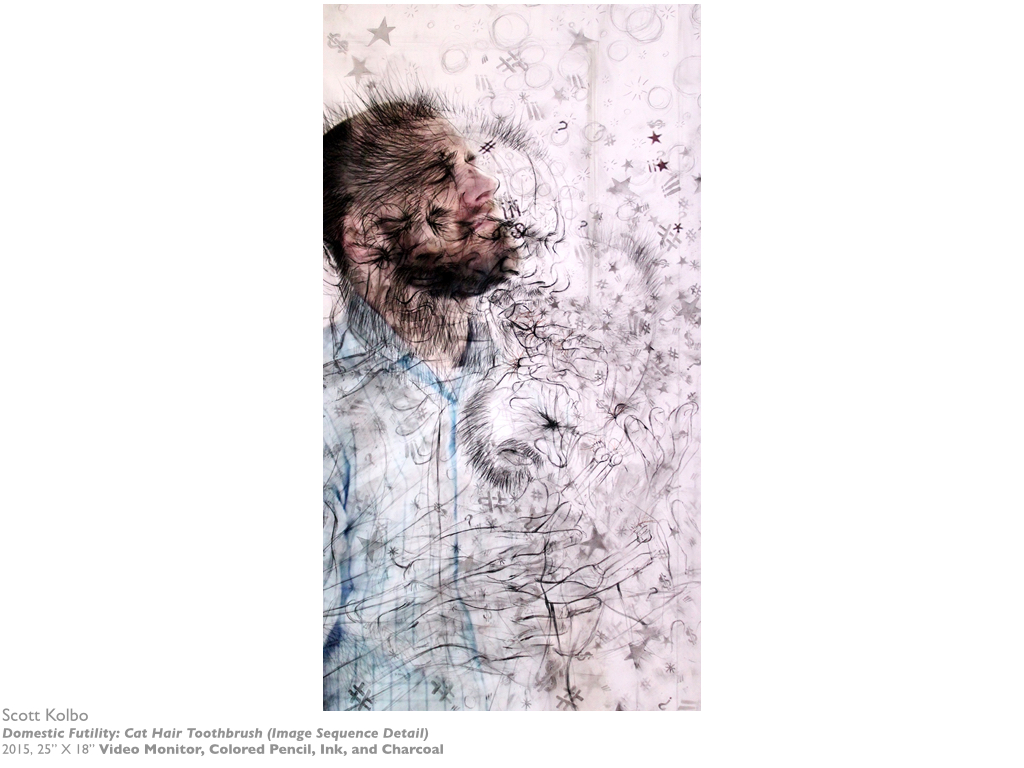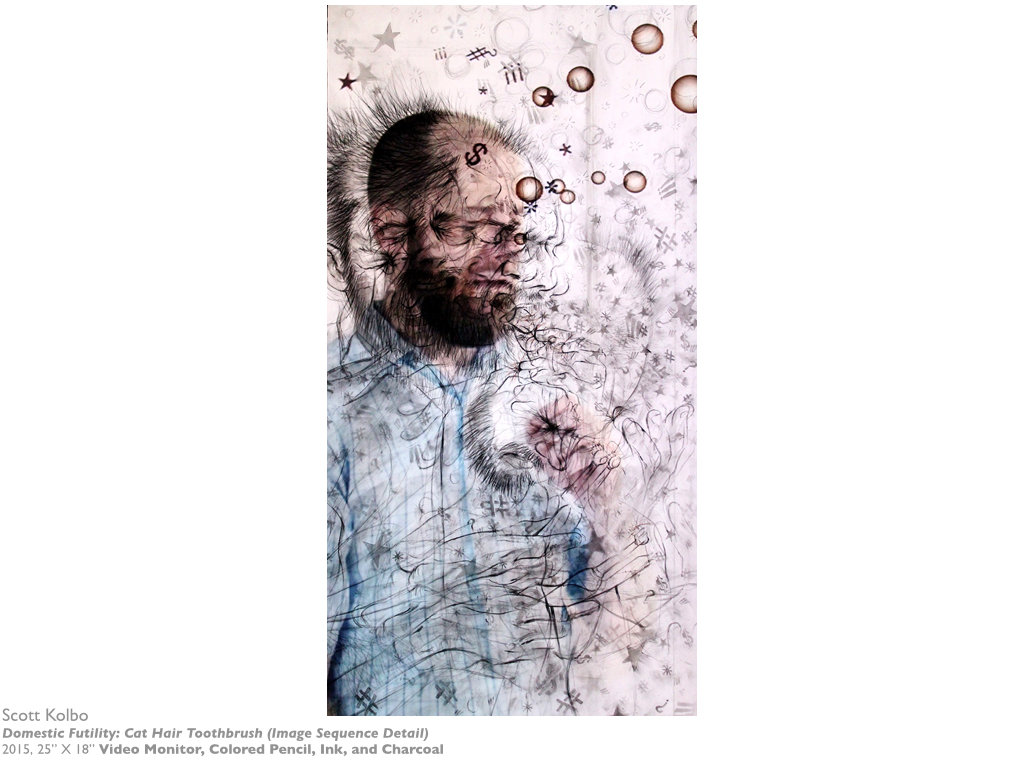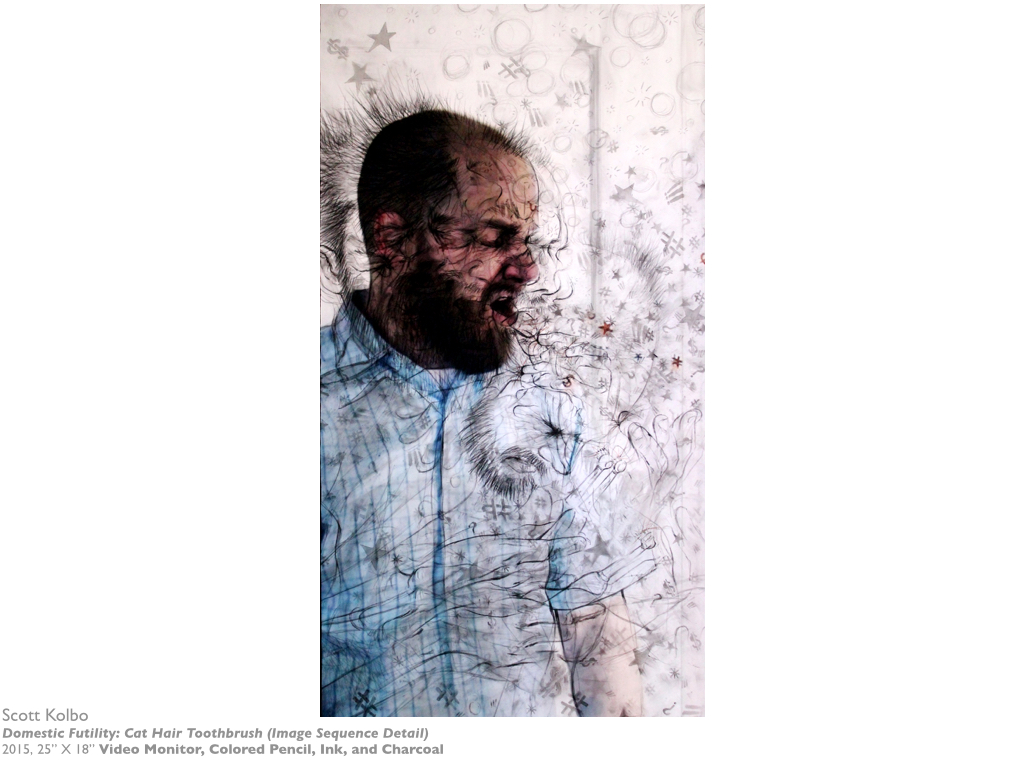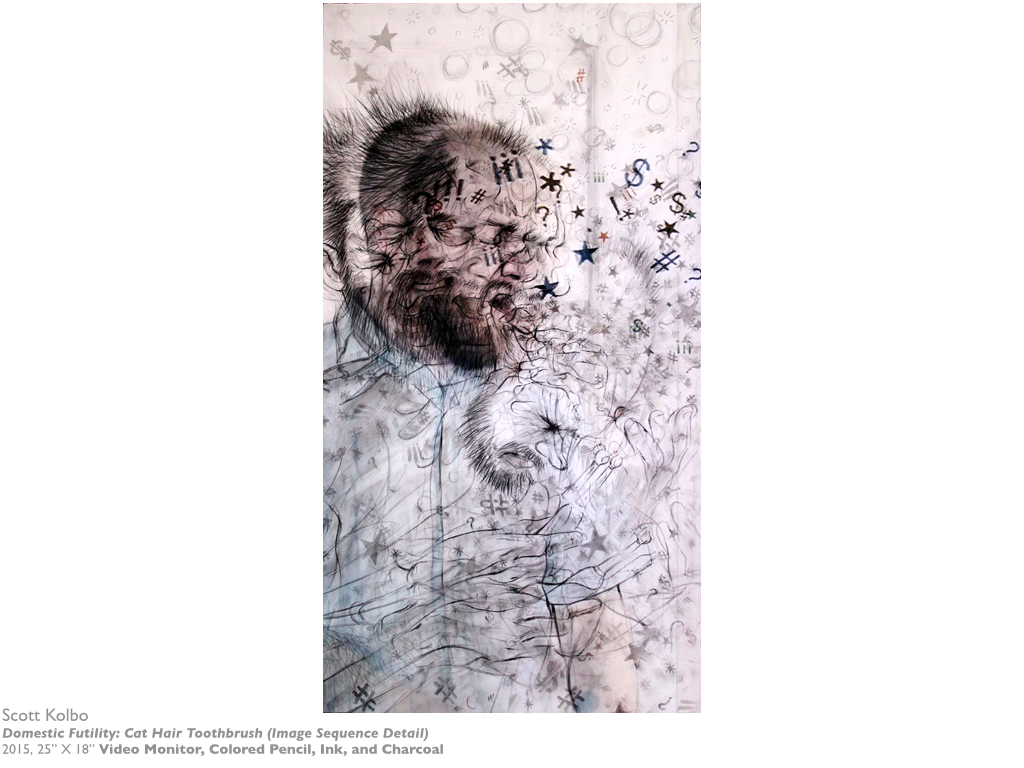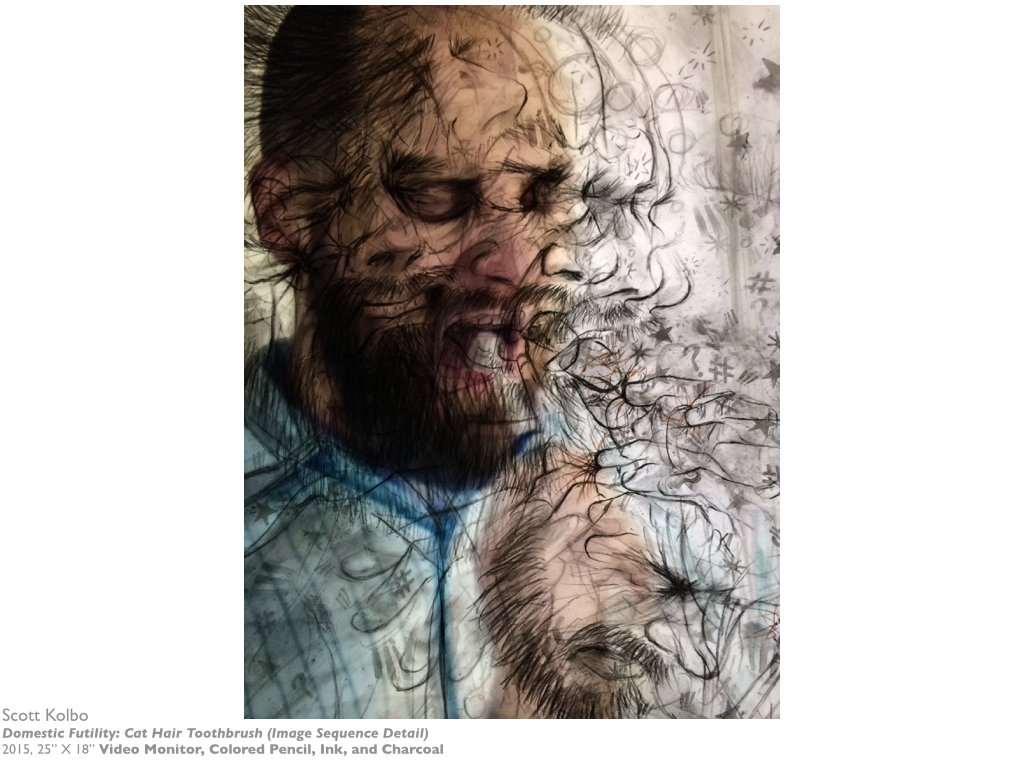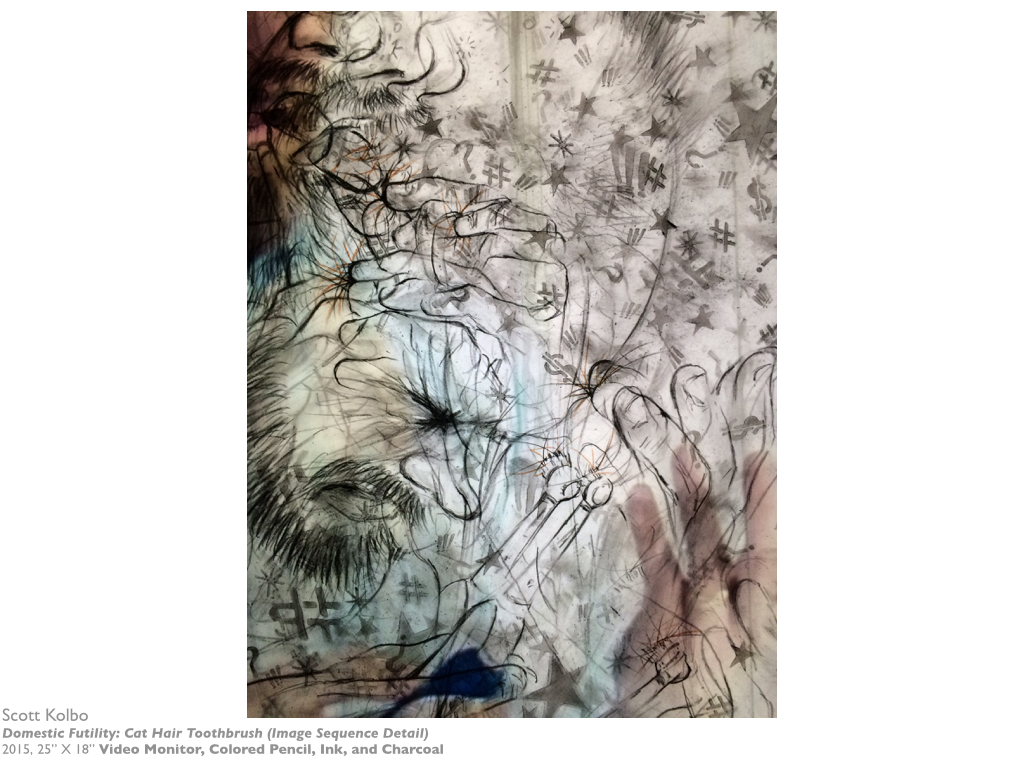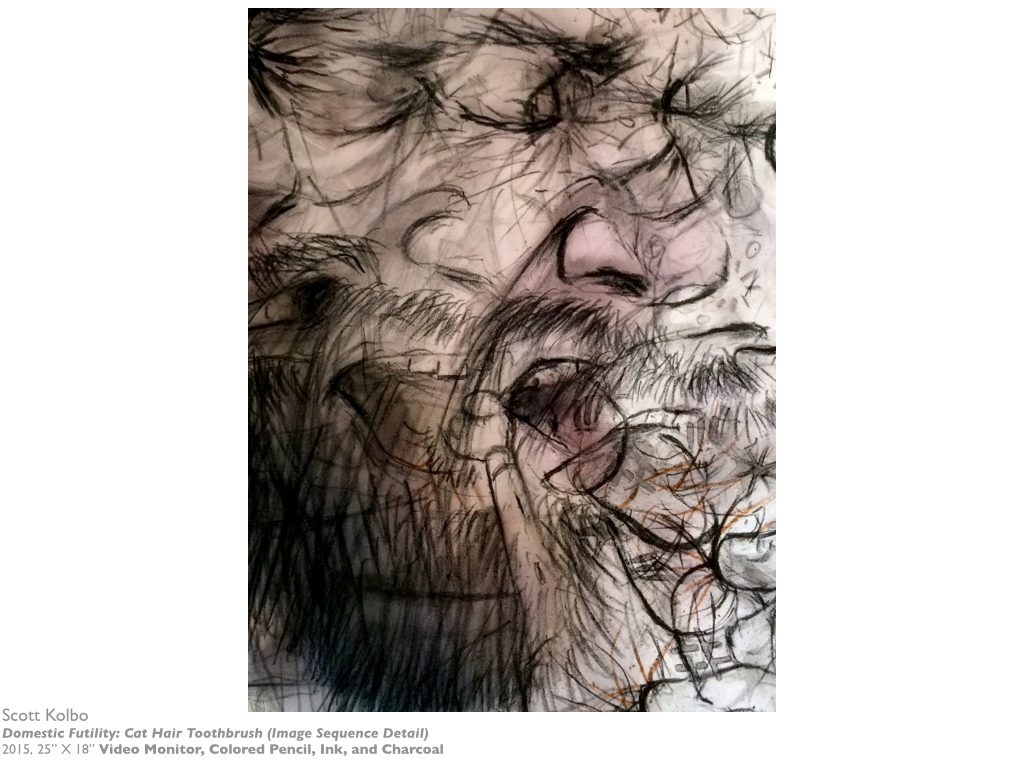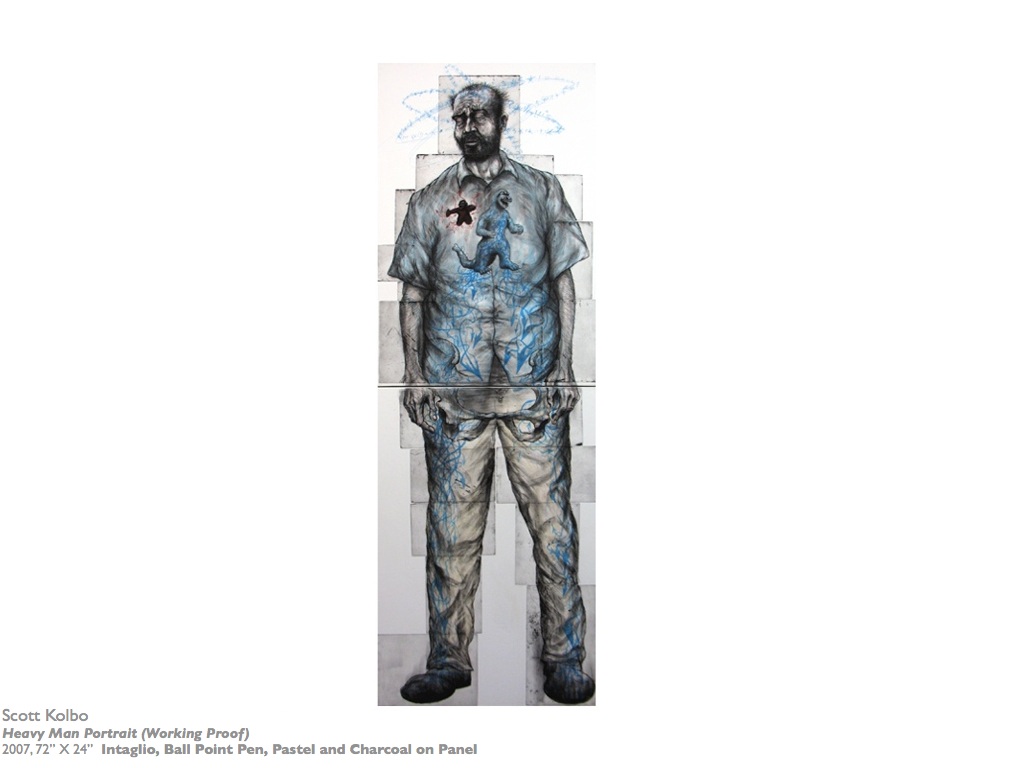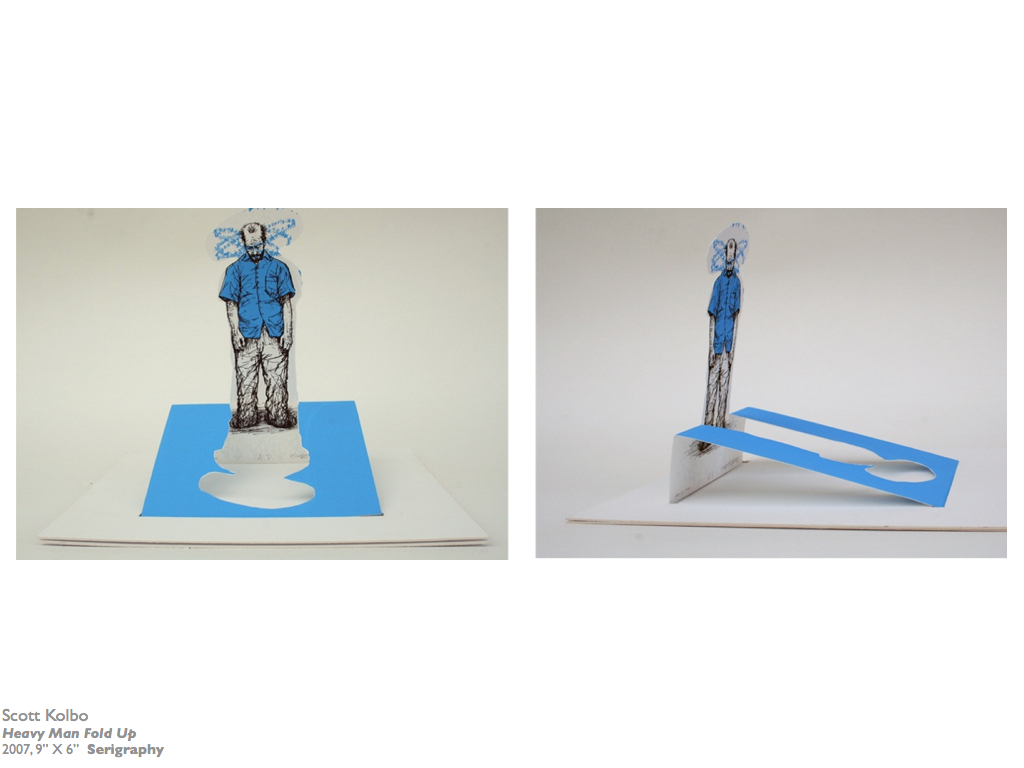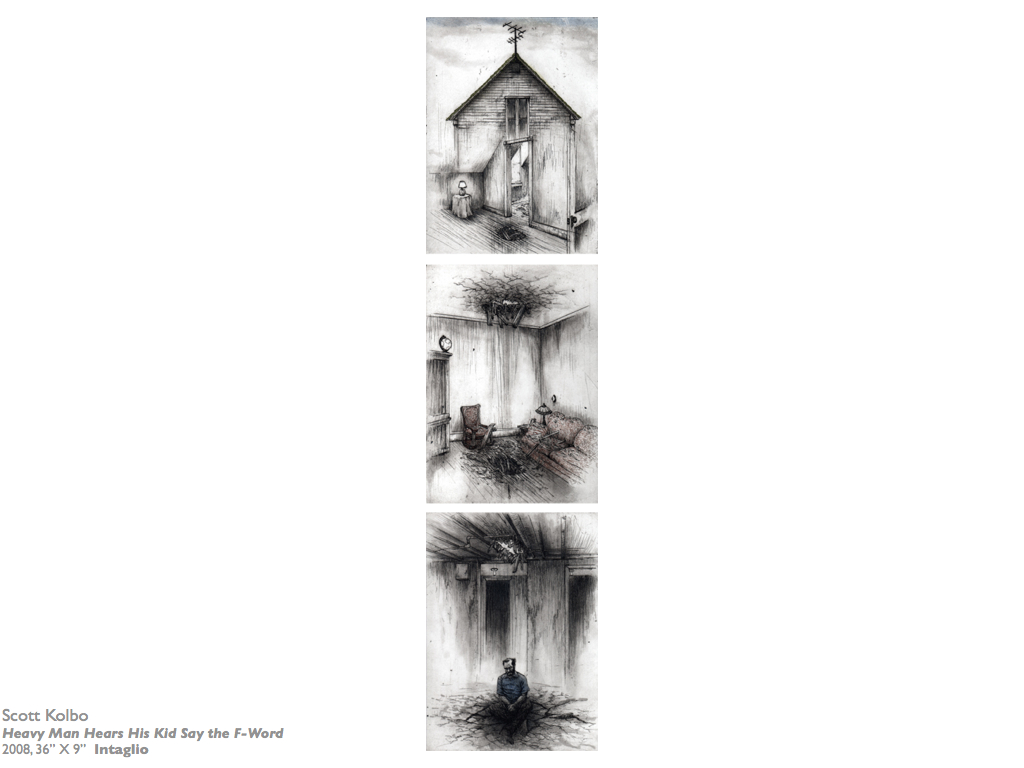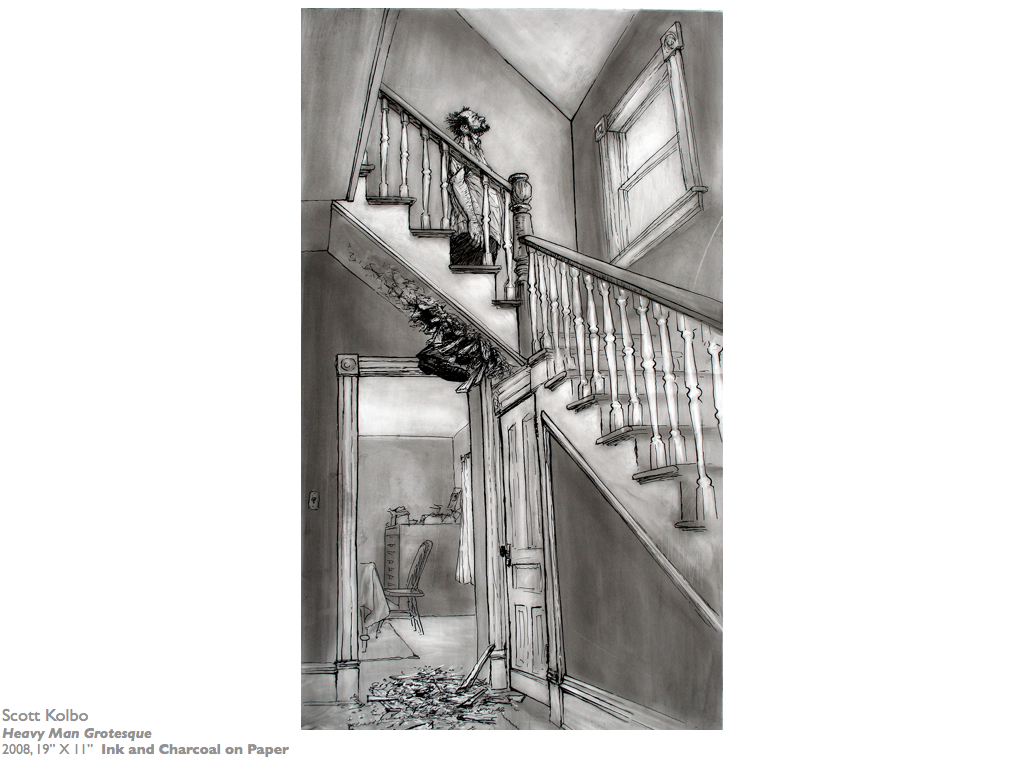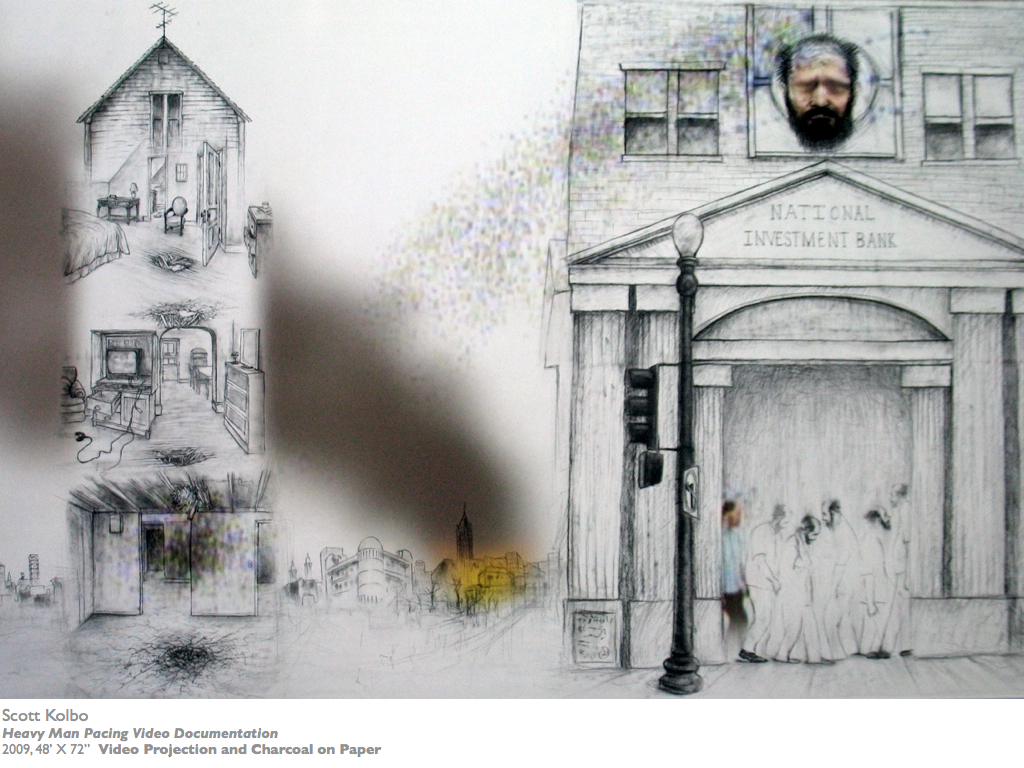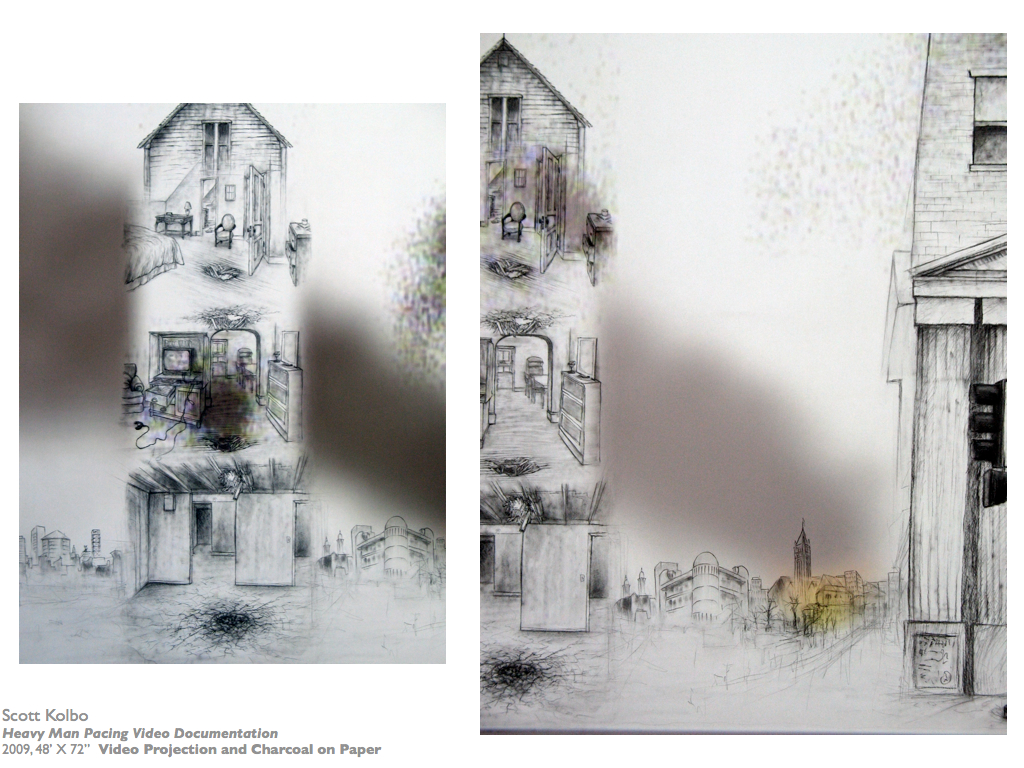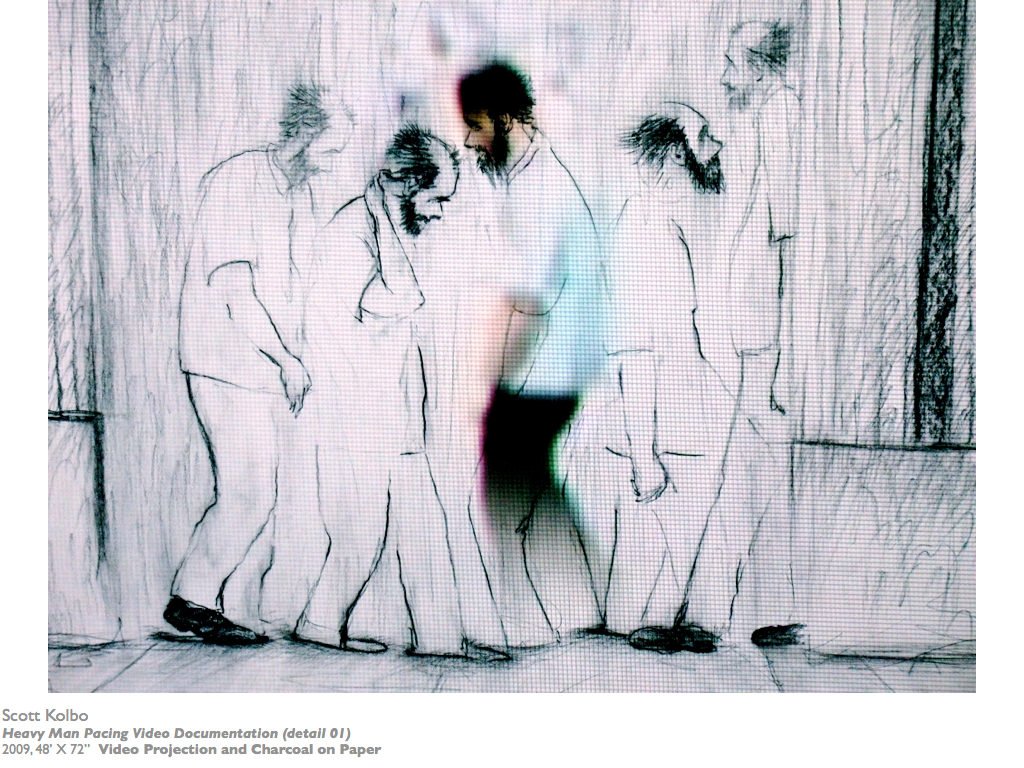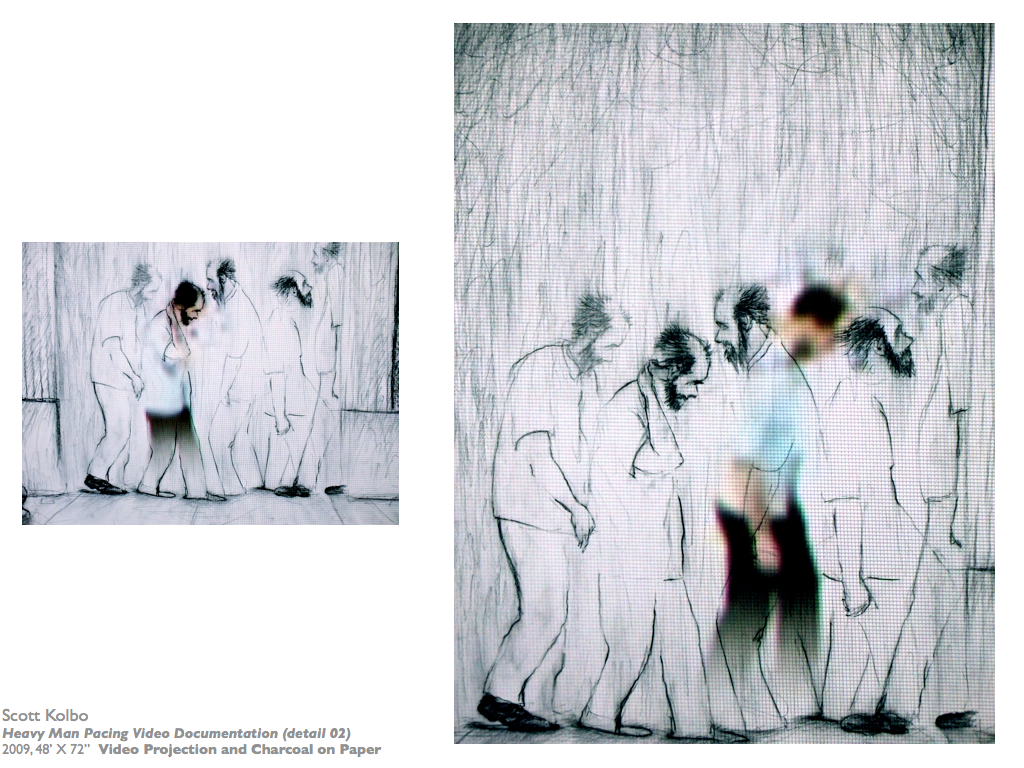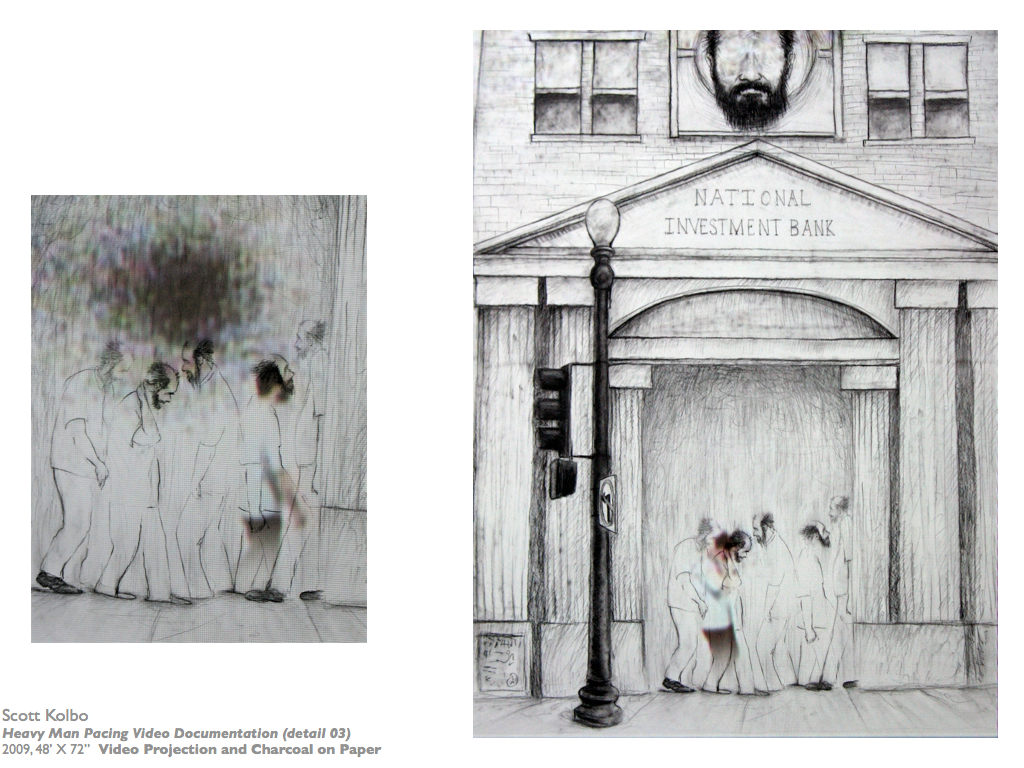 Heavy Man Slapstick Documentation (edited clips)
like a writer or filmmaker I have built up a pantheon of reoccurring characters and environments that allow me to investigate some of the social, political, and ethical issues that confront private individuals and communities in contemporary society. I prefer to fragment my stories rather than rely on a traditional narrative structure – so most of the pieces I produce are vignettes and brief glimpses of a larger slapstick comedy world. For example "Heavy Man" is a sad-sack middle class man who mysteriously becomes spontaneously heavy when he interacts with some of the more disturbing elements in our culture. He breaks office chairs, falls through floors, and wanders around lost in a haze of doubt. This gallery is a collection of some of these works.
Heavy Man Lifted and Heavy Man Falling Documentation
Documentation of two video projections over charcoal drawings - side by side. The video projection plays in a loop over the top of the static drawing mounted on the wall in a gallery space.
Heavy Man Built to Spill (With Soundtrack)
Documentation of a Video Projection over a charcoal drawing. Projection and Drawing size = 72" X 90". 2011. Sound played through headphones (Heavy Man singing and humming along to the song "Conventional Wisdom" by Built To Spill).
Heavy Man Domestic Bliss - Custody Day
Documentation of a Video Projection over an ink and charcoal drawing. Projection and Drawing size = 27" X 36". 2009.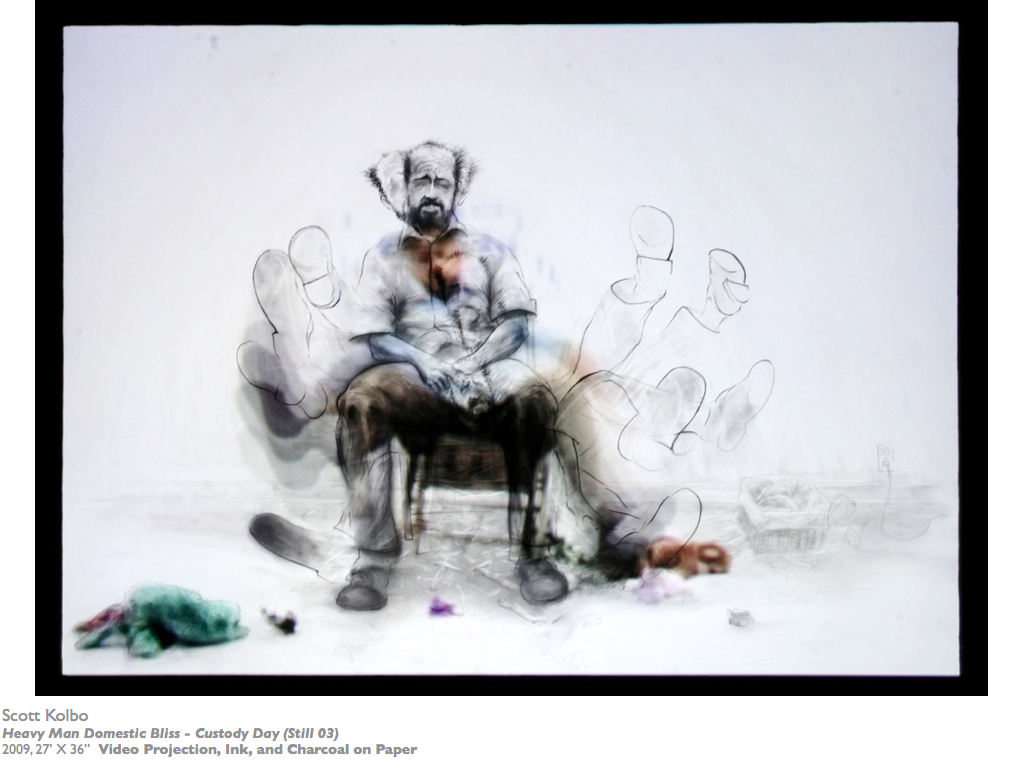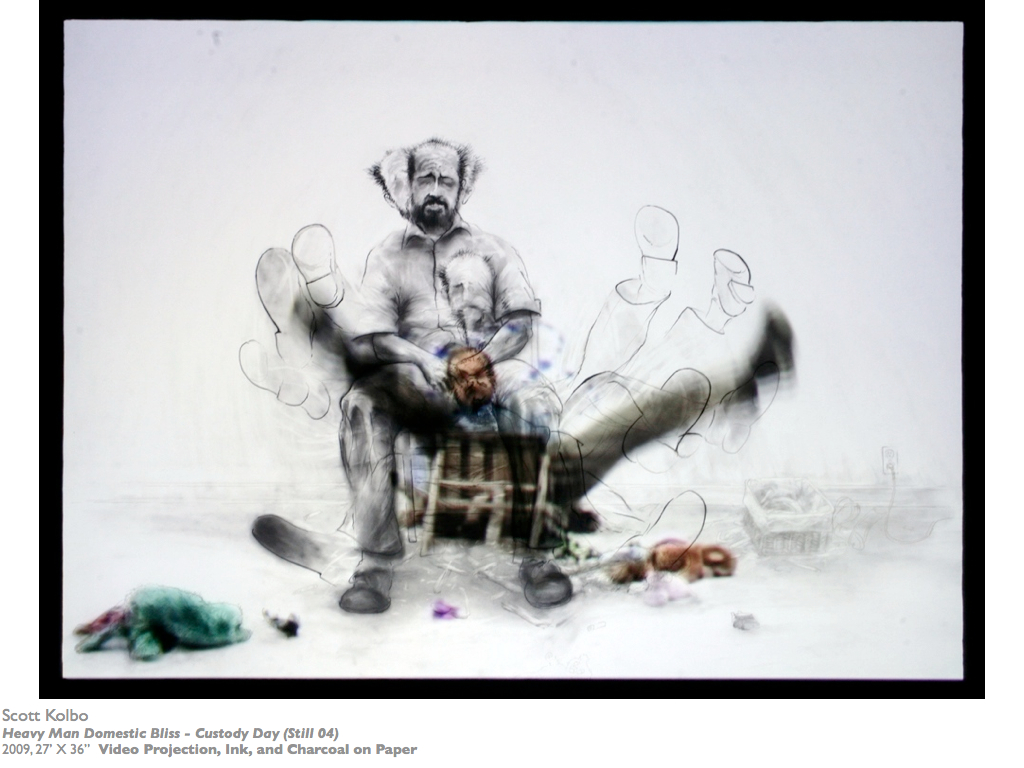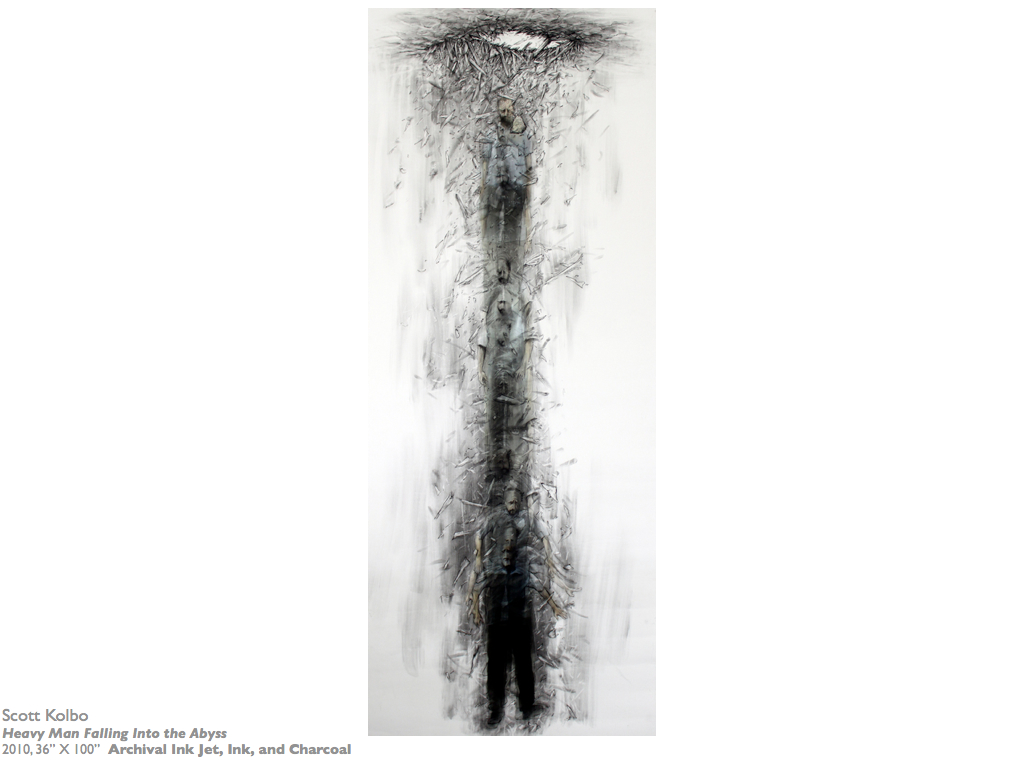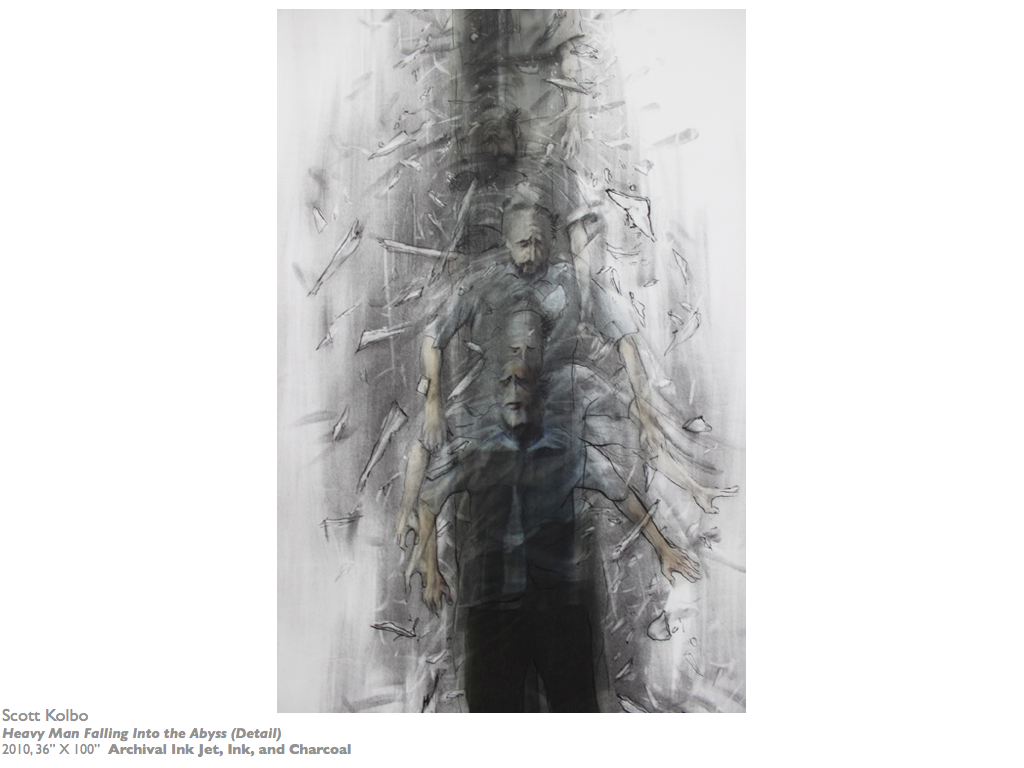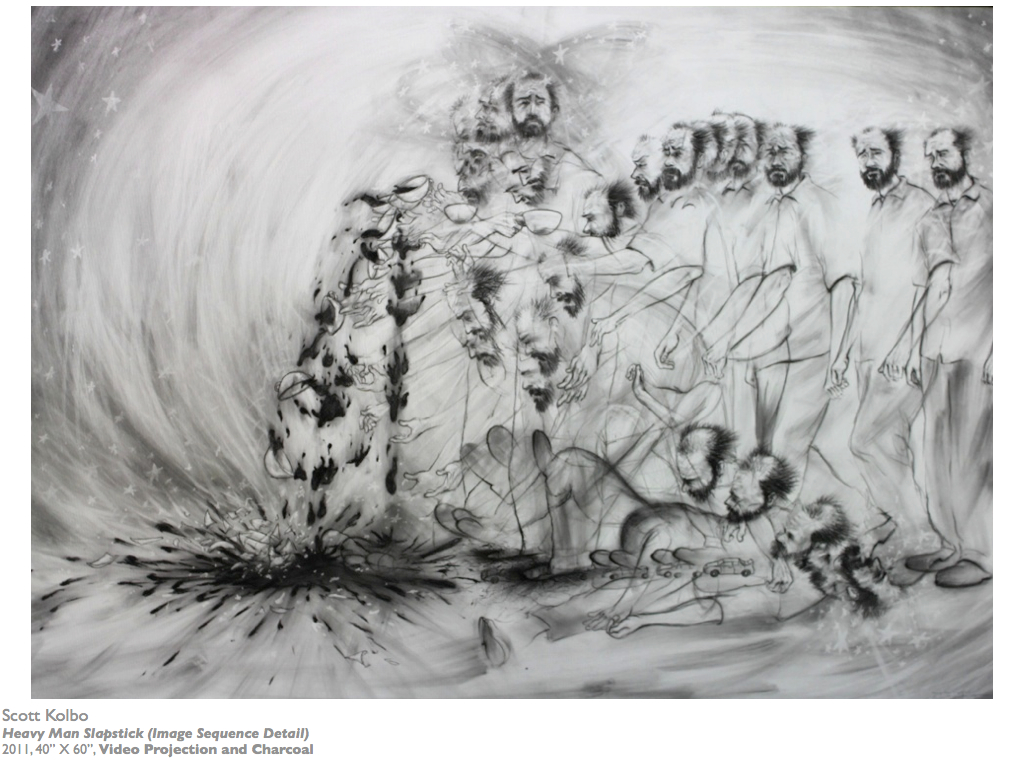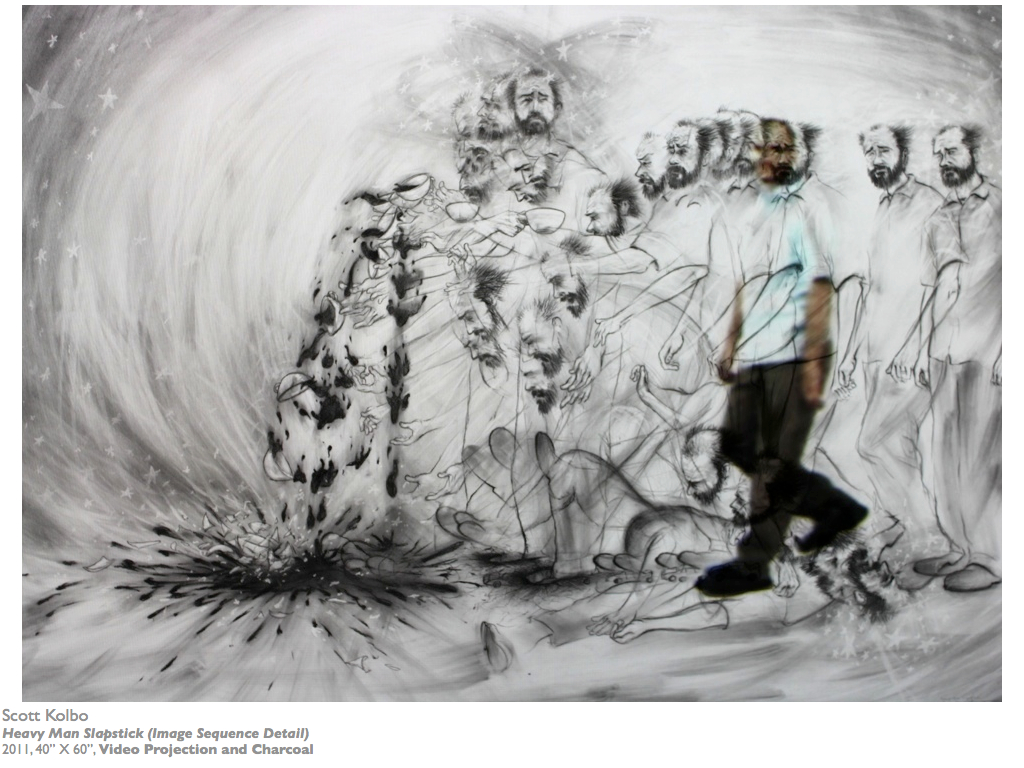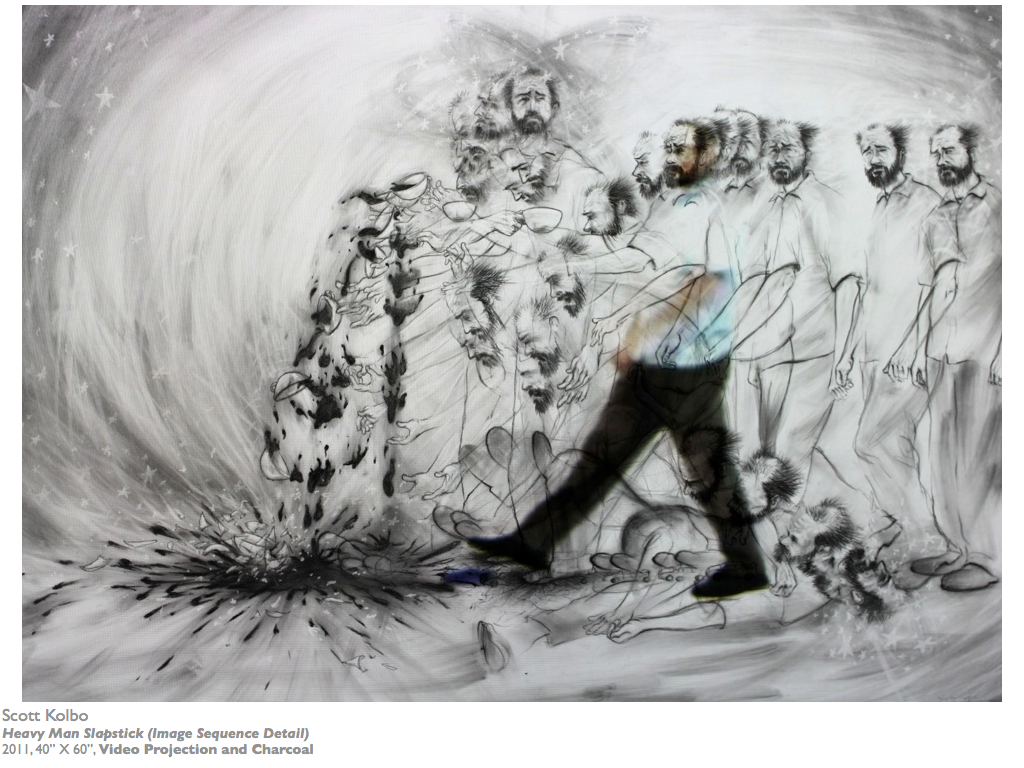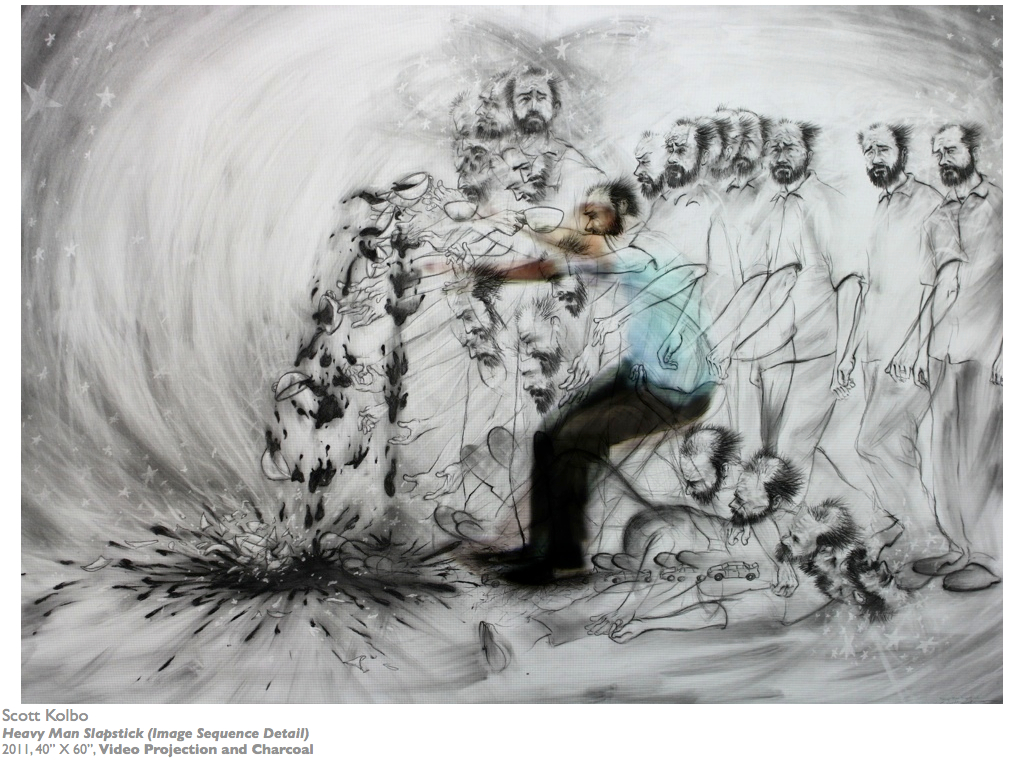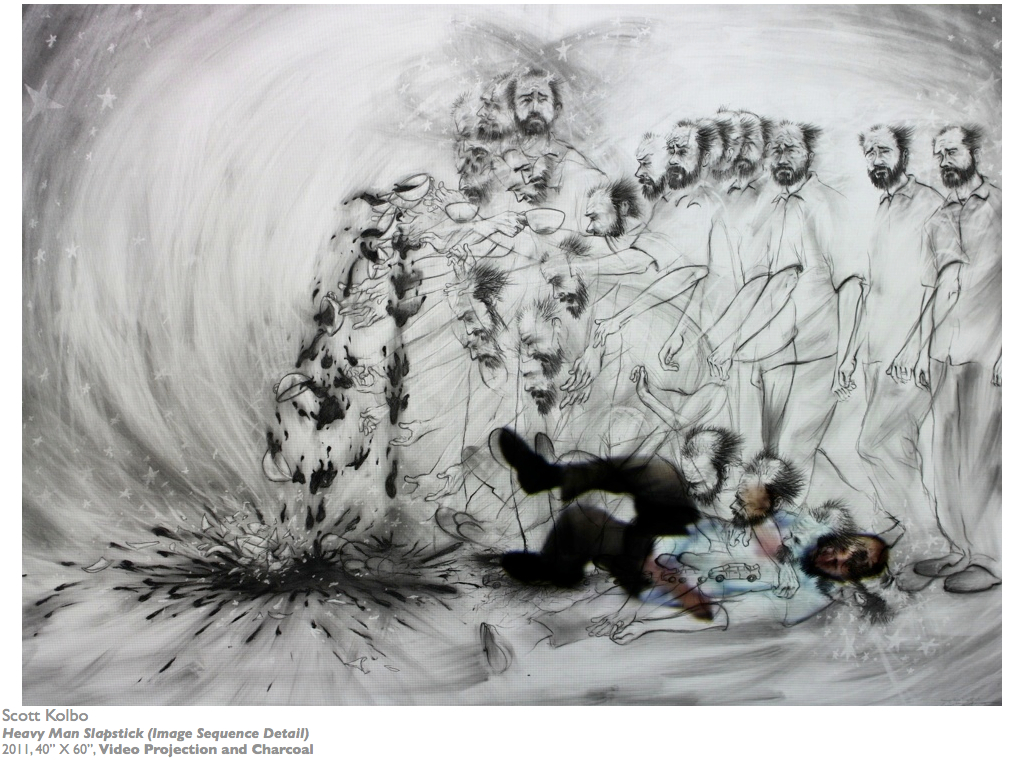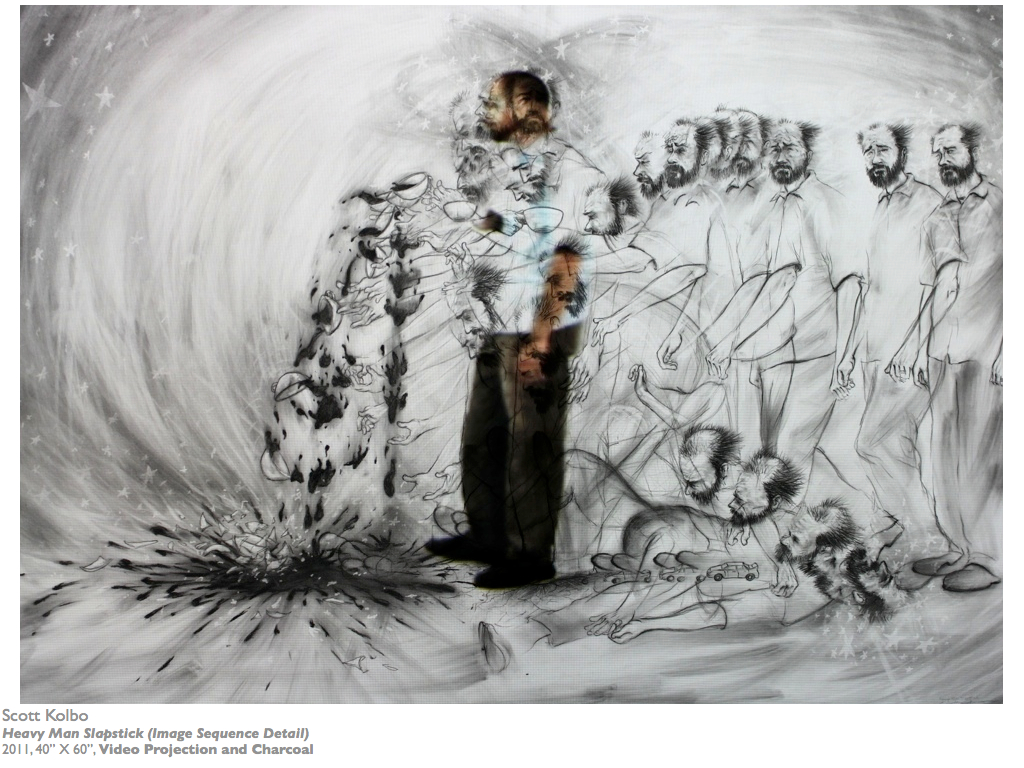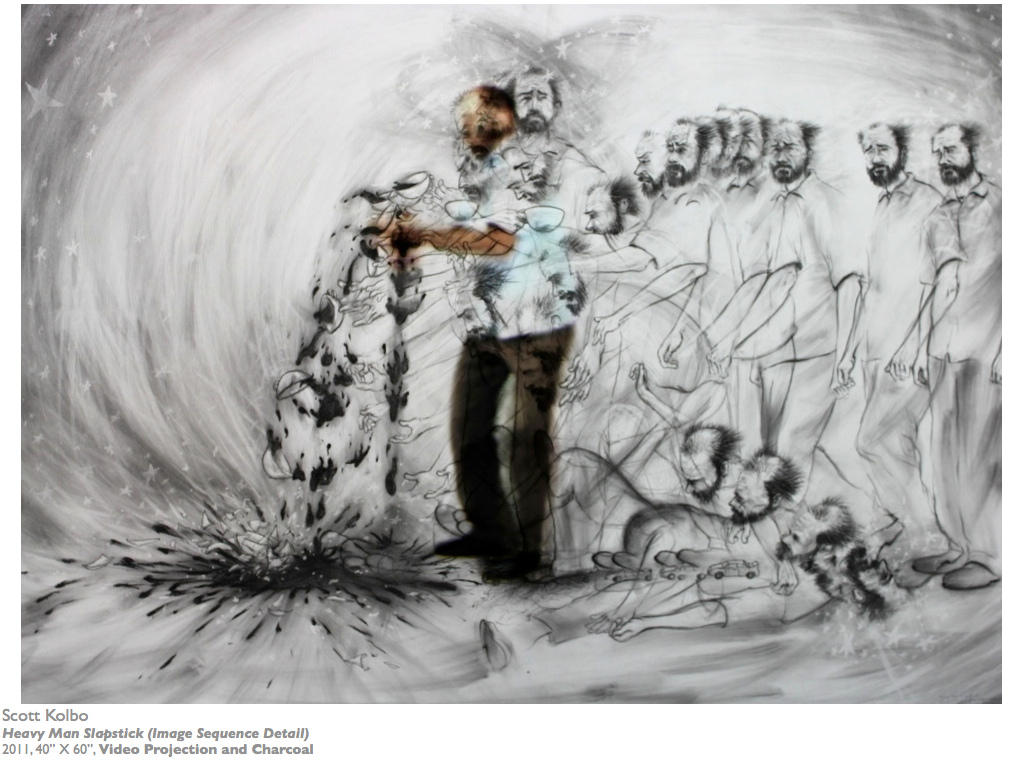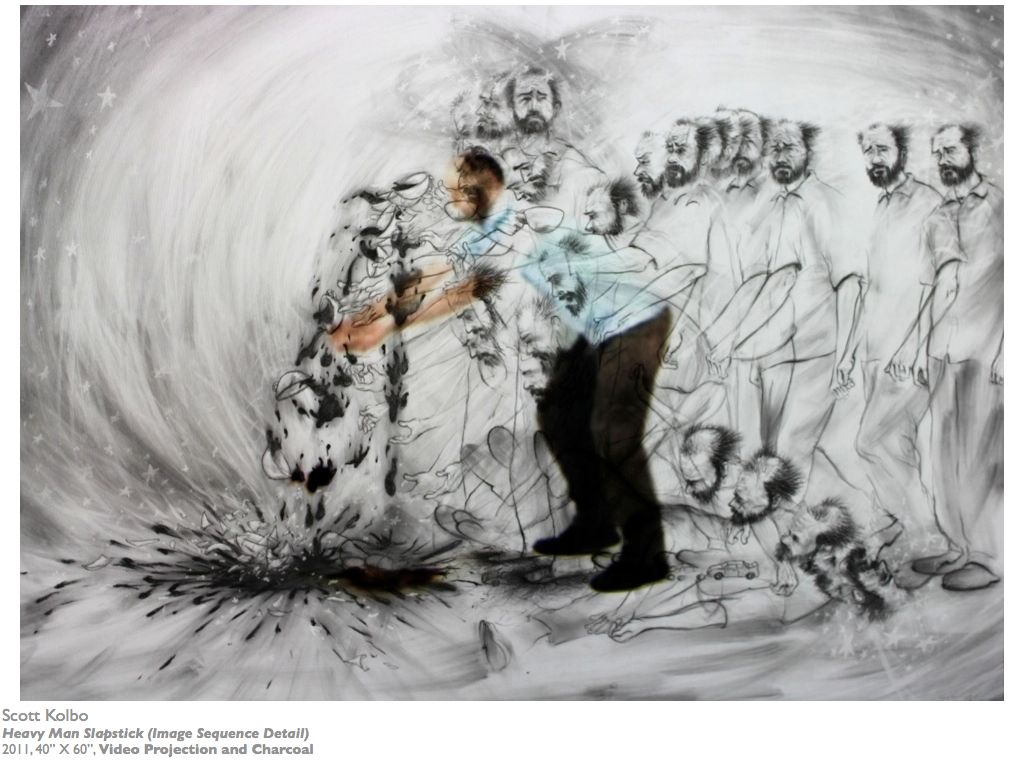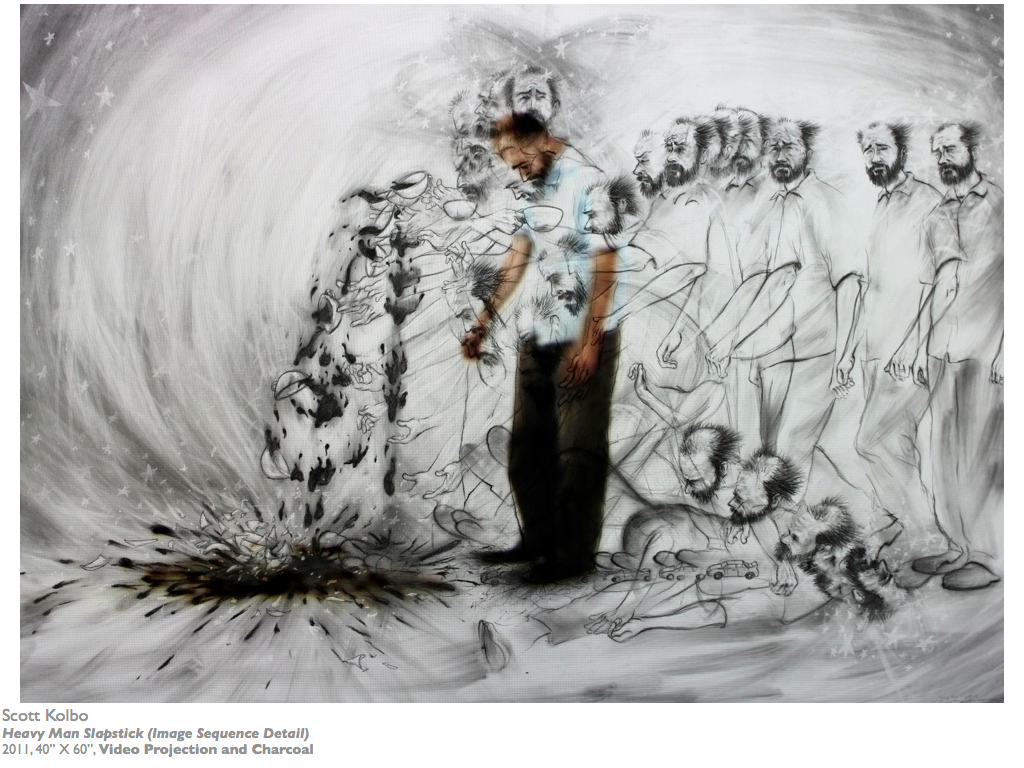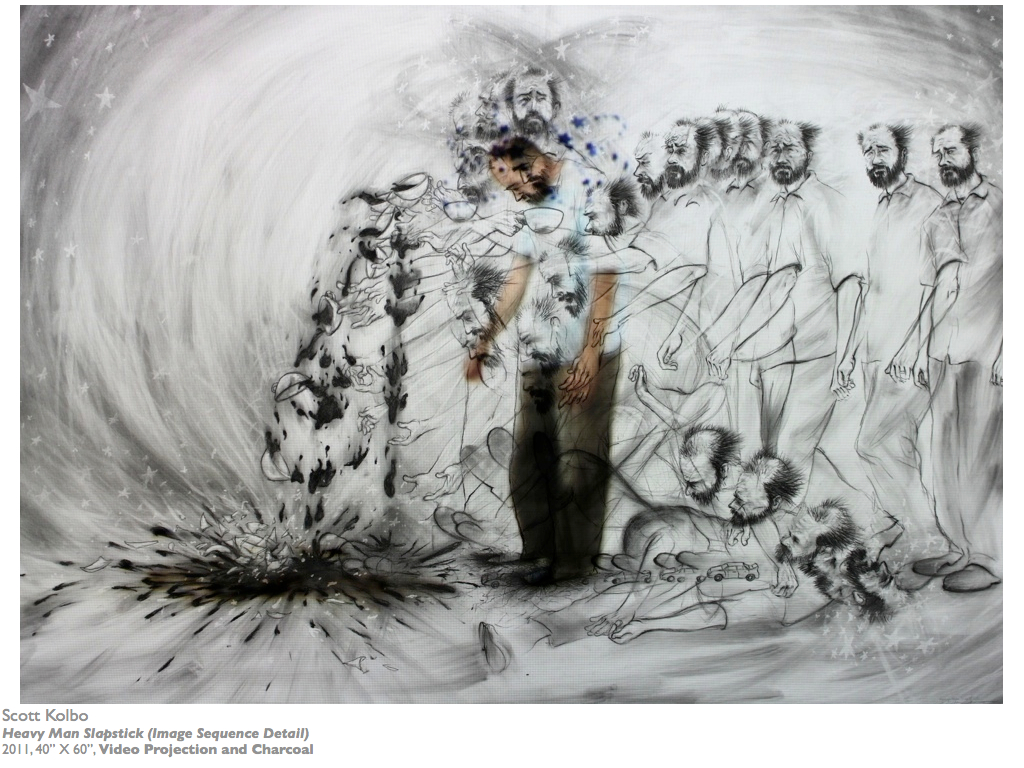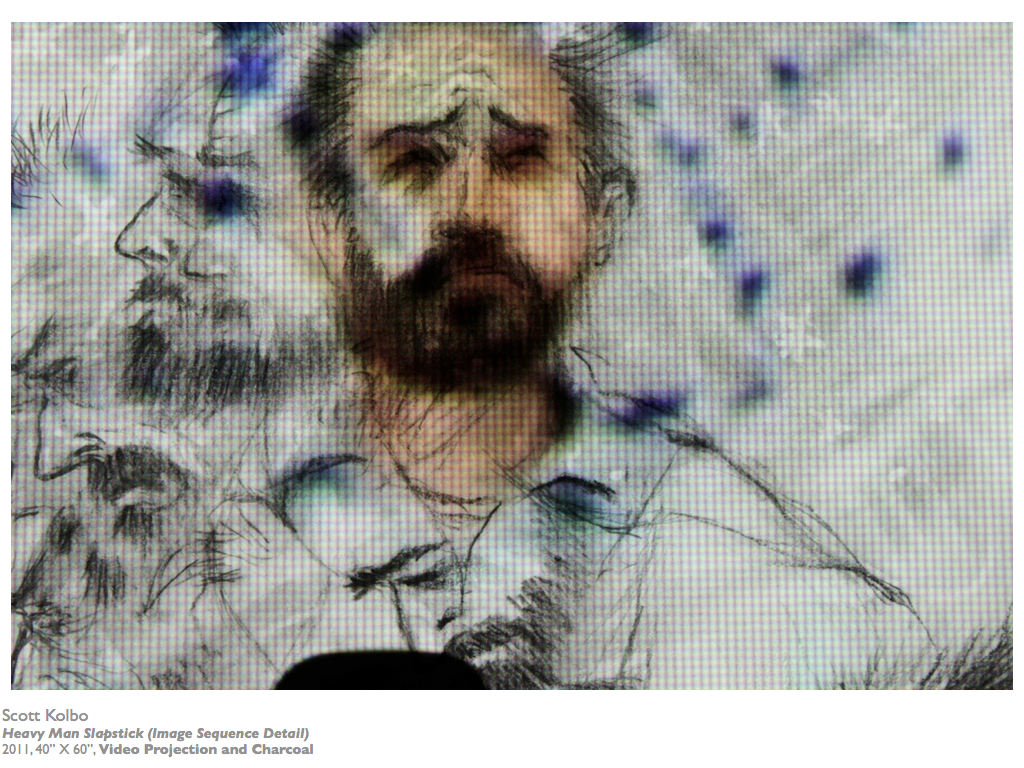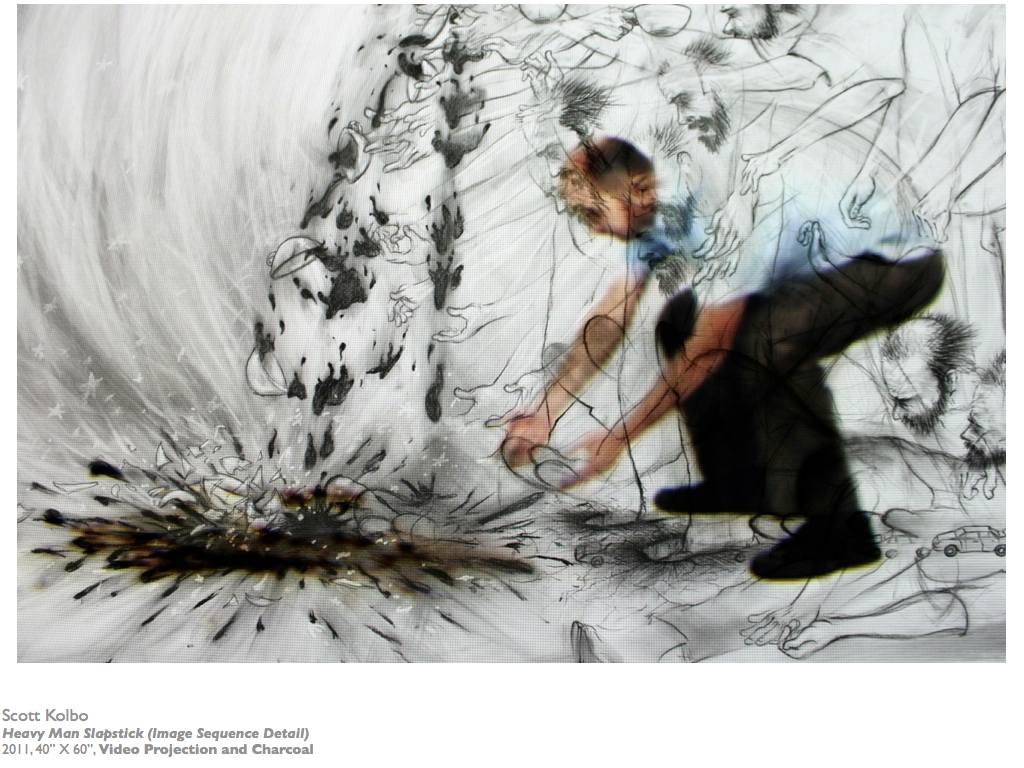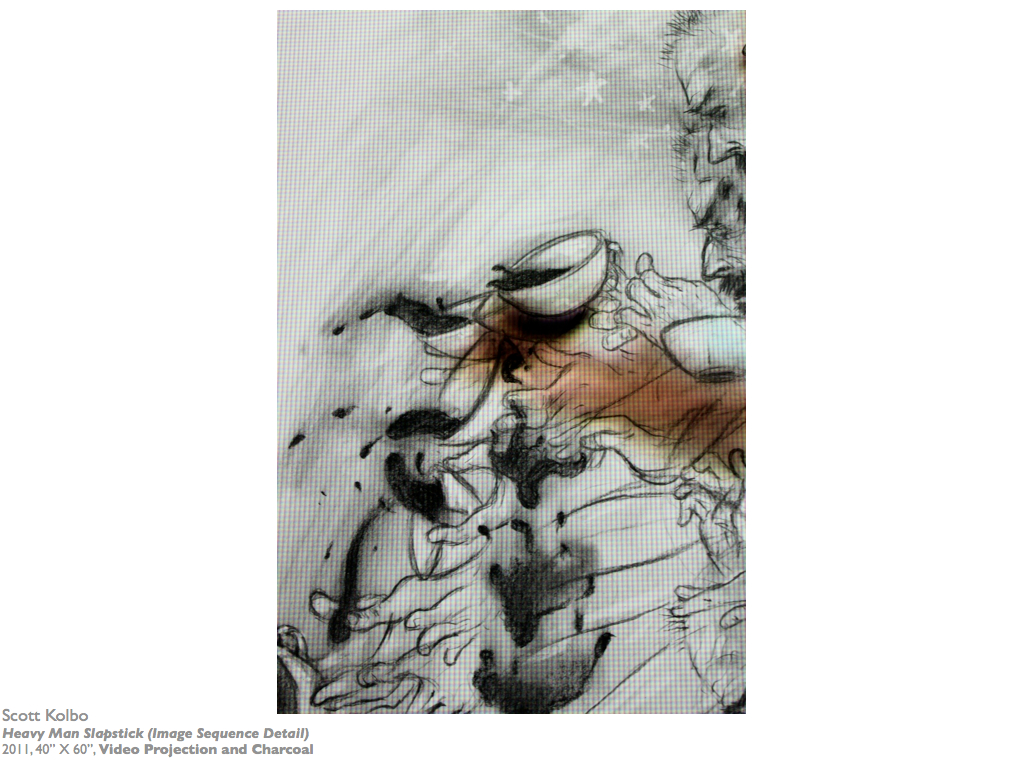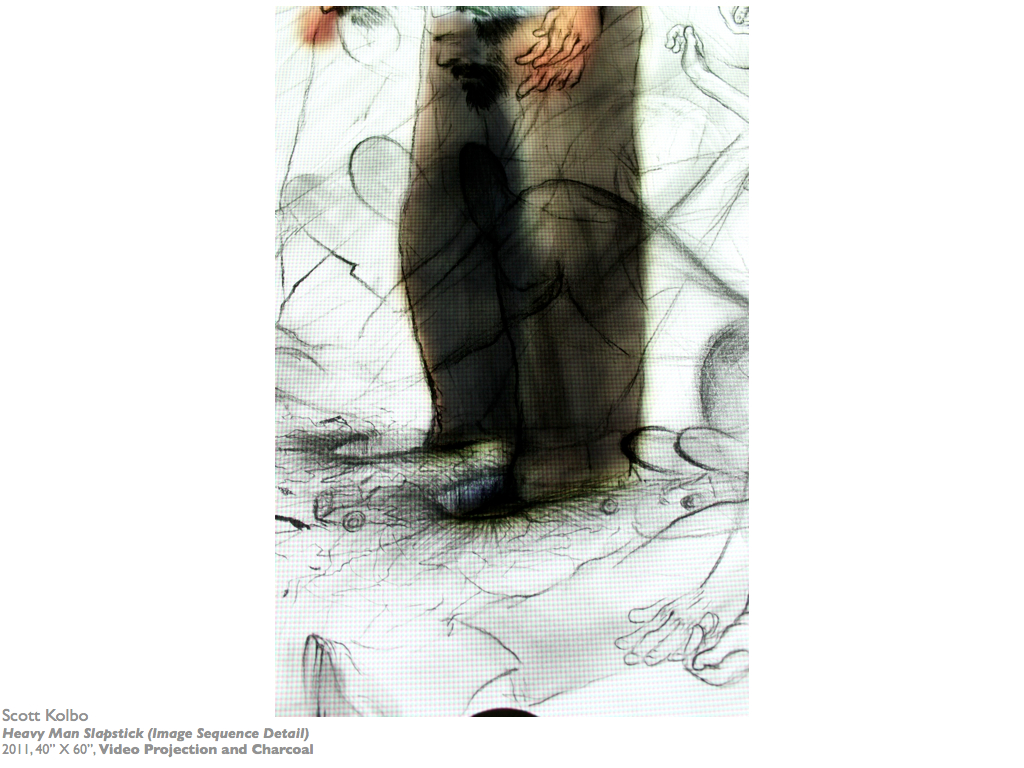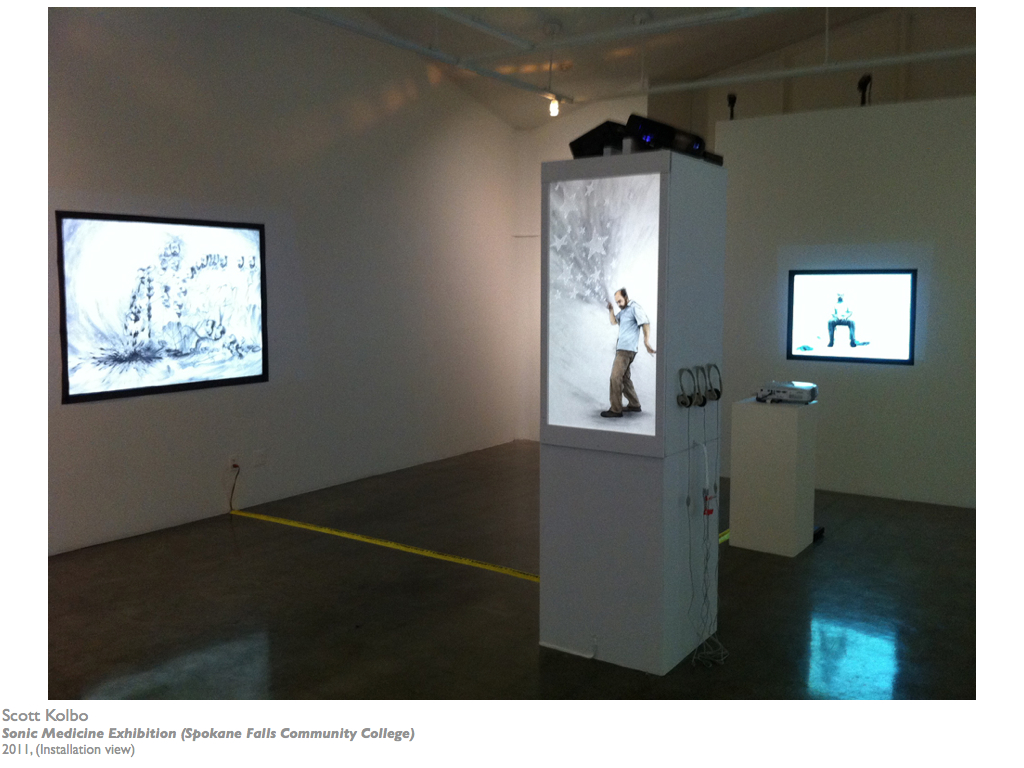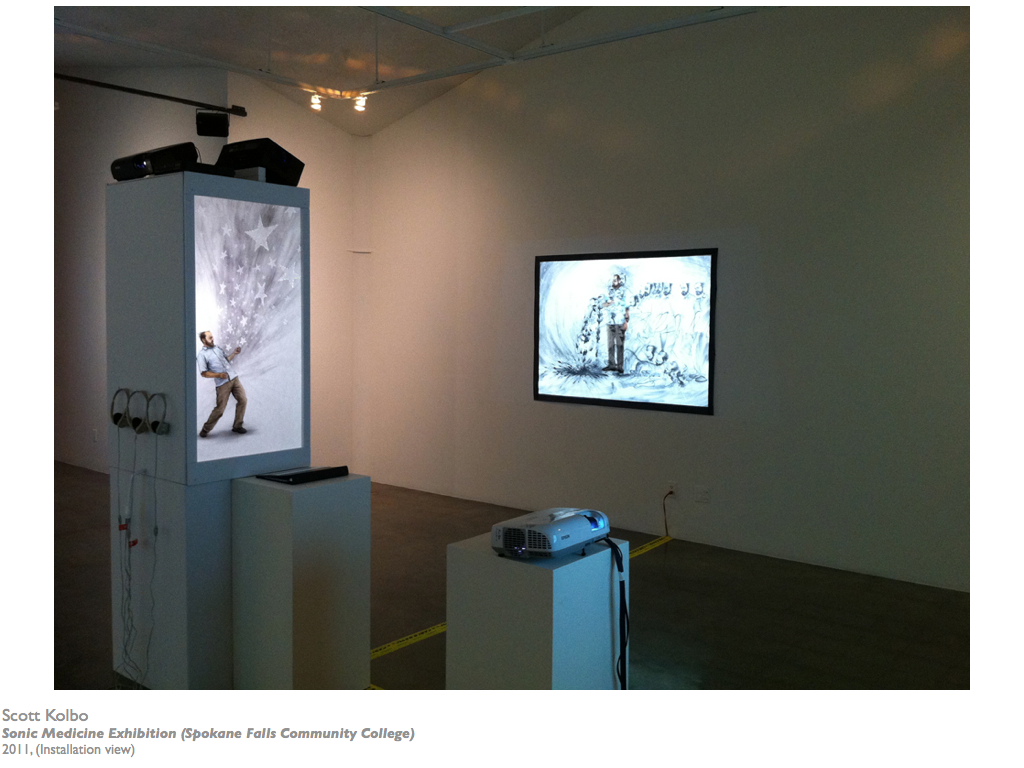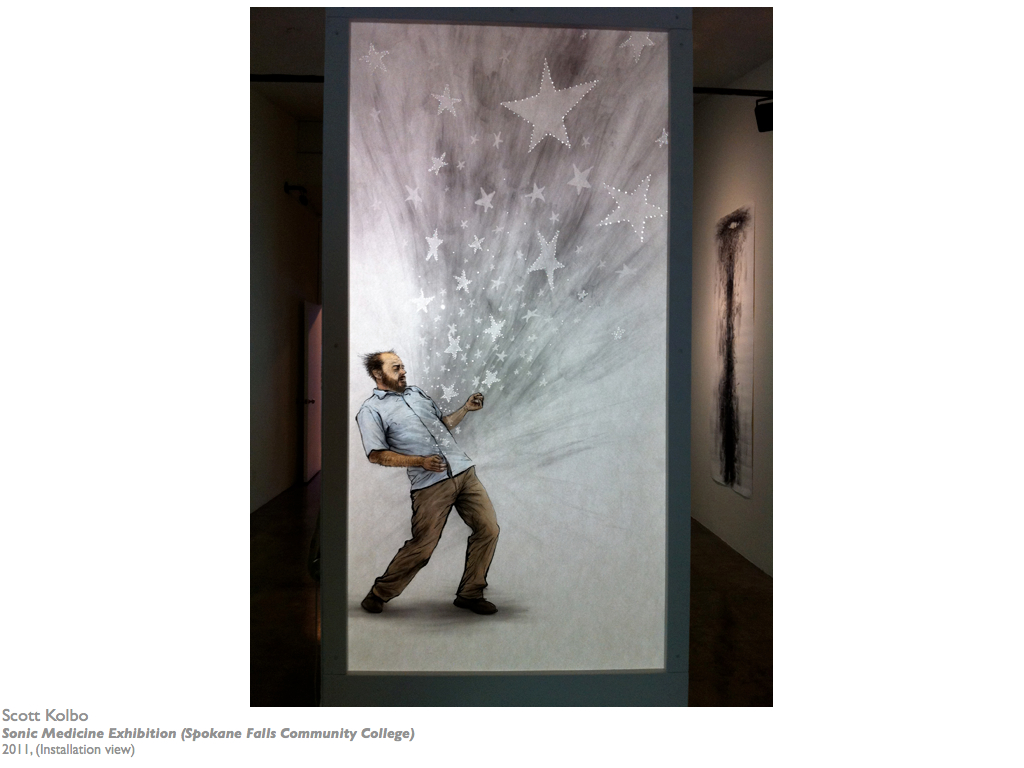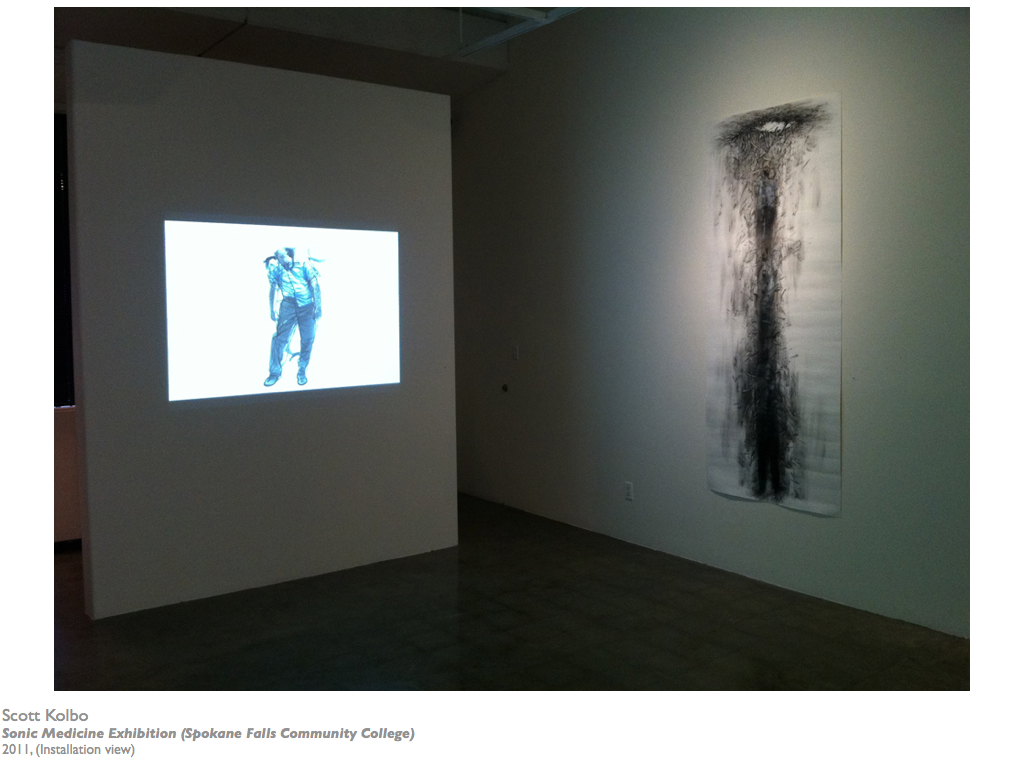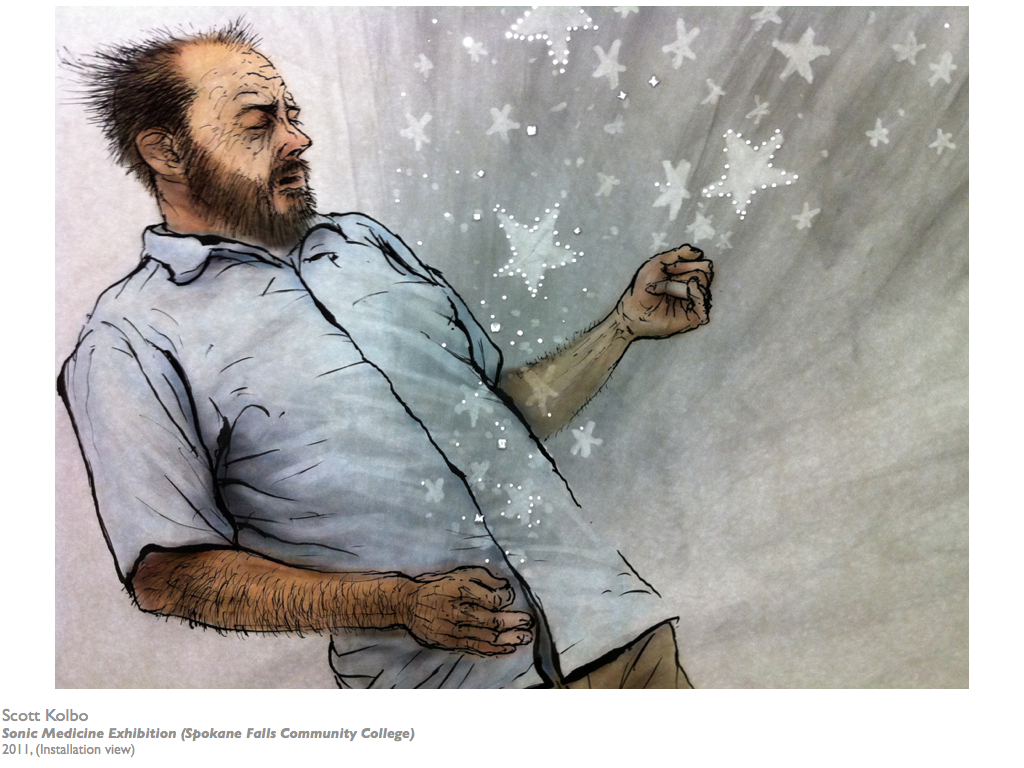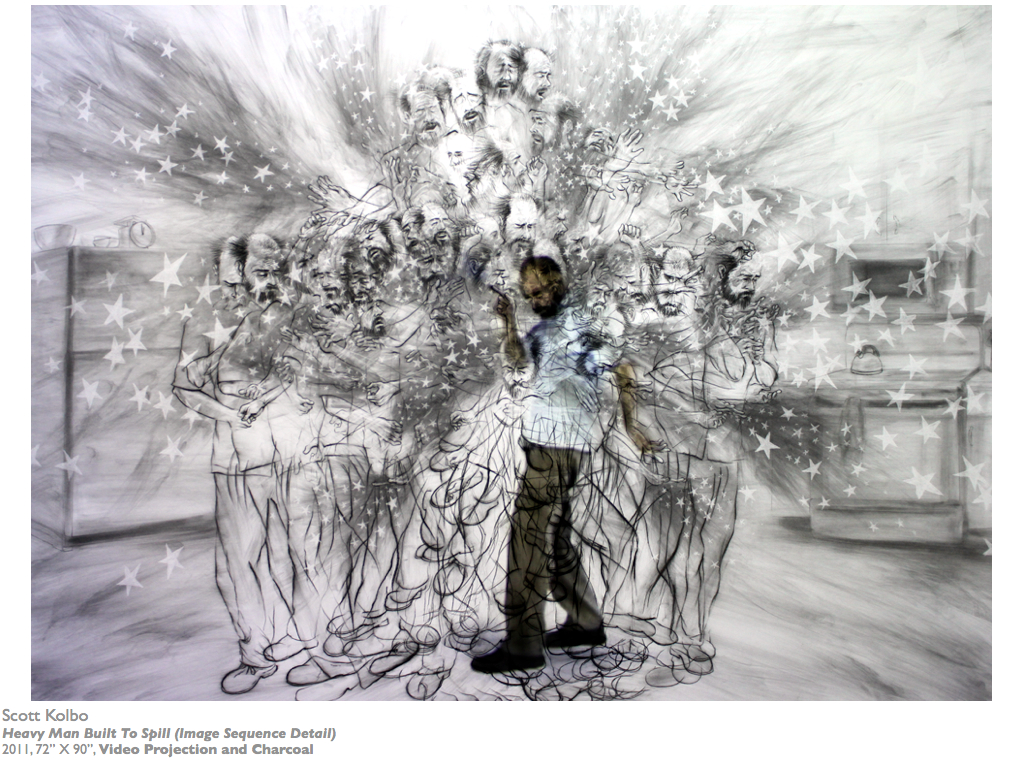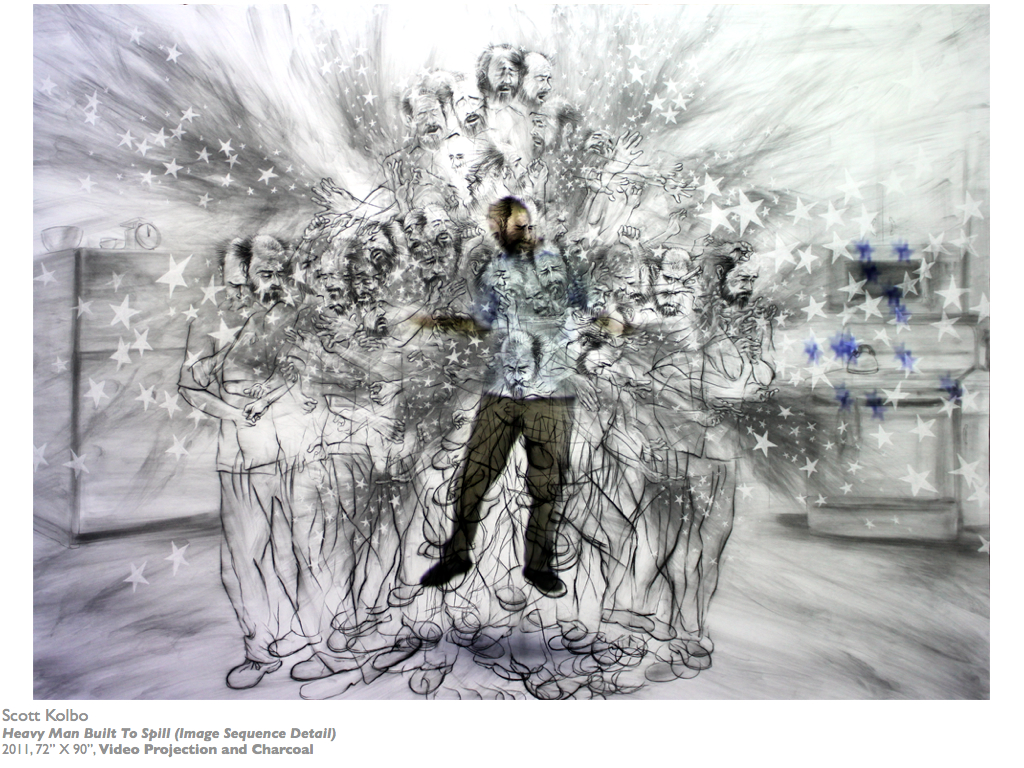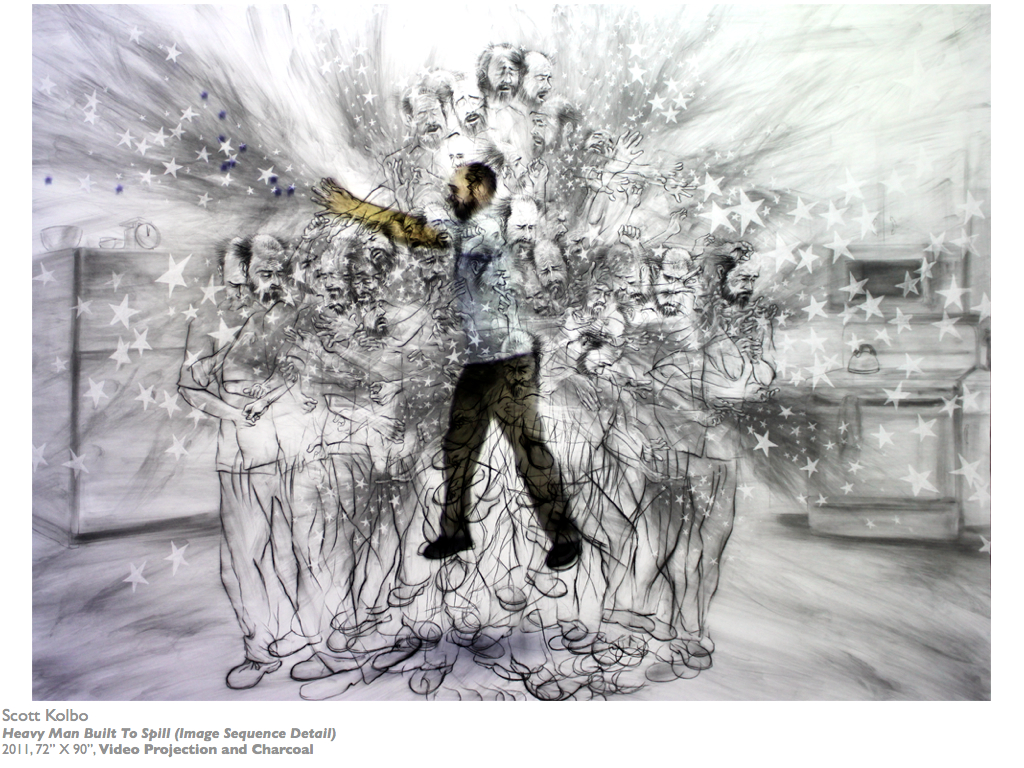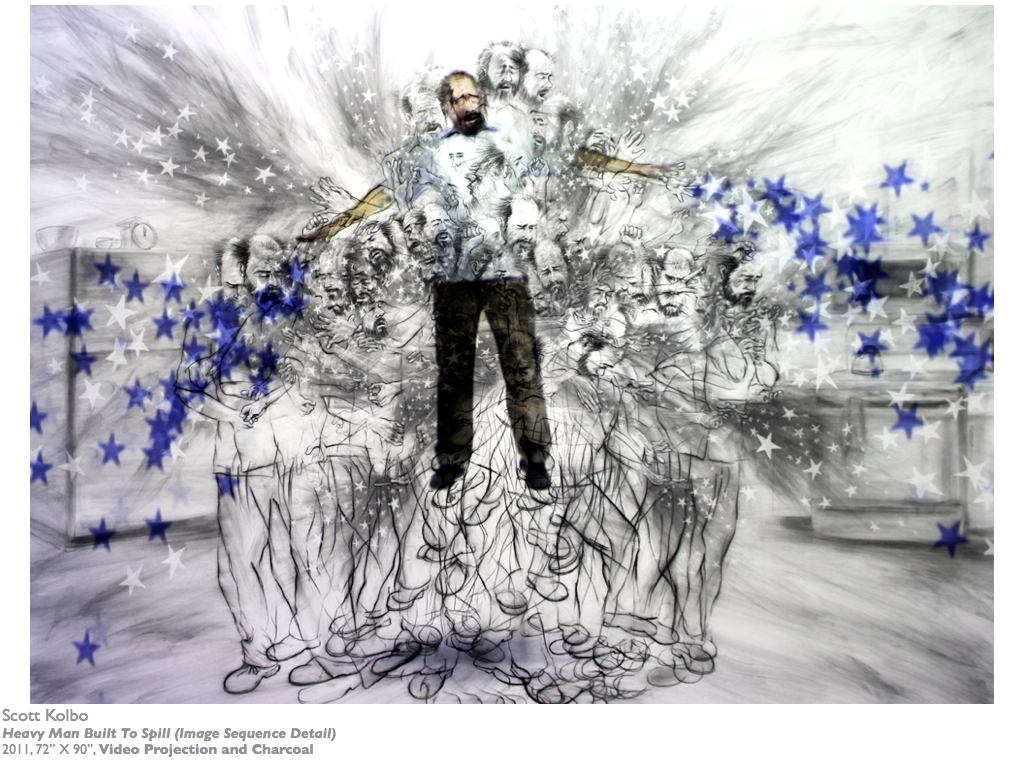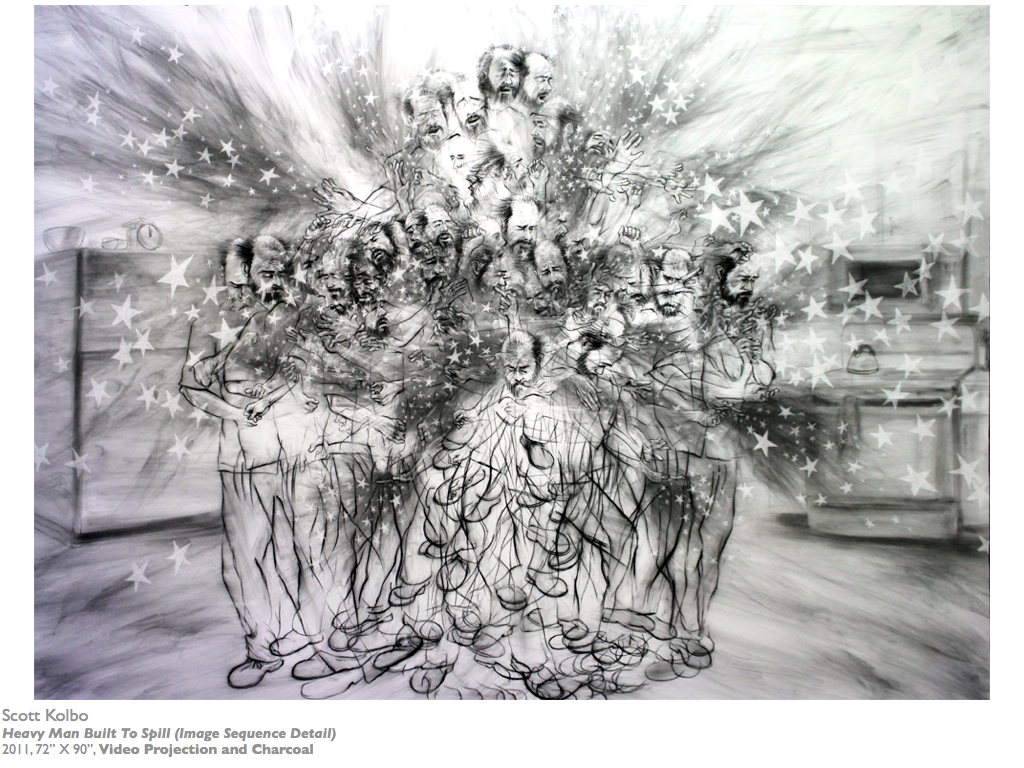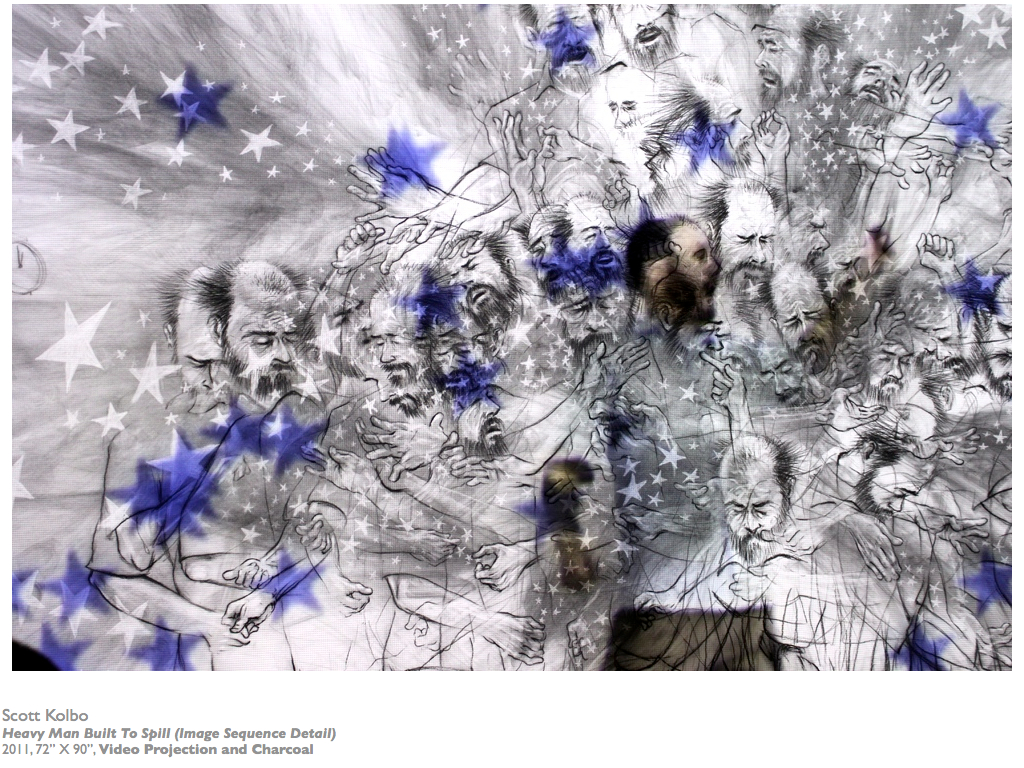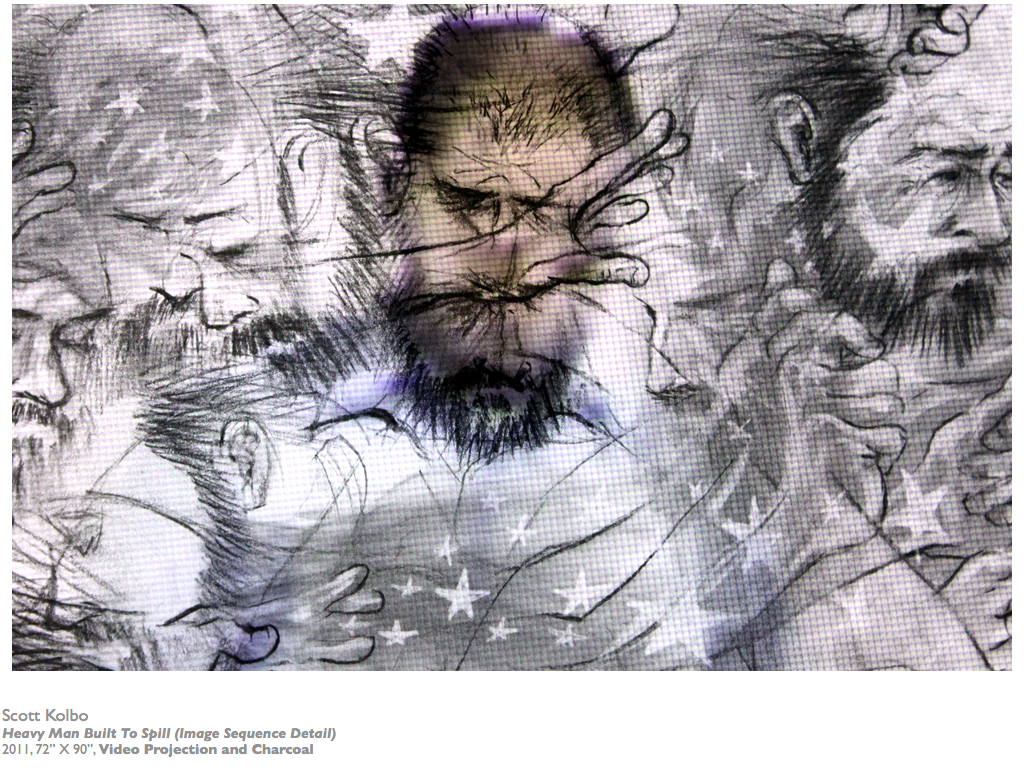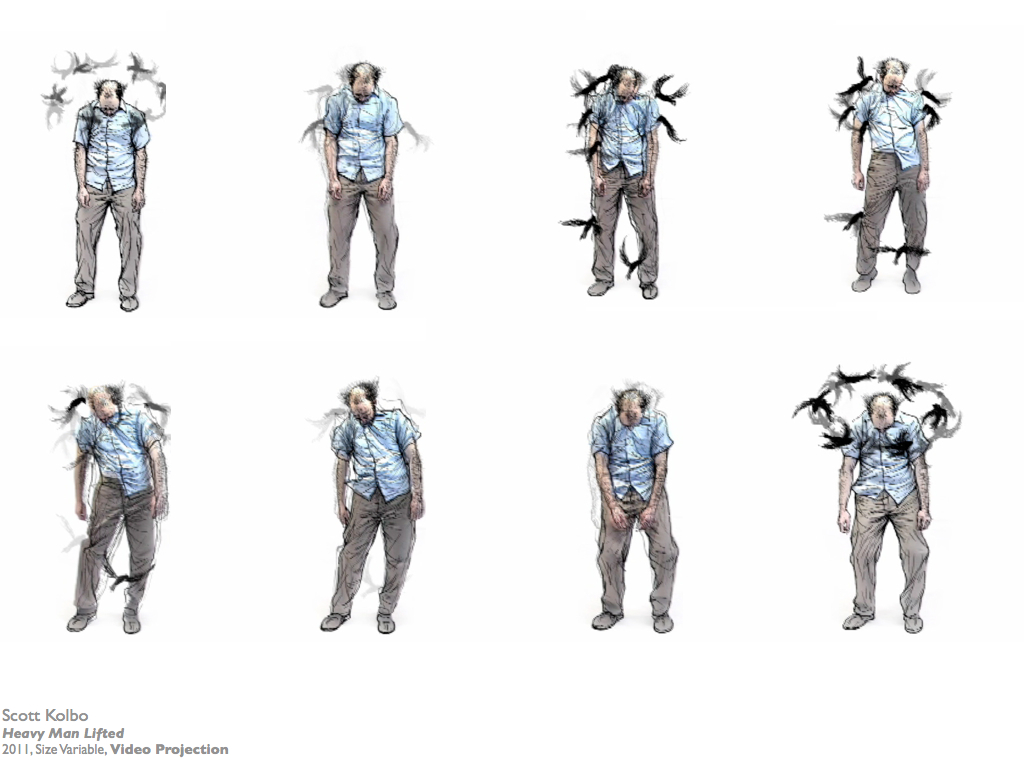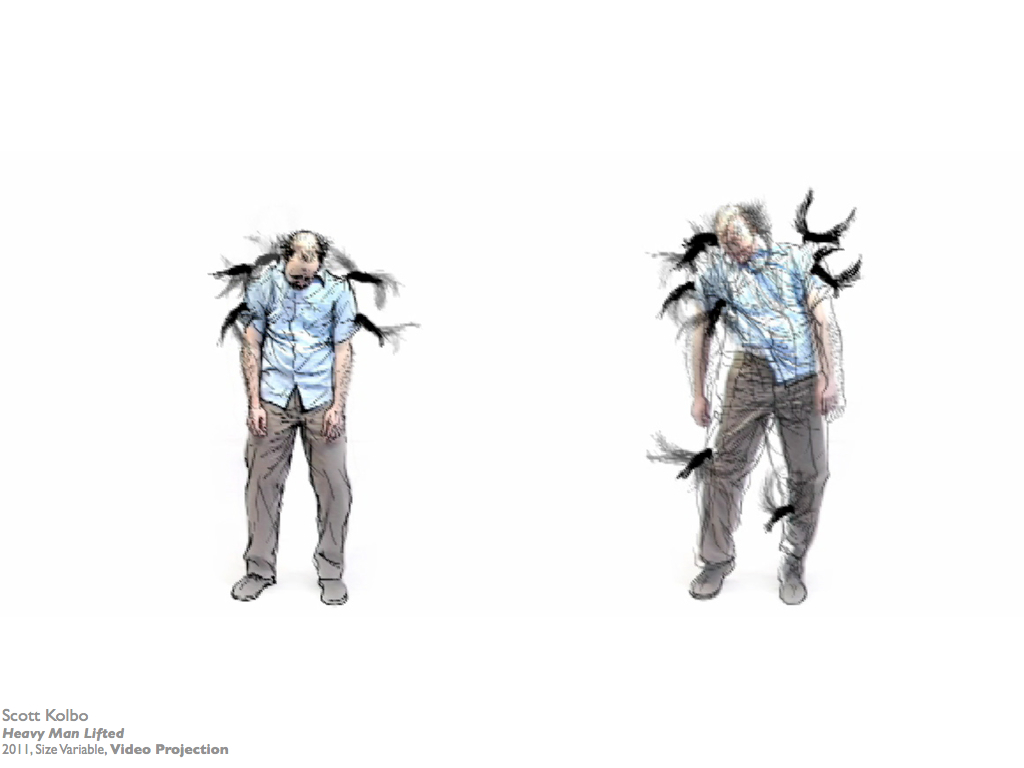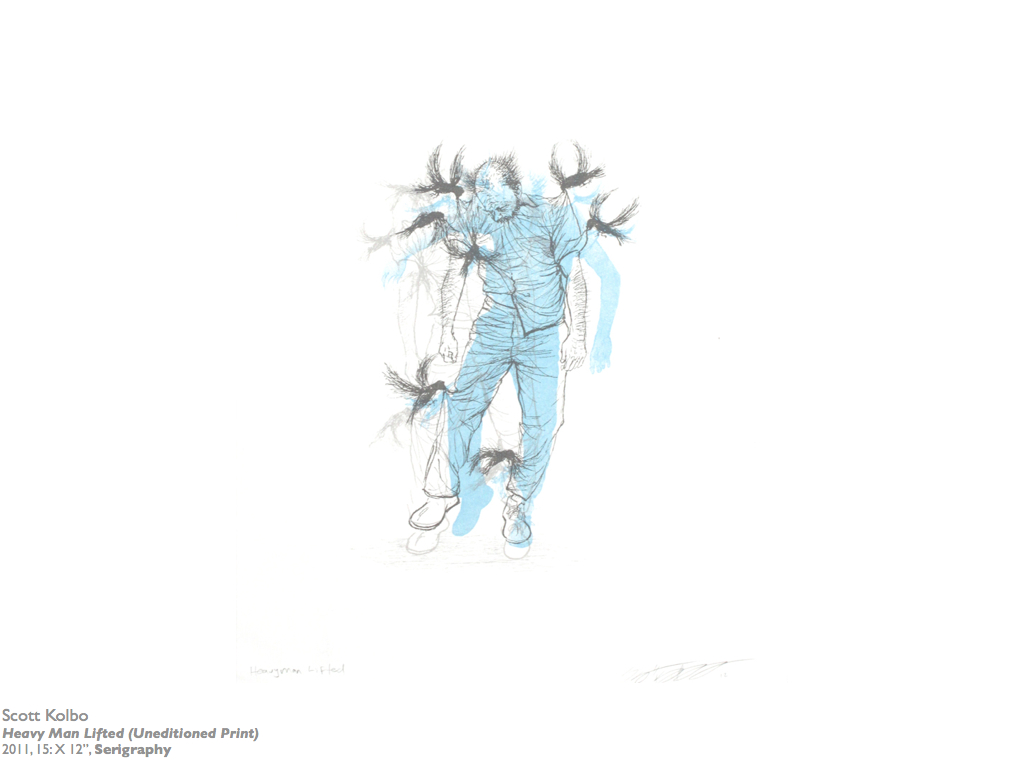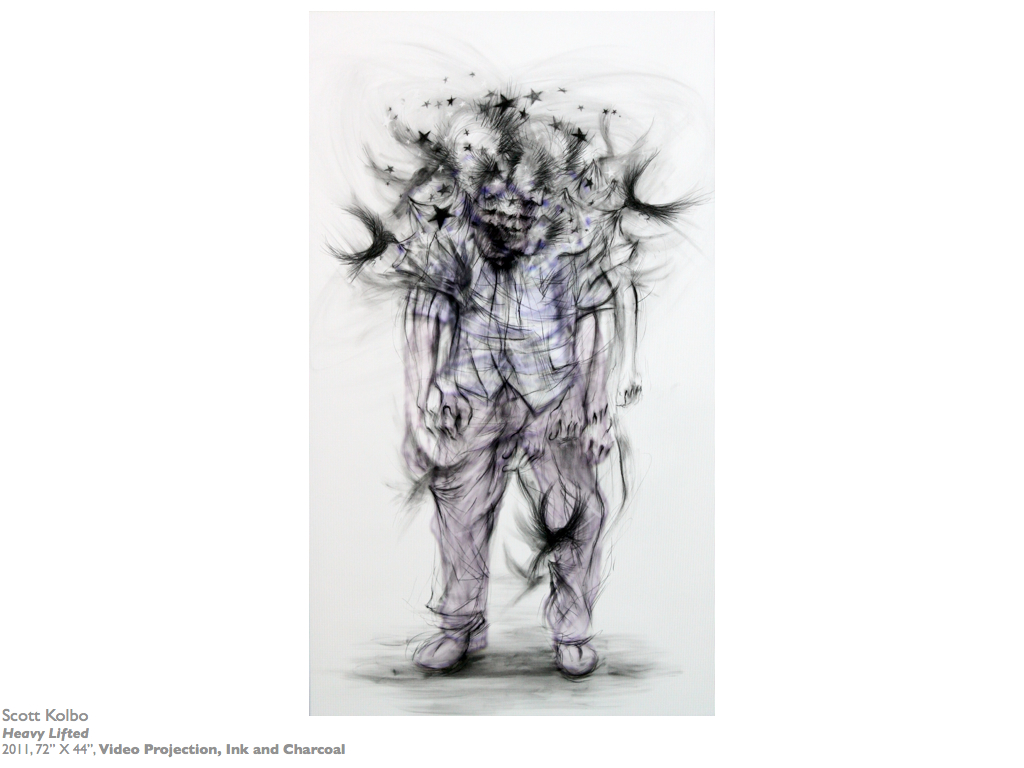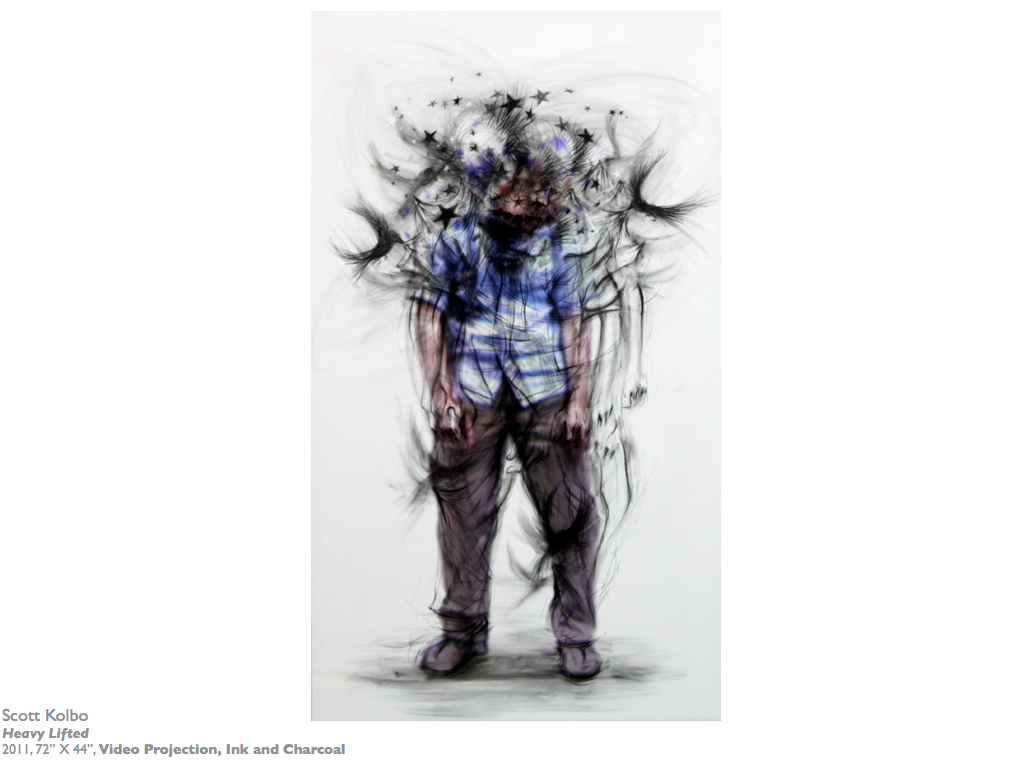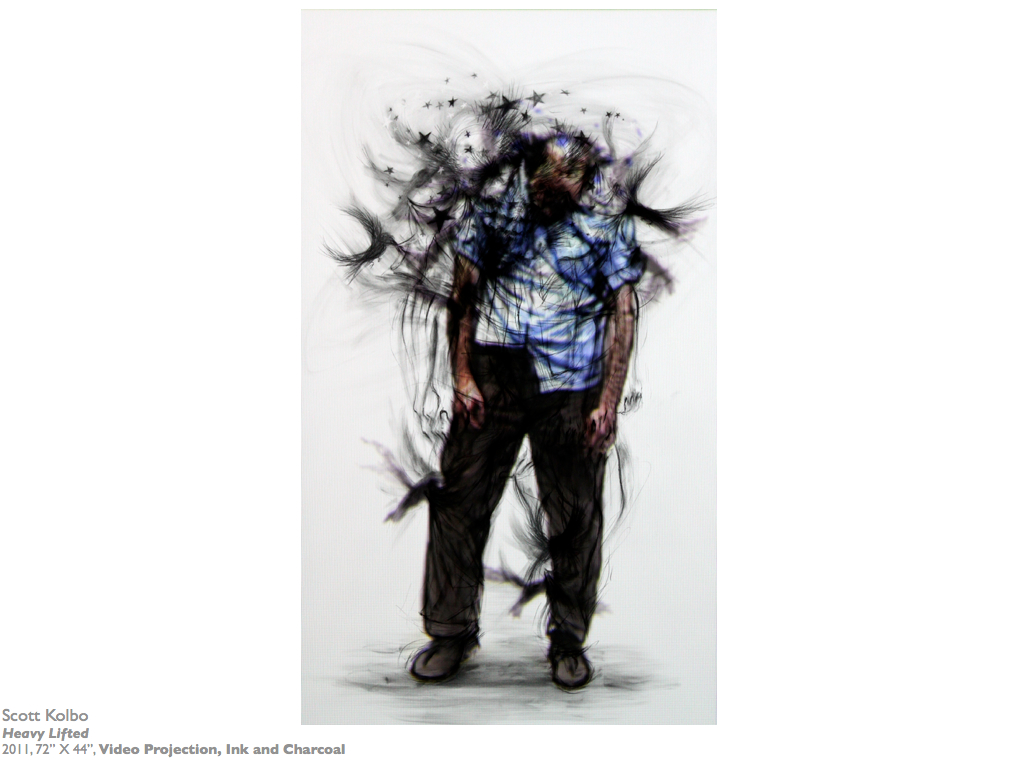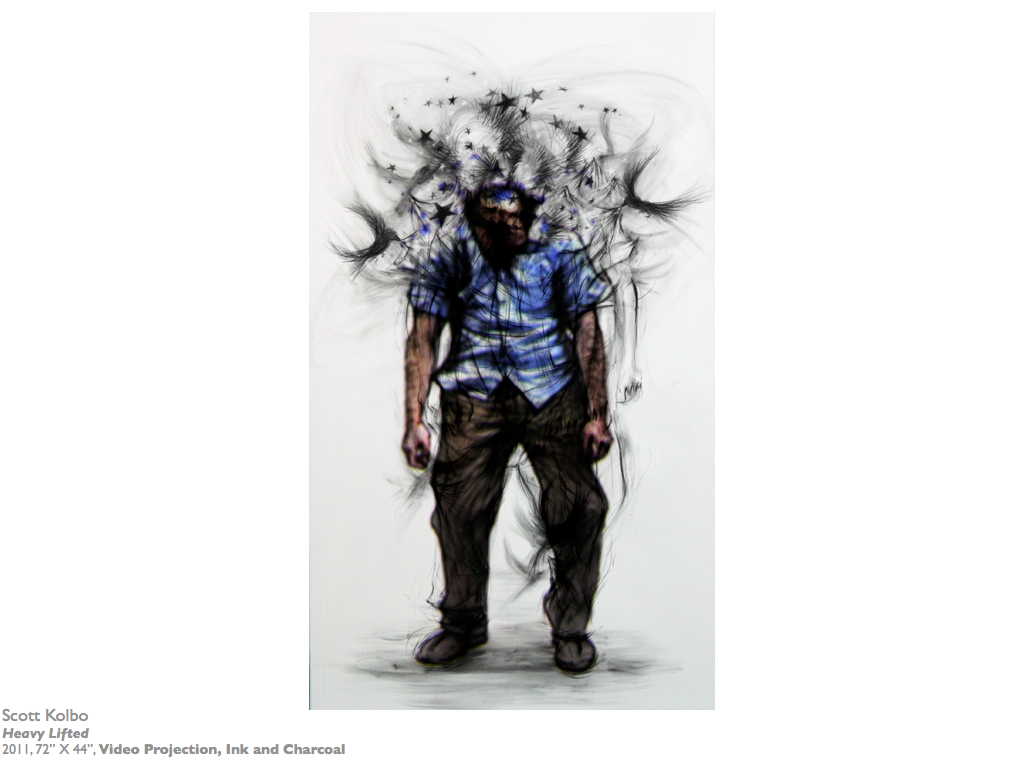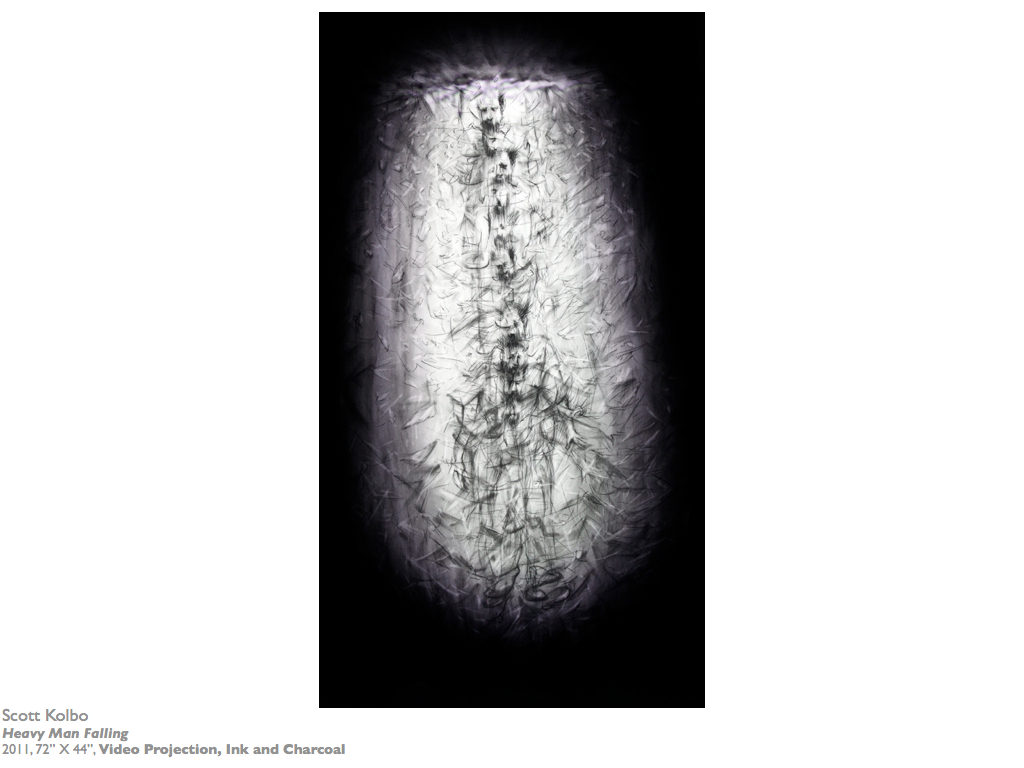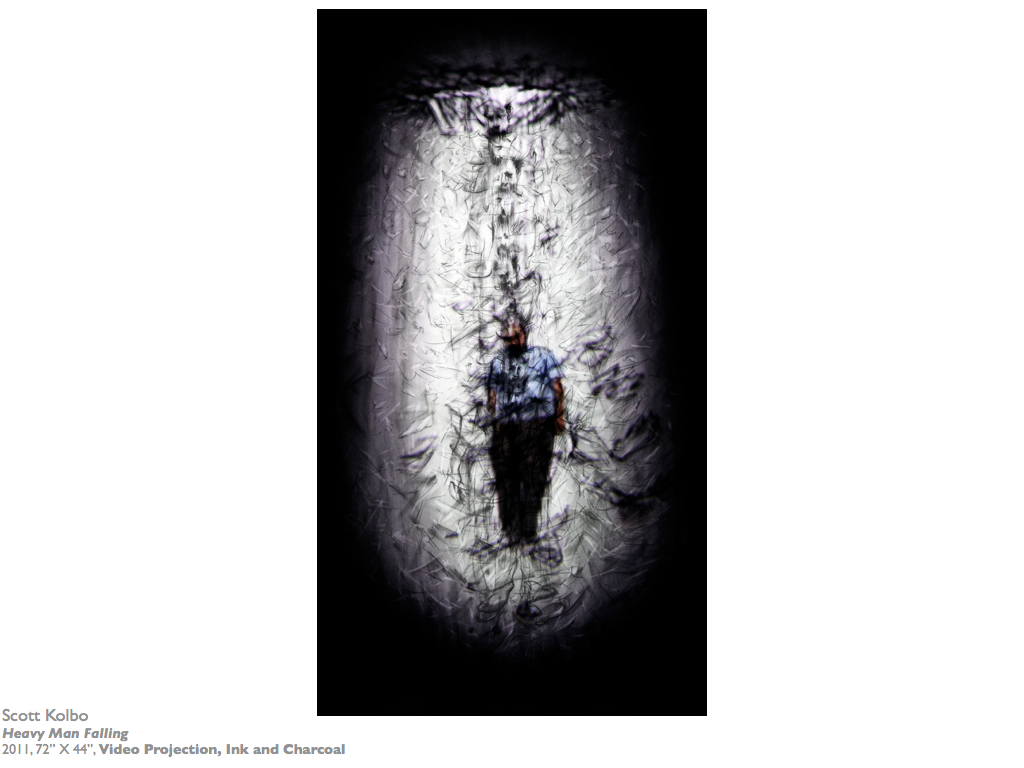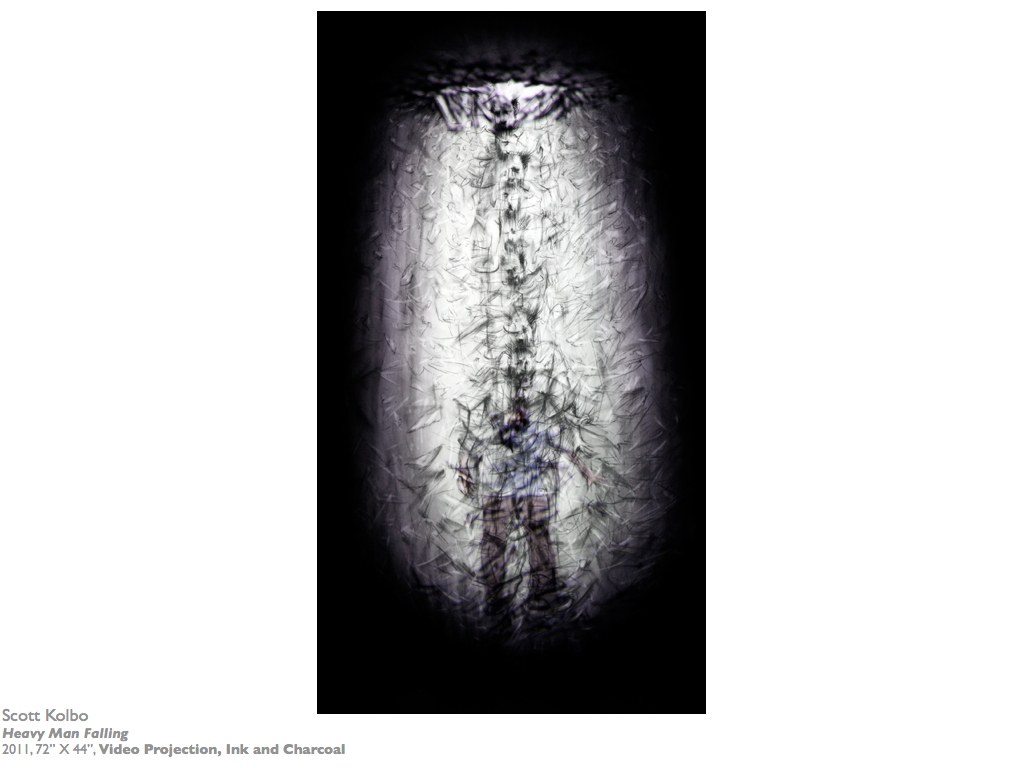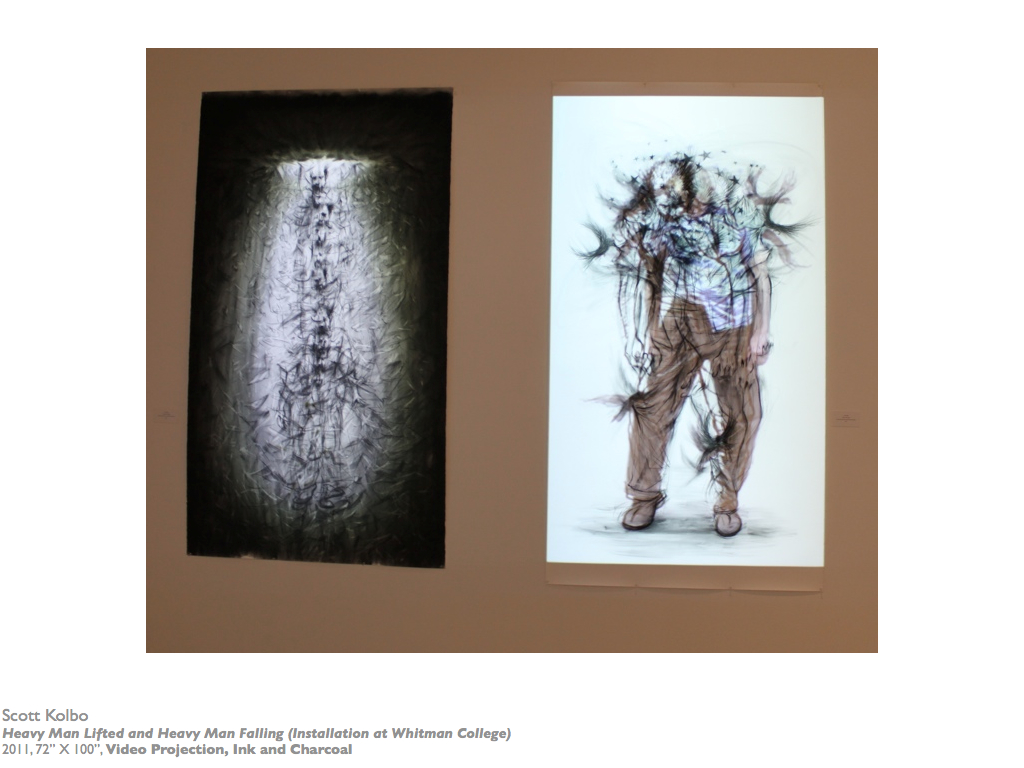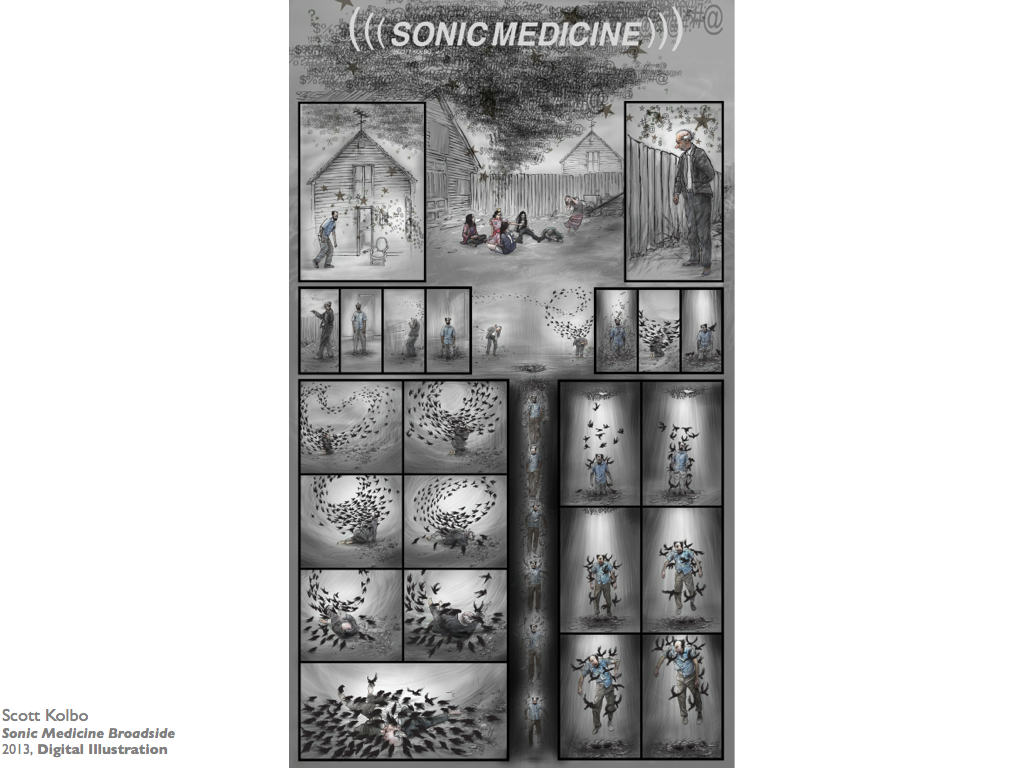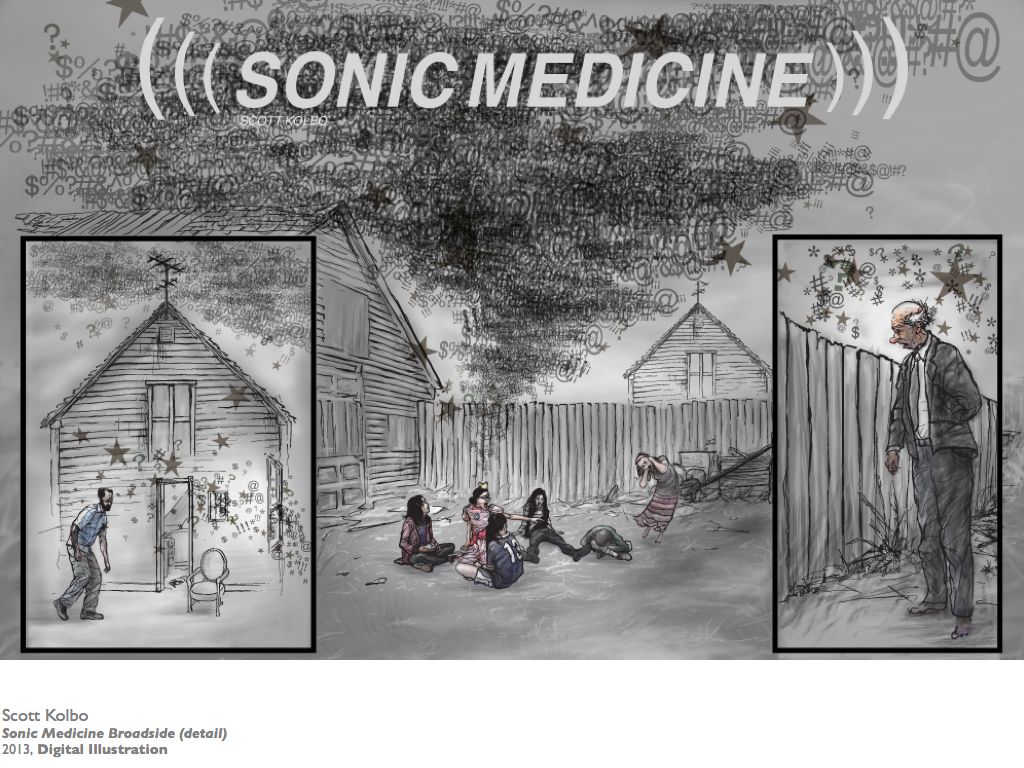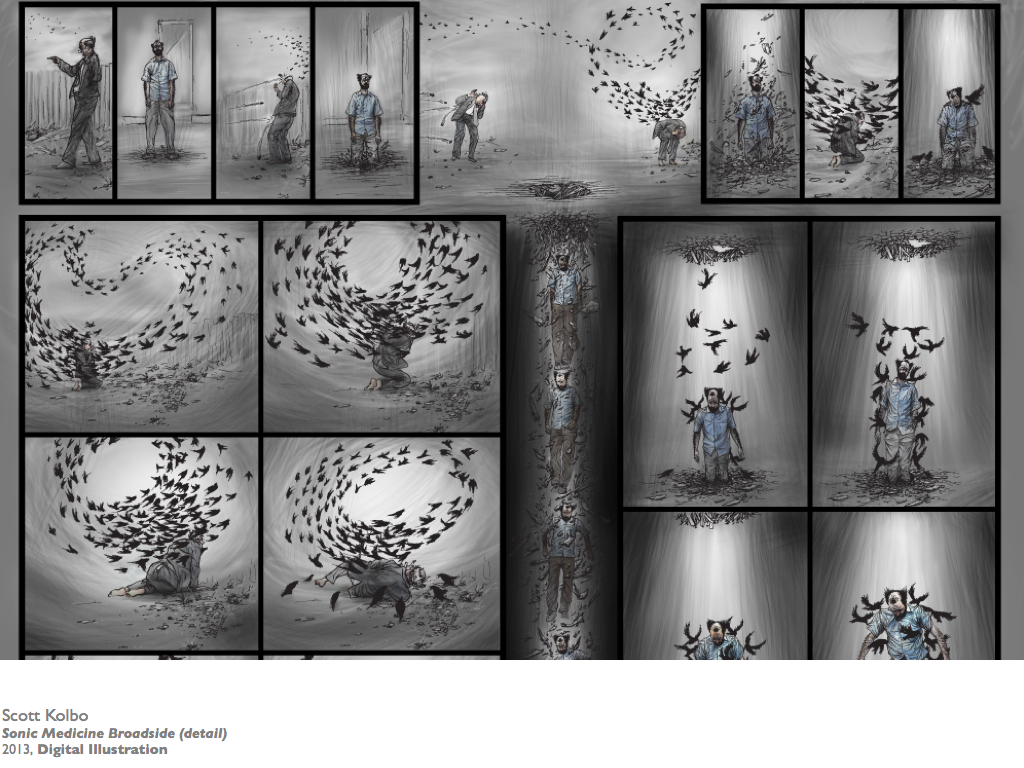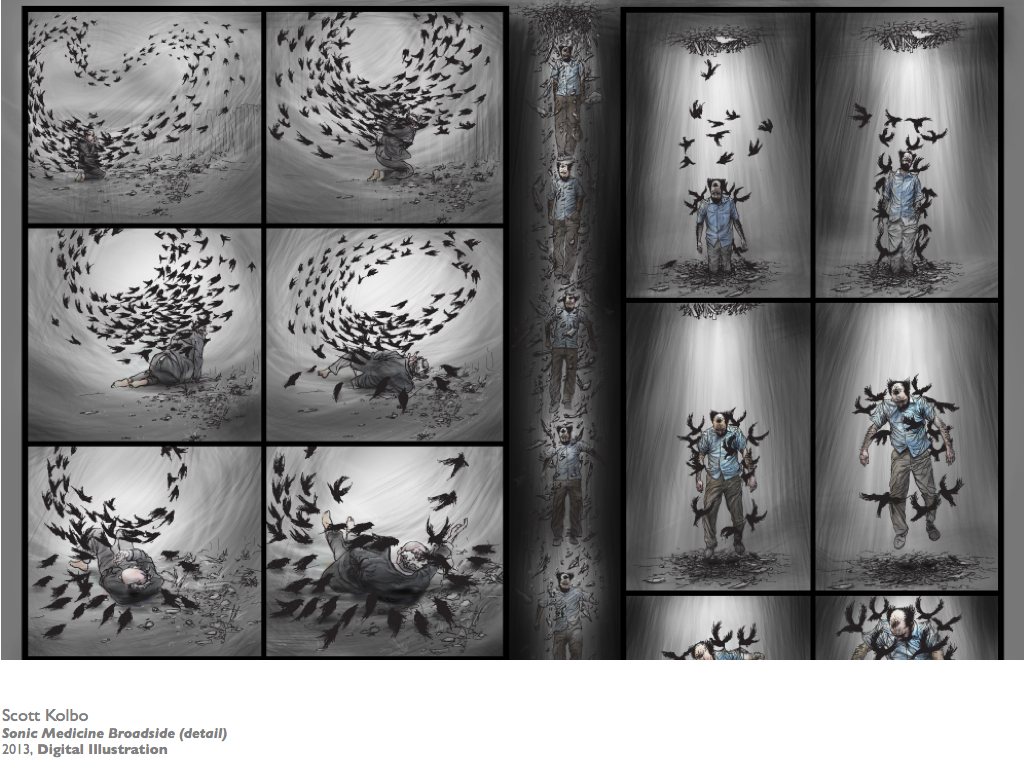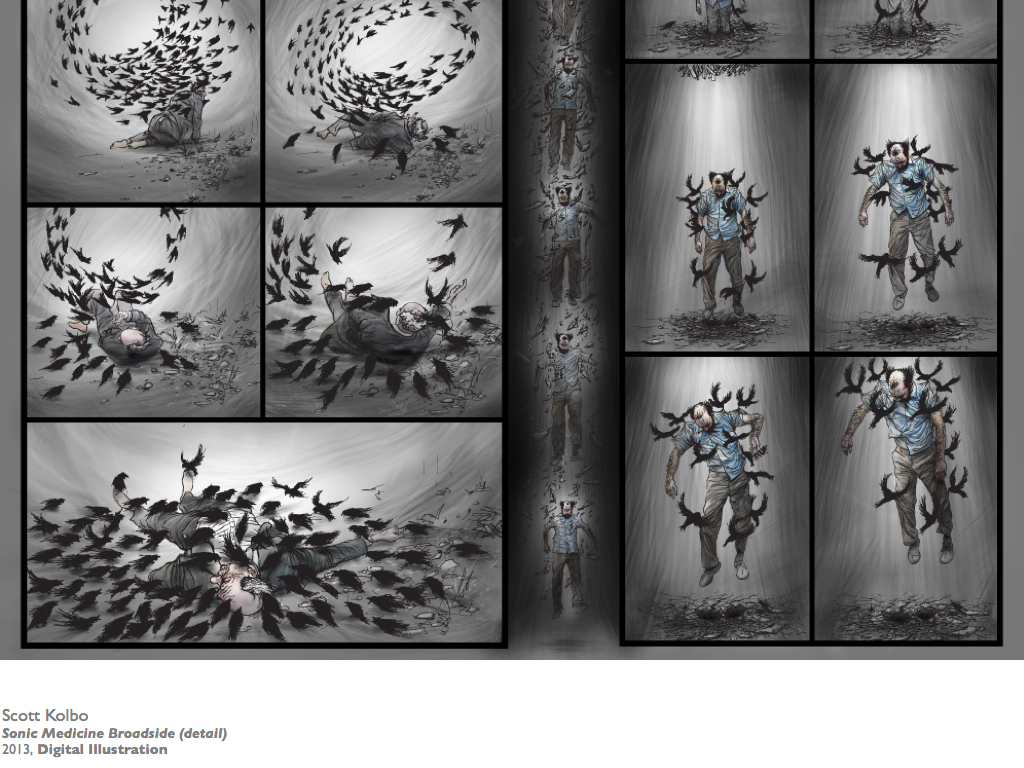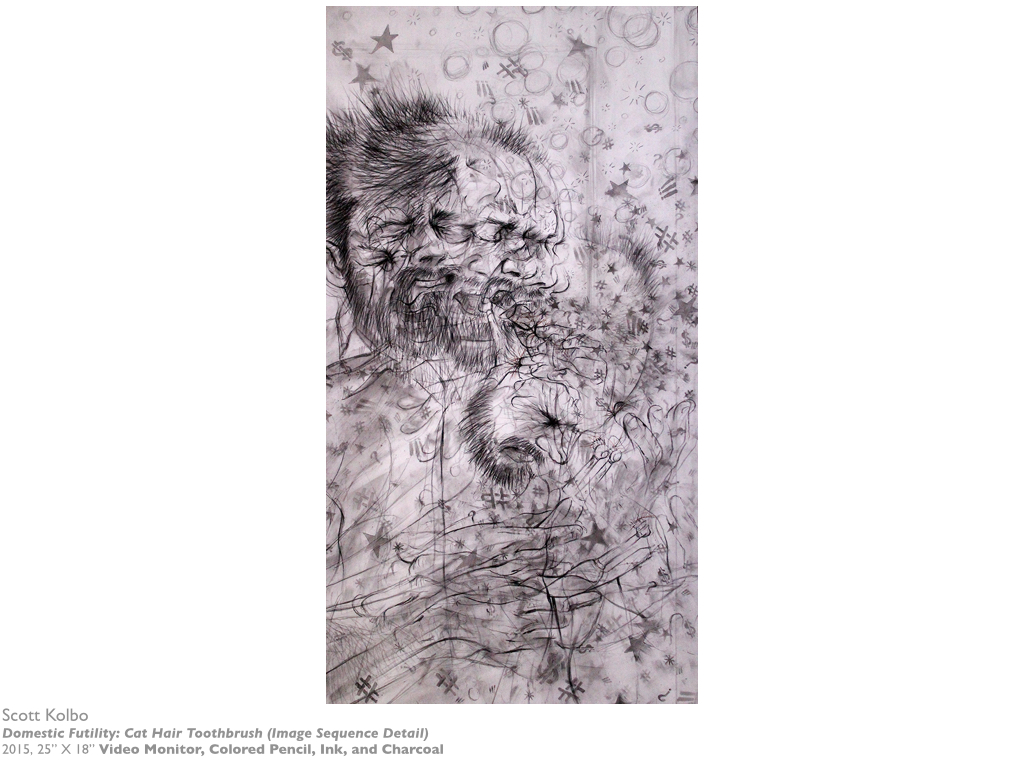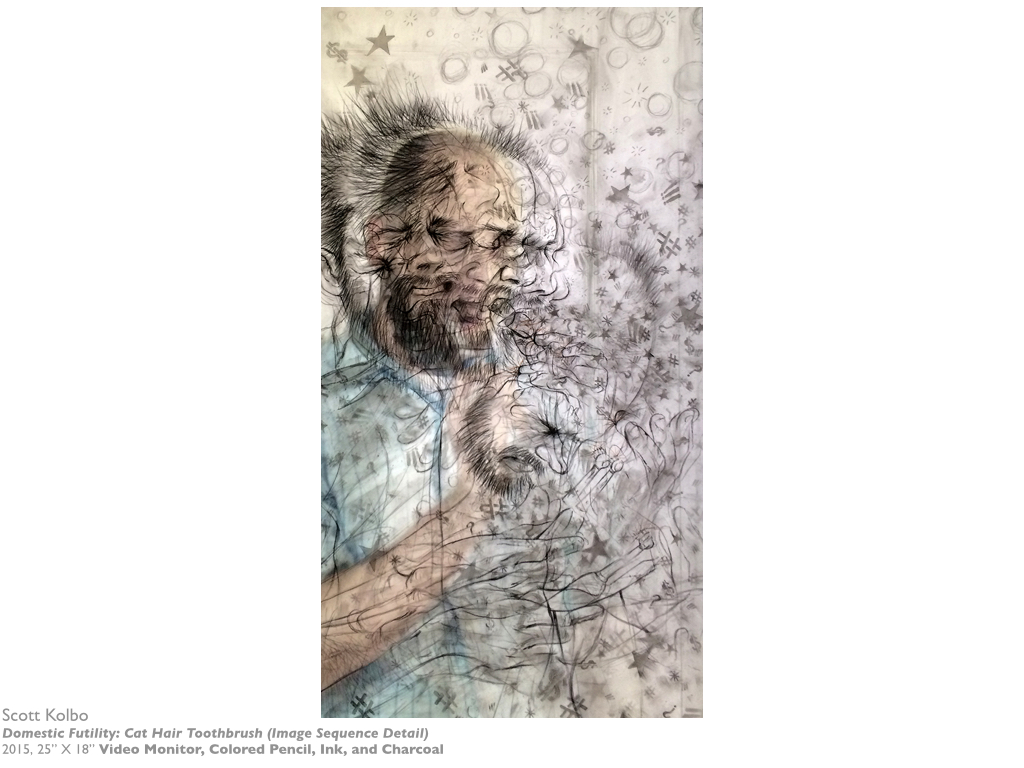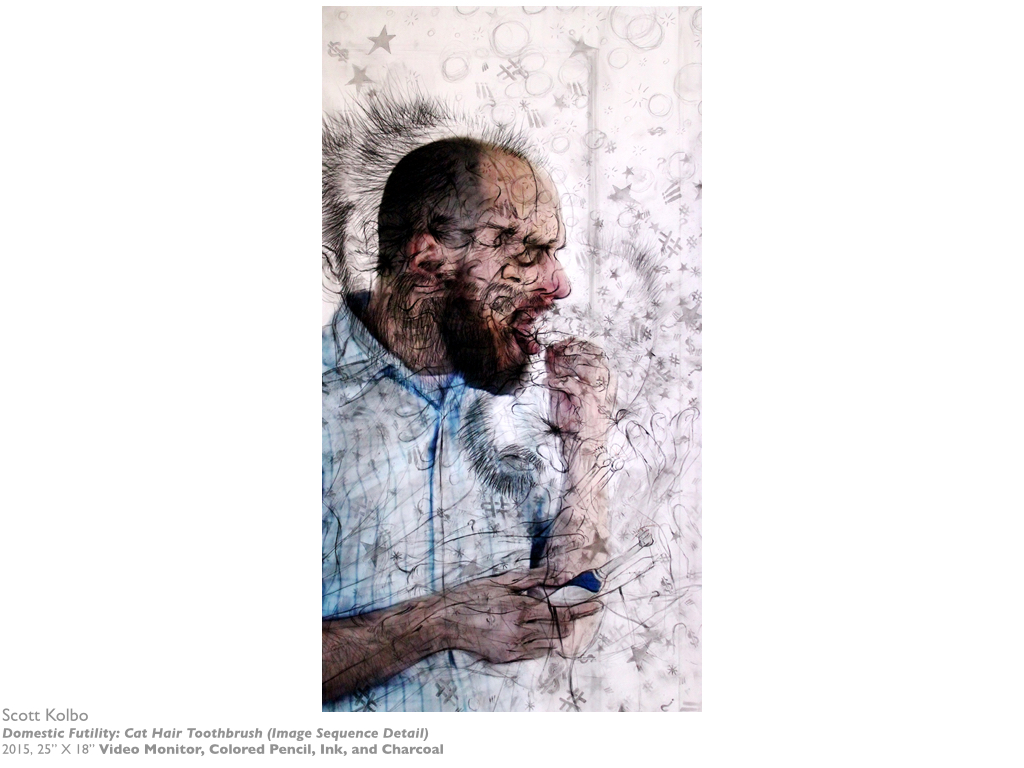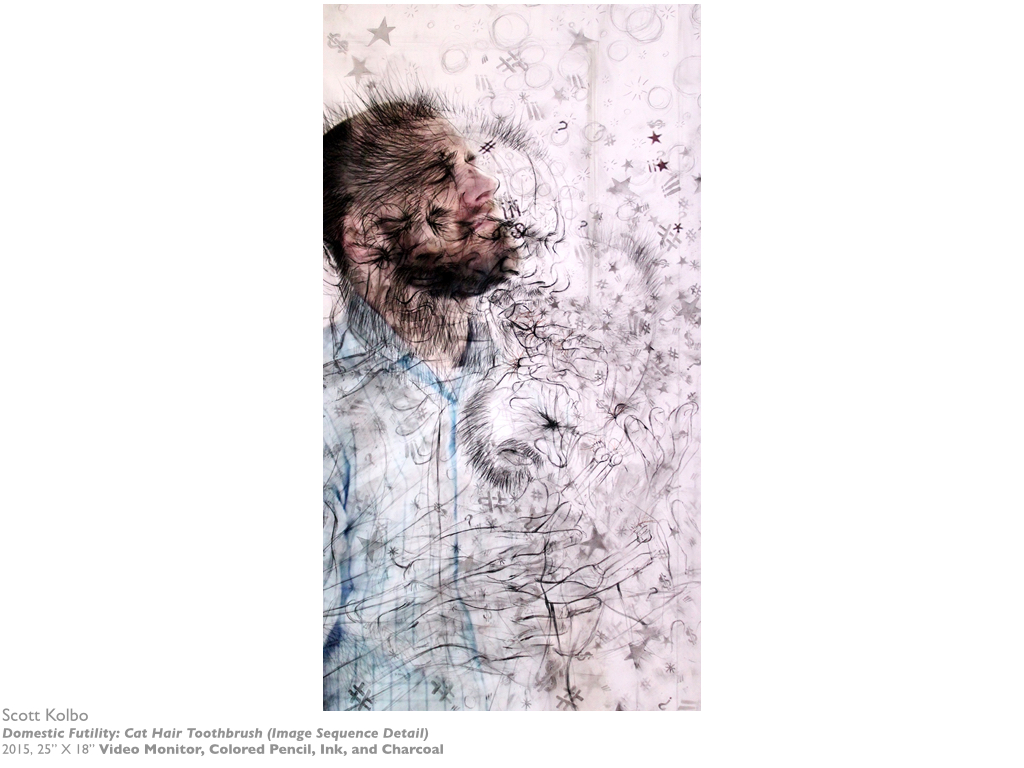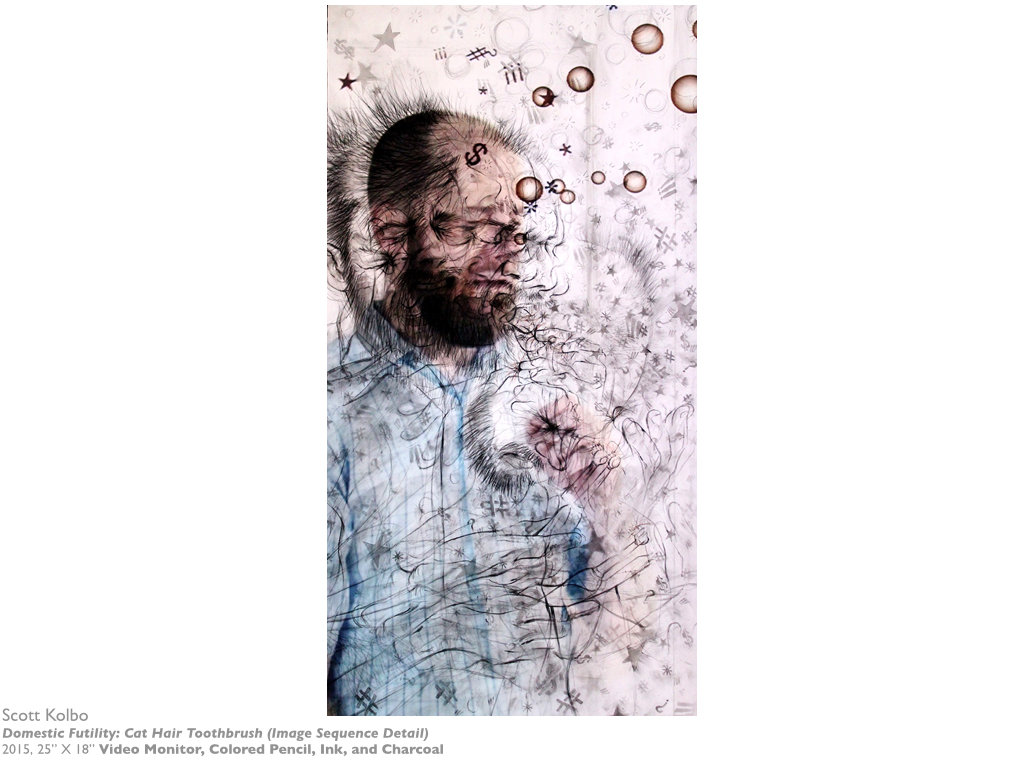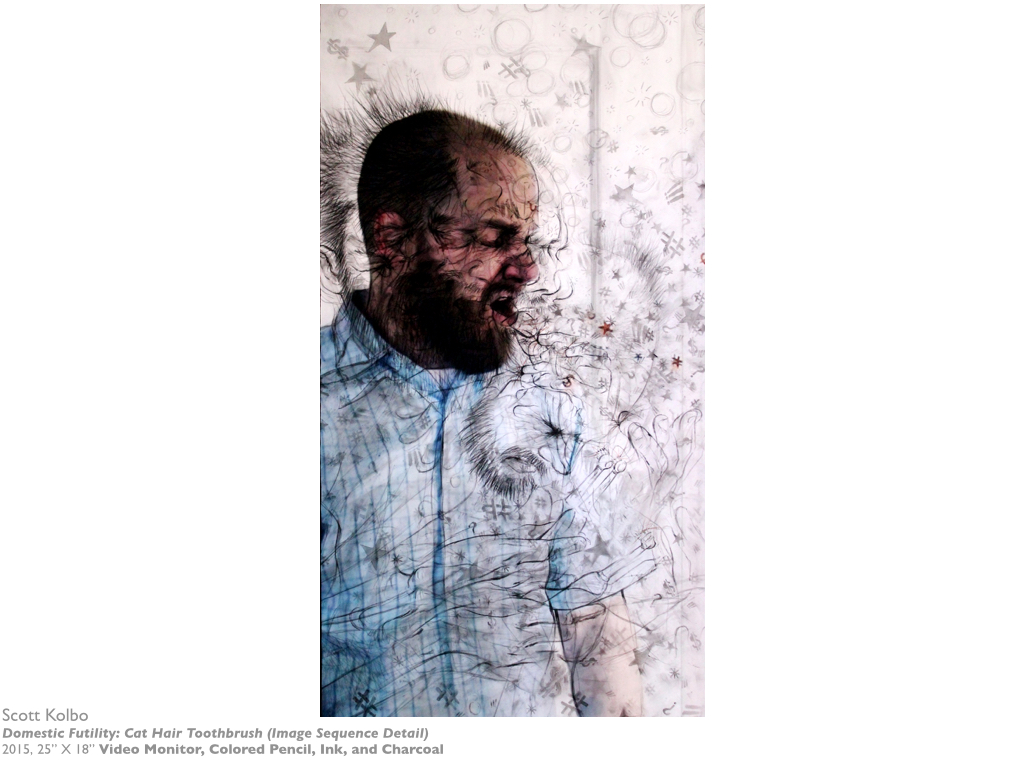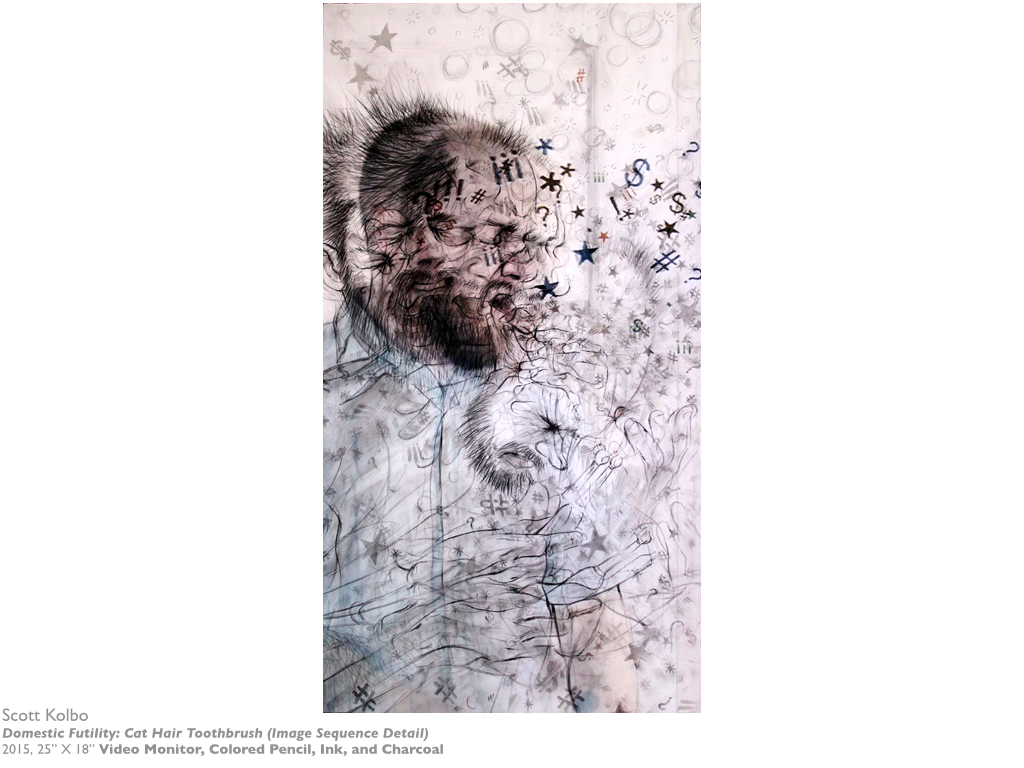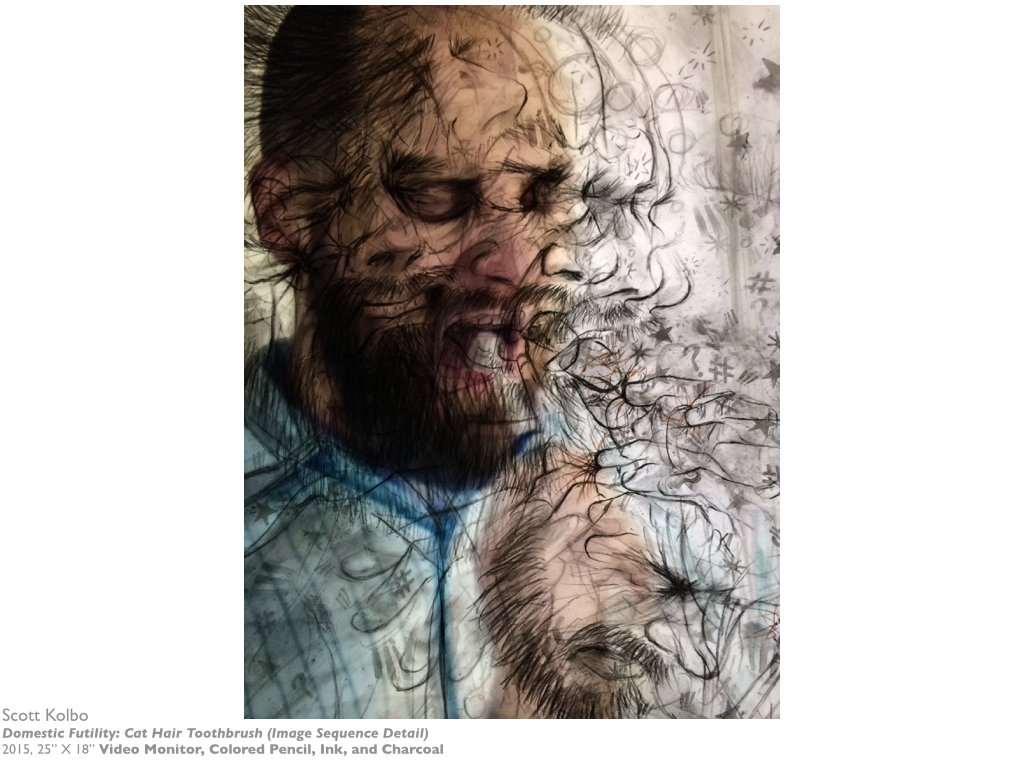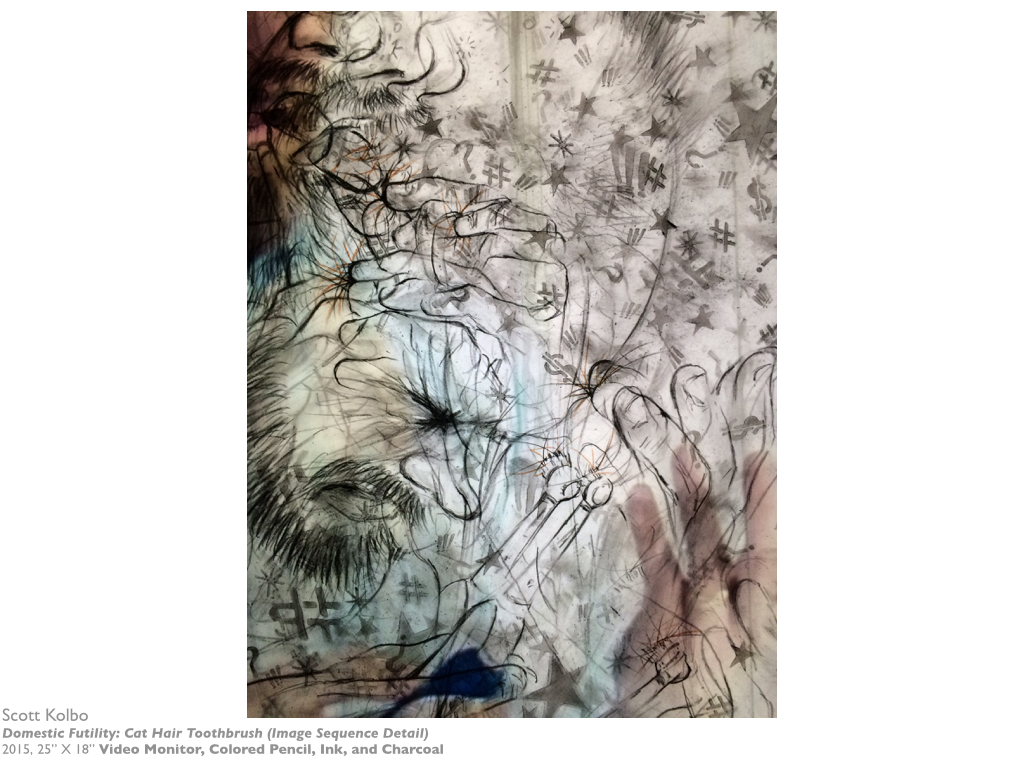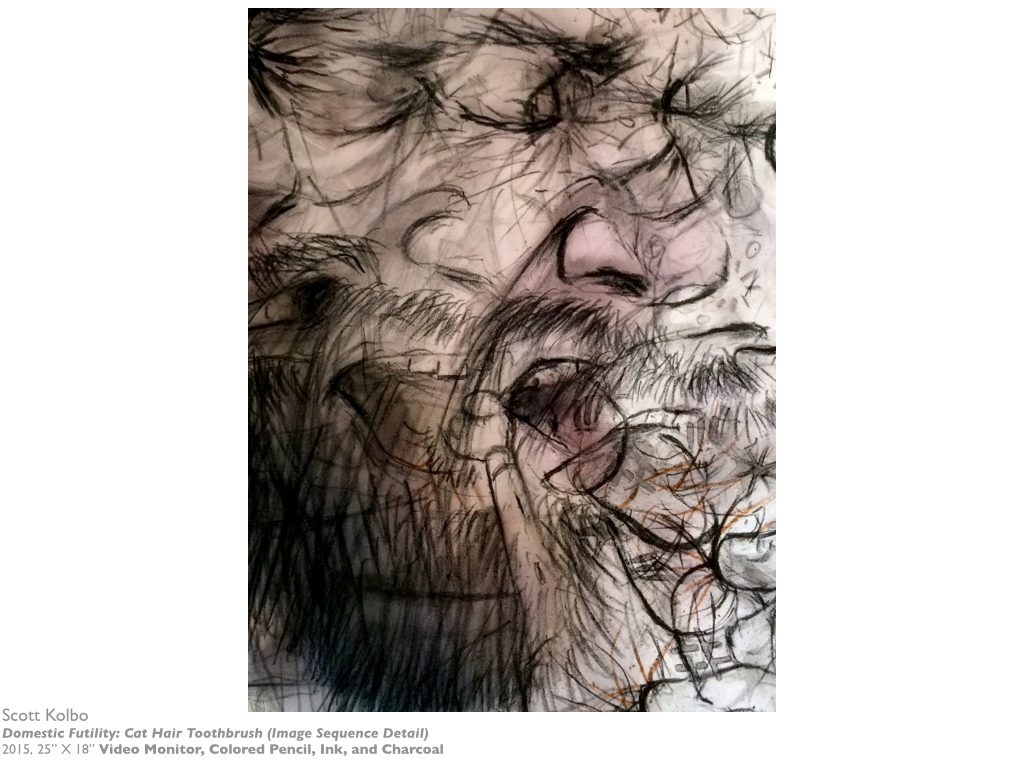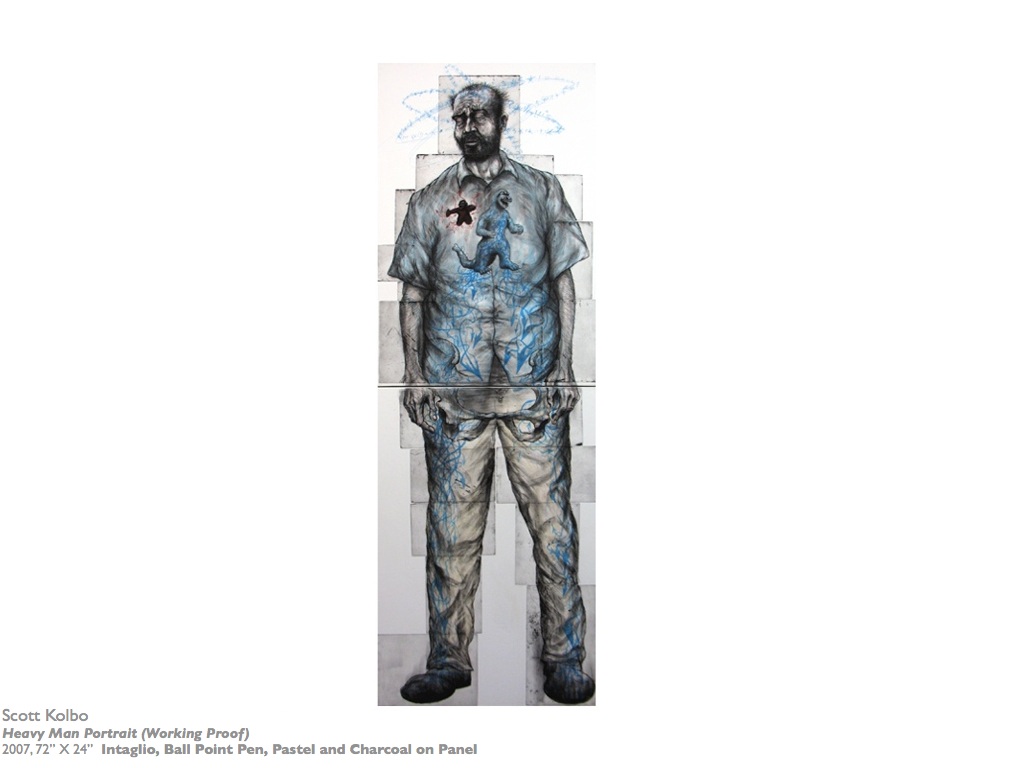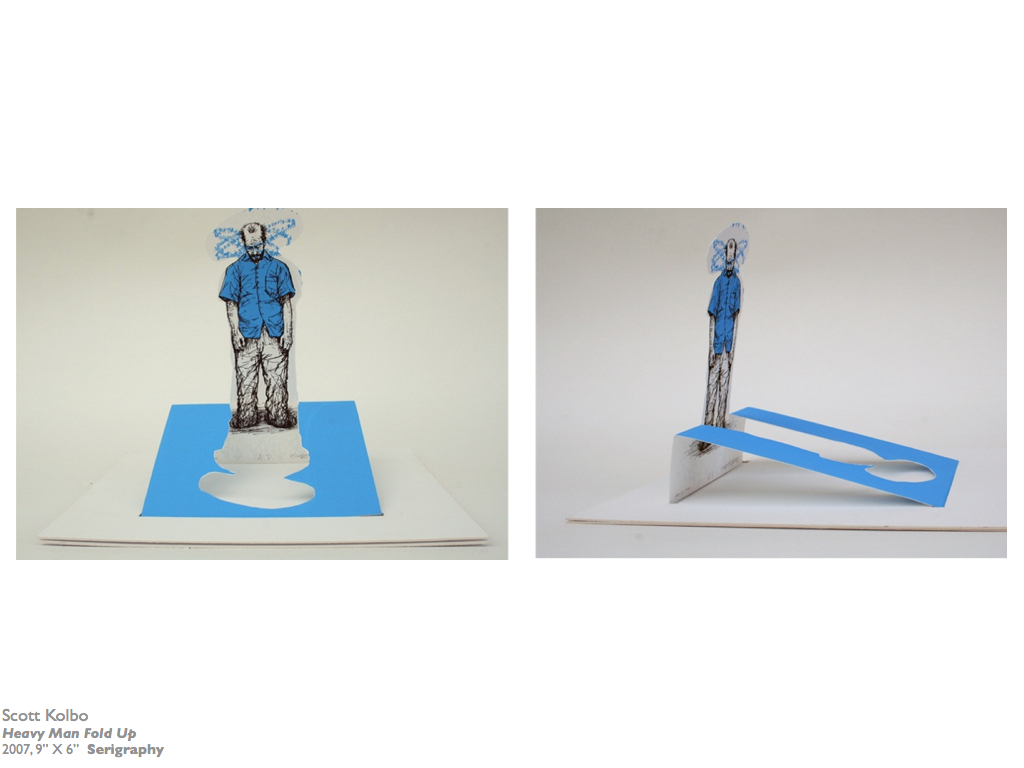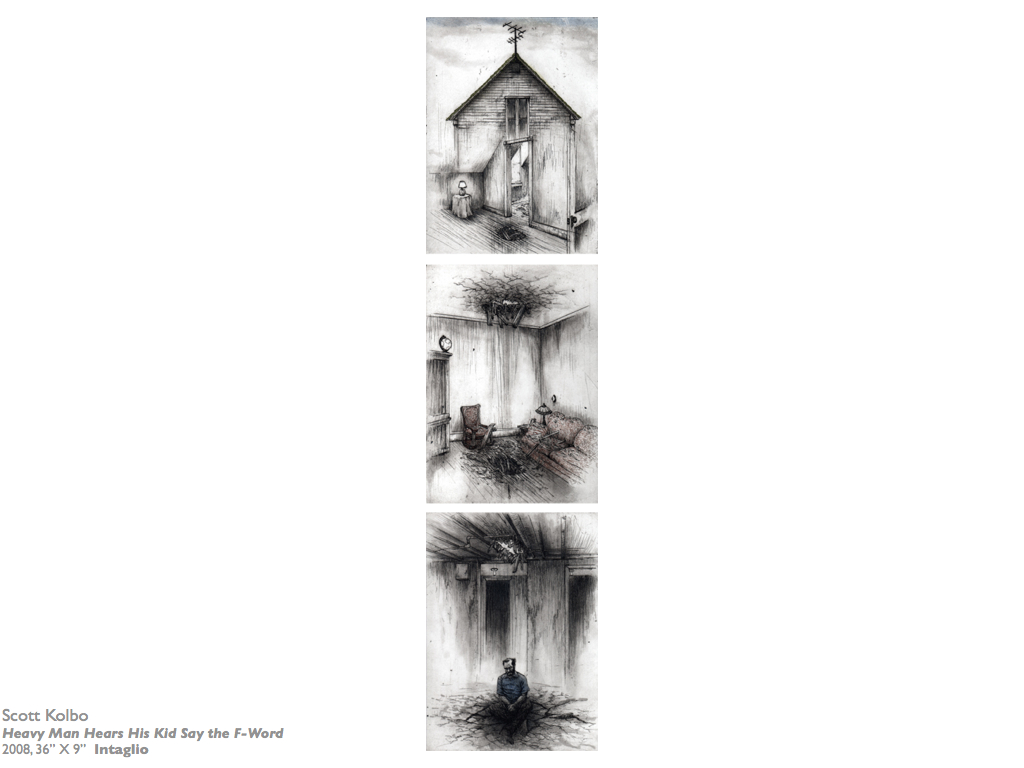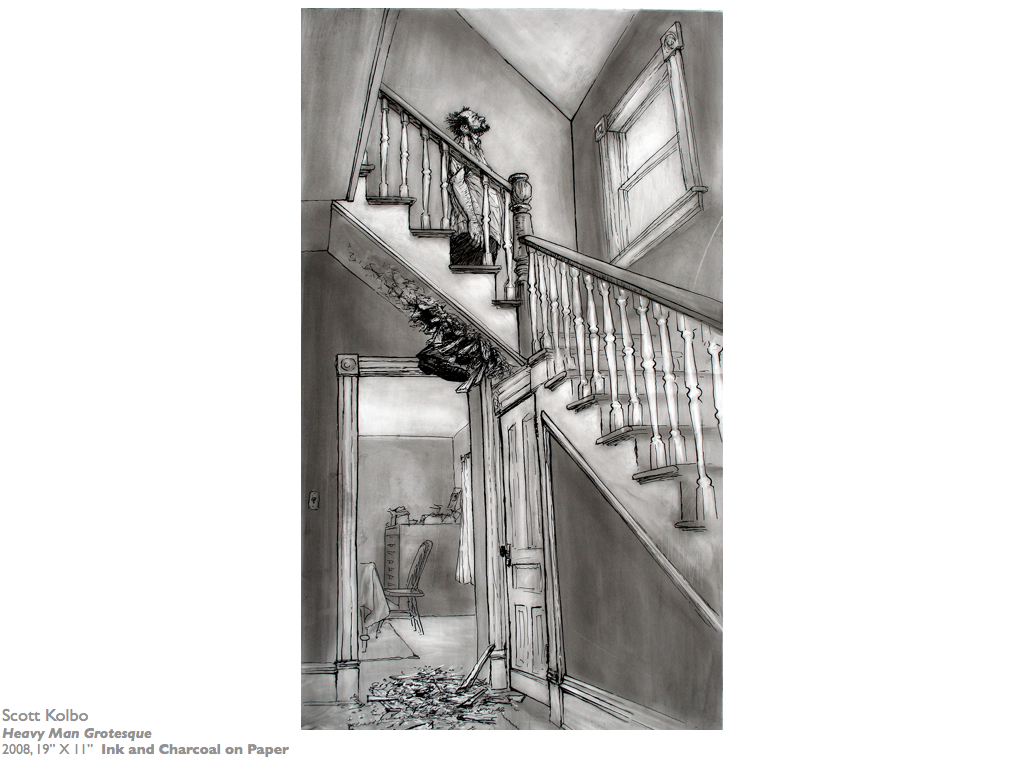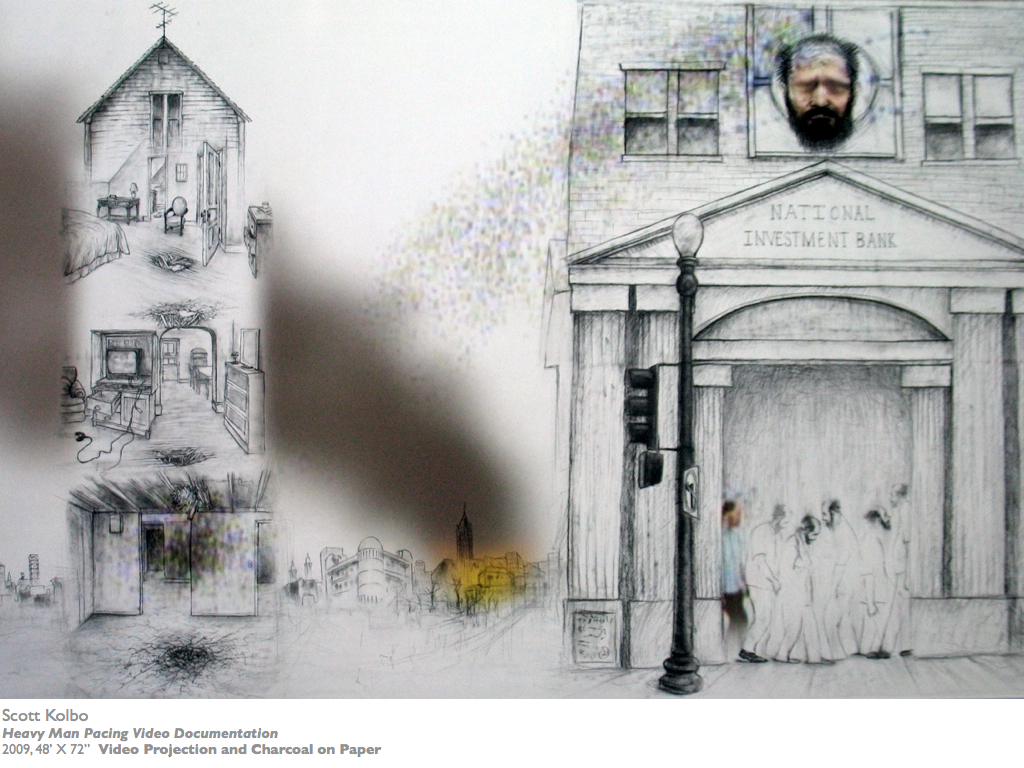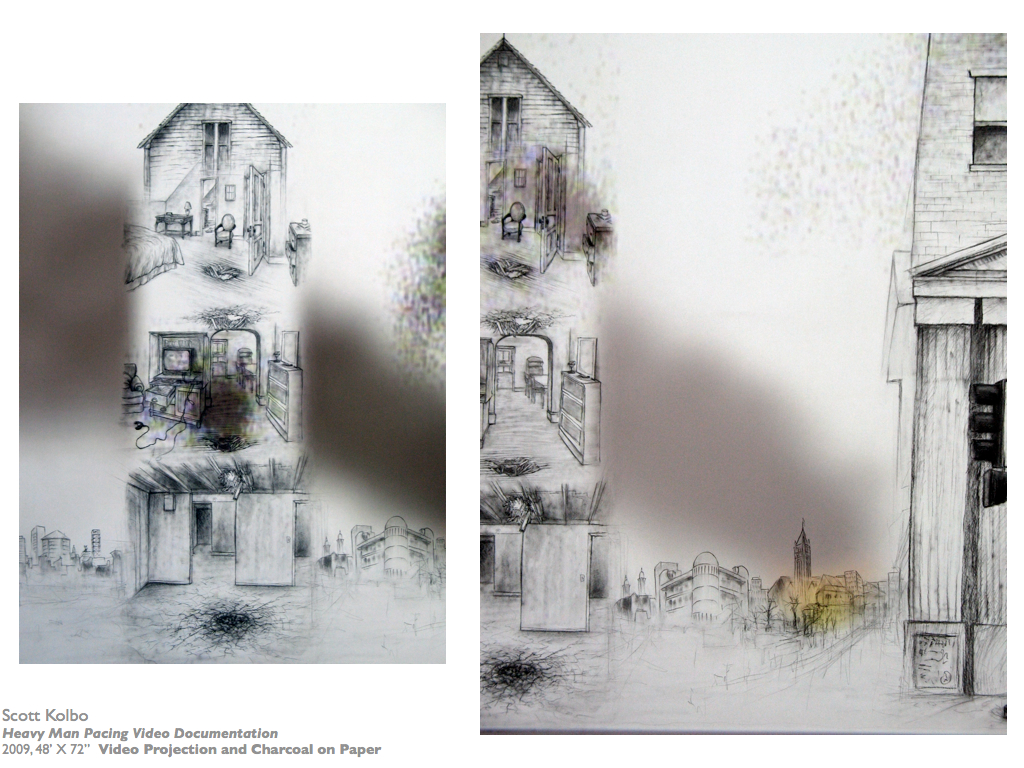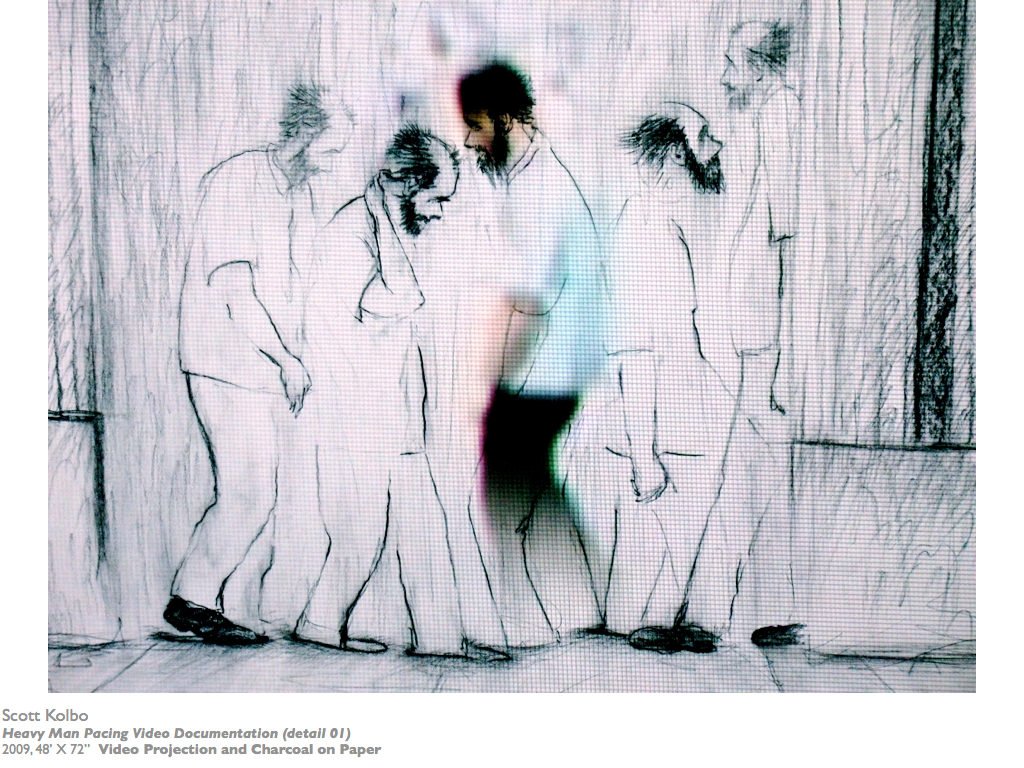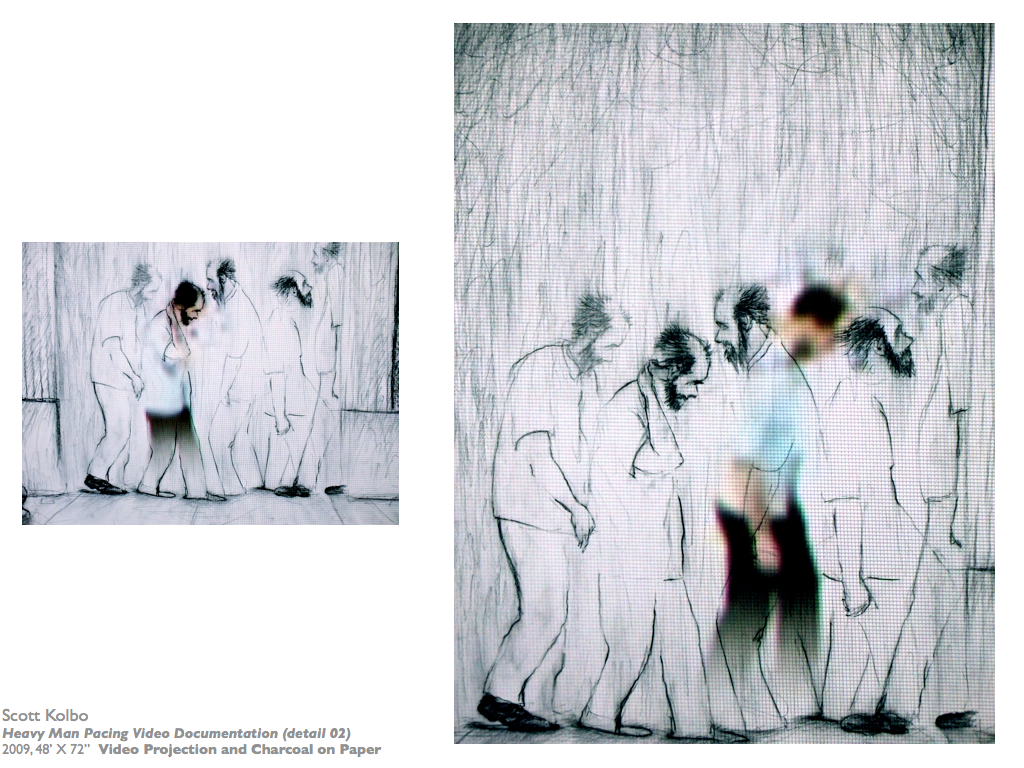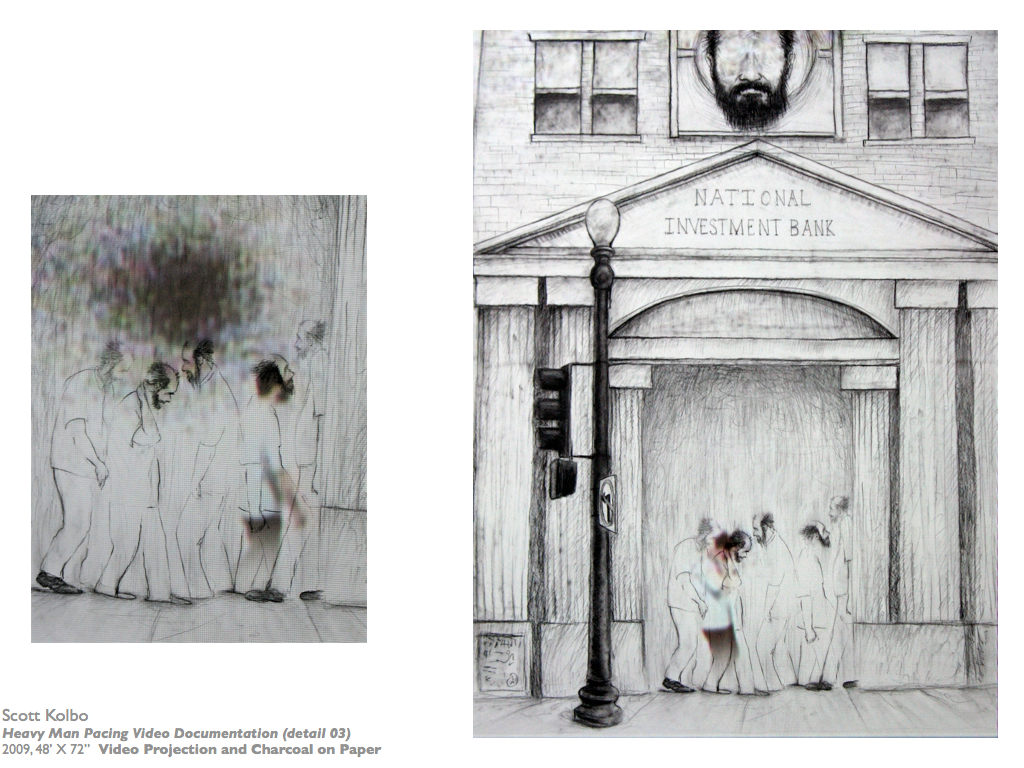 1
2
3
4
5
6
7
8
9
10
11
12
13
14
15
16
17
18
19
20
21
22
23
24
25
26
27
28
29
30
31
32
33
34
35
36
37
38
39
40
41
42
43
44
45
46
47
48
49
50
51
52
53
54
55
56
57
58
59
60
61
62
63
64
65
66
67
68
69
70
71
72
73
74
75
76
77
78
79
80
81
82
83
84
85
86
87
88
89
·
·
·
·
·
·
·
·
·
·
·
·
·
·
·
·
·
·
·
·
·
·
·
·
·
·
·
·
·
·
·
·
·
·
·
·
·
·
·
·
·
·
·
·
·
·
·
·
·
·
·
·
·
·
·
·
·
·
·
·
·
·
·
·
·
·
·
·
·
·
·
·
·
·
·
·
·
·
·
·
·
·
·
·
·
·
·
·
·